March 24/09 11:20 am - Canadian National Cycling Team - Women's Development Camp

Posted by Editoress on 03/24/09

Tubac, Arizona March 15-23, 2009

by National Team Road Coach Vincent Jourdain

The Canadian Cycling Association has just completed its first Women's Development Camp held in Tubac, Arizona from the 15th to 23 of March, 2009. This activity is the first step in a process with the aim of building a Canadian women's team leading up to the Olympic Games in 2012 and 2016. Twelve athletes took part in the camp and 8 of them will be involved with the Canadian team at the Redlands Bicycle Classic in California from the 26th to 29th of March. The event also will include no fewer than 150 female athletes that include numerous Canadian's with different teams. This is an excellent opportunity to measure the level of our athletes. This project is made possible through the generous contribution of the Hamilton Foundation and Own the Podium, two funding partners in the realization of our projects.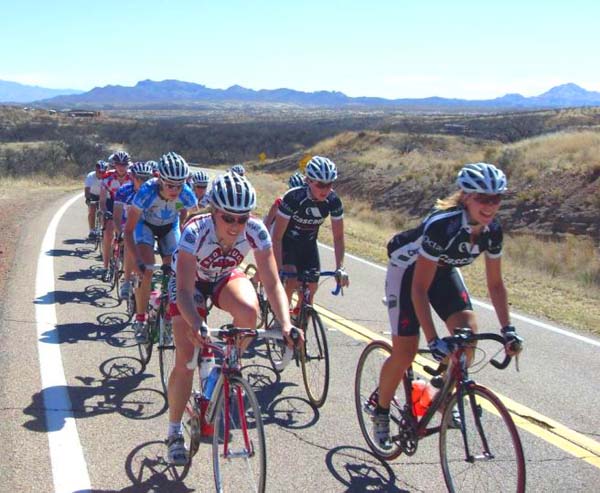 Athletes:

Denise Ramsden
Leah Guloien
Andrea Bunnin
Megan Rathwell
Carrie Cartmill
Joëlle Numainville
Joanie Caron
Sarah Stewart
Jenny Trew
Karol-Ann Canuel
Véronique Labonté
Alyssa Weninger

Camp Report by Athletes

Tubac, Arizona is a small town 70 km south of Tucson and 37 km north of the Mexican border. The area is renowned for its Spanish heritage from the late 18th century. This past week it has also been the home of the Canadian National Development squad spring training camp. The weather has been stunning with highs in the low 30's, perhaps too stunning as we've all been feeling the heat during training. We are in the Santa Cruz river valley but I haven't seen much water. This camp is the result of some new initiatives by the CCA and the Hamilton 2003 Legacy Foundation to encourage development in women's cycling in addition to helping with some talent identification for upcoming projects this season. National team coach Vincent Jourdain is leading the group along with his friend Serge, who will also be working with the team for Redlands. There are 12 women attending the camp - four from Quebec, two from Ontario, two from Saskatchewan, and four from British Columbia. The camp atmosphere is very postive and everyone is excited to ride and get to know some racers from other provinces. We are staying in some great houses that provide plenty of opportunity for getting to know our housemates. Jenny is bilingual, but the rest of us are trying to dig back to our grade 7 French classes so we can better communicate with the Quebecers. Their English is definitely better than our French... so many thank-you's to Vince and the gang for speaking Fr-english with us :-)

We have been doing two shorter rides a day, with a mix of some skills, sprints, and steady riding. We all have come to this camp with different levels of preparation, depending on the relative state of Canadian winter that we left behind. The roads have been great and we've had some local company each day to show us some routes. We often pass through border control checks since we are so close to the Mexican borders, but so far only Vince has been scolded for not carrying his passport. I think the border guards are probably pretty entertained to see a bunch of spandex clad girls riding around in the desert.

On Tuesday we will travel to Redlands in preparation for the Redlands Bicycle Classic. Eight of us will ride together for the National team and the remaining women will ride for their respective trade or provincial teams. There are 150 riders on the start list including some extremely strong riders and powerful teams. Jenny, Leah and Joelle are the only riders in the group who have experience at Redlands. The rest of us are looking forward to the race with some nervous excitement.

We would like to thank the members of the Hamilton 2003 Foundation that have chosen to support initiatives such as this to help develop Canadian women's cycling. All of the riders feel incredibly lucky to be here training and we look forward to more great things to come!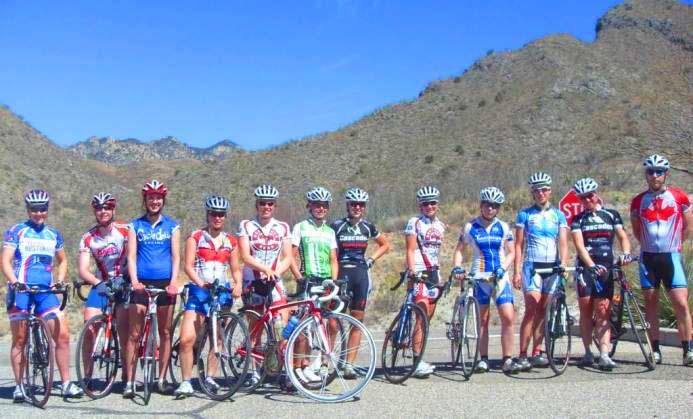 ---
Related Photo Galleries
---