March 25/09 15:55 pm - CCA & Garneau Renew Sponsorship Agreement

Posted by on 03/25/09

The Canadian Cycling Association and Louis Garneau Sports have signed a 4-year partnership to provide Canada's national cycling team with competitive wear until the end of 2012. Specifically, the national team athletes will suit up in competition with the Garneau "Équipe" Jersey, which is developed for riders demanding a streamlined fit, and the "Power Bib" shorts, made of a Power Lycra base, which optimizes muscle performance, supports blood circulation, and is perfect for high intensity rides.

As part of the agreement, the partners also unveiled the new Canadian Team Jerseys, which includes the "True Sport" logo to demonstrate the national team's commitment to drug-free sport. The CCA and its provincial and territorial partners are launching a campaign in the spring to educate and promote clean sport.

The Louis Garneau sponsorship has also been extended to include casual wear for the Canadian Team. Replicas of the team jersey will be sold in stores throughout the country and will act as a fundraiser to further support national team projects.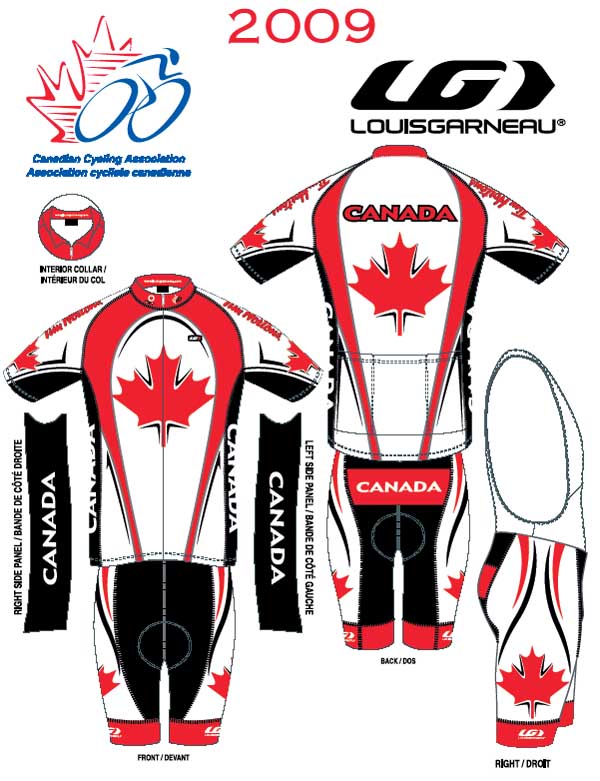 L'Association Cycliste Canadienne est fier d`annoncer le renouvellement d`un de ces supporteur de longue date; Louis Garneau Sports.

L`ACC et LGS ont signé une entente de 4 ans dans le but de produire des vêtements de compétition à l`équipe nationale cycliste du Canada jusqu`à la fin de 2012. En définitive les athlètes de l`équipe nationale seront vêtu du maillot « Équipe » qui été Créé pour les cyclistes exigeant une coupe aérodynamique et du cuissard « Power Bib » fait de Power Lycra qui optimise la performance musculaire, favorise une bonne circulation sanguine pour les sorties de haute intensité.

À l`intérieur de l`entente les partenaires ont aussi présenté un nouveau maillot de l`équipe nationale (ci-attaché) qui incorpore le logo «Sport Pure» afin de démontrer le soutient de l`équipe nationale à la pratique du sport sans substances illicites. L`ACC et ces partenaires provinciaux et territoriaux lanceront une campagne ce printemps afin d`éduquer et de promouvoir la pratique du sport propre.

L'entente avec Louis Garneau comprendra aussi un volet de vêtements hors compétition pour les membres de l'équipe canadienne. Des maillots répliques seront vendues en magasins à travers le pays; la vente de ces maillots servira à augmenter le soutient aux projets de l`équipe nationale.
---
Related Photo Galleries
---