November 26/09 12:51 pm - 2010 Team Kenda Women's Cycling Team Announced

Posted by Editoress on 11/26/09

Team Kenda women are excited to be back for an eleventh season with enhanced support from banner sponsor Kenda USA, known for their exceptional road and MTB tires. Team Kenda NRC Elite Team veterans include Ashley James, Catherine Walberg, Denise Ramsden, Jackie Kurth, Kat Clark, Silke Wunderwald, and Team Captain Kristin Wentworth. New additions include Amity Elliot, Anna McLoon, Jen Rasmusson, Jennifer Greenberg, Kendi Thomas, and Melissa Ross.

There is a lot of talent assembled here. Jackie Kurth (current 18 year old Junior National Criterium Champion), Ashley James, and Jen Greenberg are attending college on cycling scholarships. Kendi Thomas is Collegiate Division II National Champion in both the Criterium and the TT. Denise Ramsden is a past Canadian Junior National RR Champion and has made remarkable progress at the Elite level. Melissa Ross spent time in Europe during 2008 as part of the U.S. Developmental Cycling Program. Elliot, Rasmusson, and McLoon (Harvard Collegiate) are aggressive and exciting. Clark, Walberg, Wentworth, and Wunderwald carry the experience to guide the team.

"This is our best team yet", stated Team Manager, Paul Forsythe, who also shared that he is pleased with several additions to Kenda's regional team programs. "These women are totally committed and embrace their roles as brand ambassadors for the team and sponsors." We hope to build on several notable successes that we enjoyed in 2009. We will be racing most of the NRC." When asked what will be different, Forsythe gave a one-word answer, "Criteriums!"

Needless to say Team Kenda continues to do its part in enhancing the life's of women racers from its early beginnings with 9 riders to having in excess of 80 competitive riders, from Juniors to Masters.

One question needed to be answered once and for all. What is with the leafy greenery on Team Kenda's uniform? "Major team sponsor, Plant Solutions of Scottsdale, AZ uses the cycling team as part of their branding program." Plant Solutions provides interior landscape design, installation and services to keep home and office environments healthy while using natural resources. Good indoor quality is achieved utilizing best in class sustainable practices. Green is in! Even our new Blue Competition bikes will be…green!"

Returning team sponsors include Blue Competition Bicycles, Verge Sport, LH Thomson, SRAM, Rudy Project, CycleOps, Zipp Speed Weaponry, Headsweats, Terry Precision Cycling, Skins, Thule, The Pear Tree Pen Company, Sportcrafters, Deen-Gross Eye Centers, Ferguson & Associates, and LifesportDR.

The team welcomes Outlaw Earth (messenger bags), Govert Auto Body, and Hoo Ha Ride Glide, a Reflect Sports product for the 2010 season.

About Team Kenda Women's Cycling: Team Kenda began in 1999 as Team Ameritech with nine riders who excelled at bicycle racing. Over the years, the team has steadily grown in size and now boasts NRC Elite and Southeast, Mid-Atlantic, Midwest, and West Regional Teams. The team competes in the United States focusing on the National Race Calendar.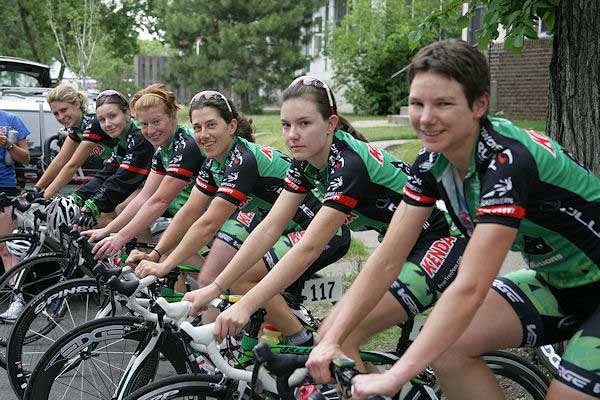 ---
Related Photo Galleries
---