February 21/10 14:12 pm - Team nanoblur-Gears Holds Successful Open House

Posted by Editoress on 02/21/10

Team nanoblur-Gears's Open House last week (February 10th) invited all cycling enthusiasts to enjoy an evening of Olympic Dreams with a presentation by past Olympian and Team nanoblur-Gears rider Leigh Hobson, a chance to meet the brand new women's all-Canadian cycling team, and a sneak peek at the team's new women's specific bike, the Amira.
Gears bike shop in Mississauga (Ontario) hosted the event, and made sure guests were well taken care of. Lots of goodies and samples were laid out for people to try - team sponsor Extreme Pita donated sandwiches for guests to munch on, nanoblur face cream samples were available to try and Juviderm Chapsticks were handed out. Team gear designed by RaceMerchandise.ca was available for purchase to raise funds for the team, and guests had a chance to donate to the team's choice charity - FriendsOfWeCare - through the purchase of specially-made T-shirts.

Team Manager Malcolm Eades introduced Leigh Hobson to the group and she delighted guests with an inspiring and motivational inside look at the behind-the-scenes process of training for and being at the Olympics. Leigh stuck around and answered tons of questions after her presentation.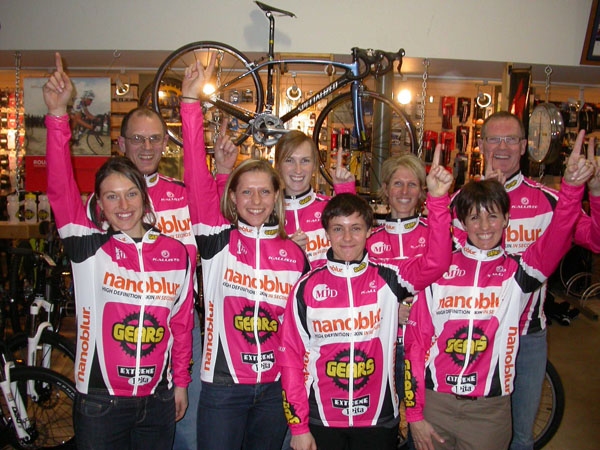 "It was really nice to share my Olympic experience with our friends and sponsors at Gears the other night. The support for this team is incredible! I never imagined coming back to road racing and am really looking forward to taking on a new role as a mentor. We're going to have a fantastic season!"

Except for team member Anne Samplonius, the full team was on hand to talk with members of the crowd. The team was gathered together and ready to leave the next day to start their training camp down in South Carolina, where Samplonius joined them. The team's debut race will be in San Dimas (California) in March, followed by their participation in the Redlands Classic (California) later that month.

The team is brand new and the riders are all very excited to be part of a team with so much support. Their race schedule was going to include the UCI events in Montreal but, due to their cancellation, the team is readjusting their schedule. They will do most of the major women's races in the United States as well as some of the Ontario Cup series events closer to home.

Although Leigh Hobson retired in 2008 - she claimed the Olympics were her last race - she still has the cycling bug. She is returning to the sport as a mentor/rider for the team and will be aiming to do really well in the cyclocross season in 2010.

Funds were raised through the selling of T-shirts and the team was able to raise $350.00 for FriendsofWeCare. The team hopes to sell 110 more shirts to raise money for this charity and more information about that will be posted on their blog site shortly at teamnanoblurgears.blogspot.com/.

At the end of the evening the team presented Gears co-owner Ira Kargel with some gifts to thank the shop for their support and involvement with the team. Kargel was excited to have the team together for the first time and to be on board for the 2010 season.

"We here at Gears are excited to once again be involved in supporting National level cycling athletes, this time with a Women's Team. We have, in the past, supported National Mountain Bike riders, both male and female, as well as a National Men's Road Team, all known as Gears Racing. The women are from different parts of the country and all bring various strengths to the team. Their ability to work together as a cohesive group should prove to be impressive, and Gears is excited to be able to be a part of this new enthusiasm."

You can follow this team on their Facebook Fan Page or read about their training camp experiences on their blog.

The year promises to be successful for Team nanoblur-Gears!
By Leigh Hargrove
---
Related Photo Galleries
---