January 27/11 9:31 am - Jasmin Glaesser - A Star Under the Surface

Posted by Editoress on 01/27/11

Randy Cunningham, of Cunningham Cycles, has provided this article on one of Canada's newest stars: Jasmin Glaesser.

During the gap between this last Christmas and New Years, I twice had the occasion to attend the 4-Day bike race at the Burnaby Velodrome. This event was easily the best track racing event in the area for well over thirty years. Loosely based on a Euro-style Six, this Saputo sponsored event brought along no shortage of world class riders. They included overall winners Colby Pearce and Dan Holloway, as well as super-sprinter Tyler Farrar, Christian Meier, Svein Tuft, Zach Bell and a host of others.

While it was exciting to see these lads rumble around the wood at some pretty fantastic speeds, the Elite Women's racing was perhaps even more impressive. With two track World Champions, Tara Whitten and Sarah Hammer, as well as World Cup multi-medalist Canadian Steph Roorda, the pace of the racing was very rapid indeed and I couldn't help but think how the level of women's racing has changed since the days I was wearing wool shorts. Thirty five years ago you'd have the occasional freaky fast girl and now you've got a whole burning bunch of them tearing up the track at the same time.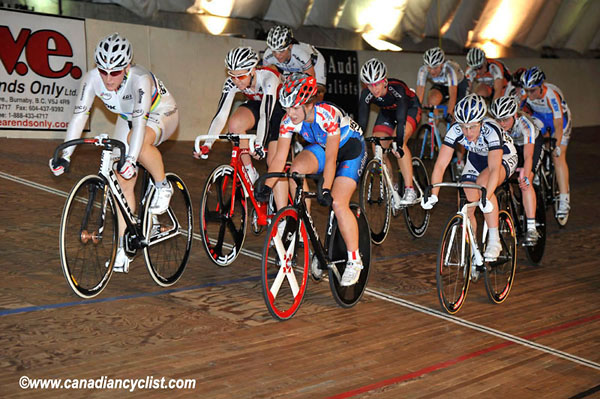 Jasmin Glaesser (in blue) in the Women's Points race
While the stars of the female field made for great racing, the rider that stood out as the 'star just under the surface' was the diminutive fireball in blue, Jasmin Glaesser. Regular readers of my ramblings may recall my mention of her in a post last year after her dominance in the Canadian Junior Women's Road Nationals. Now, watching her fly around the 200 metre circuit, like the proverbial Eveready bunny she just kept hammering and hammering, jumping clear, closing gaps and lifting the pace whenever she could. Her antics reminded me of Bernard Hinault's quote: "If I can breathe, I attack." Sheer lack of experience caused her to miss moves and perhaps be in the wrong place at times, but her consistent efforts did net her a win in the quick and tactical Elimination race.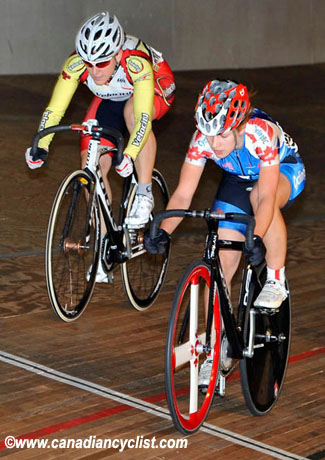 (below: defeating Tara Whitten)

I first met Jasmin last spring when she'd been sent round to the shop to get a new road bike sorted out. Canadian/BC coach Richard Wooles had rung to say he had this very talented young lady that really needed a new bike that would fit her more appropriately than what she was on. She'd only been riding since the previous June ('09) and was showing great promise and heart.

Great heart to be sure....great mind too. Being a constant observer of people (and sometimes being a cynical idiot from it) I was immediately impressed with the intelligence and awareness of this little lady. Then, at seventeen, she was already in university. Quiet, modest, soft spoken and quick-witted, it was very apparent that her mind is always going. You just know that whatever she focuses on in her life, she'll bring herself to it.

Like all of Richard's protégés, Jasmin is eager to learn, keeping any outward ego from view. The "no excuses, get on with the job" attitude so helpful in life is absolutely mandatory for complete success in the world of fast cycling. Wise words are not wasted on Jasmin. You can almost see any useful advice printed immediately in her memory, to be brought forth again at the appropriate juncture.

When in my teens, my coach, ex-pro Norman Hill, would tell us that when you're learning the trade of cycling, you must ride everything. Even a cursory look at Jasmin's season and a half of racing shows her to follow this same philosophy. In the 2010 season as a Junior, she rode all manner of road races, including multi-day events, often beating many of the Elite ladies. She also rode the Junior Nationals, managing to get across the line first in the road race...by several minutes, fastest time in the TT and second in the Crit. This winter she's moved indoors for some board action and has had occasion to ride with, and sometimes beat, the best in the world. As well as her primary focus of the road, Jasmin has an immediate eye on training for the Women's pursuit whilst maintaining some scholastic ventures.

So as I watched the Elite women's elimination race on night three, there was Jasmin sitting in the ideal spot, two to three riders back from the front and just slightly up the track. This is a great spot, because you can close the door on any invaders that may try and come underneath, yet still be low enough on the track that it's not such a long way to get around a rider in front of you. As the race progressed, they dispensed with the super-fast California girl Sarah Hammer and the rest of the field until only Jasmin and Canadian super-star, World Champion and Commonwealth Games Gold Medalist, the lovely and talented Tara Whitten, remained. The crowd of several hundred was positively screaming as these two entered the last two hundred metres and it would be Missy Glaesser that would hold Tara off to nab the win.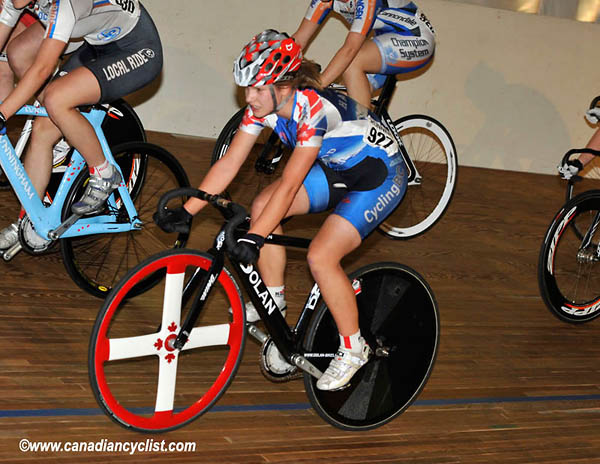 I'm looking forward to supporting any and all of the crew under the direction of Rich Wooles, in whatever small way I can. He has already brought much international success that has so long eluded Canada and there's a lot more to come...that is written. I'd be quite surprised if one the greatest successes wasn't that of Jasmin Glaesser.

Remember, you heard it here first. This is going to be one fast lady.

Note: Jasmin Glaesser holds a German licence, but is in the process of obtaining Canadian citizenship.
---
Related Photo Galleries
---