April 1/11 16:04 pm - GP Cycliste Gatineau Launches 2011 Event

Posted by Editoress on 04/1/11

The organizers of the eighth annual Grand Prix Cycliste Gatineau announced the details of this year's event today at the Gatineau City Hall, across the Ottawa River from the federal Parliament buildings. Part of the City's Grand Visite de Gatineau festival, the event has included, for the second year, two women's races that the only UCI sanctioned women's competitions in Canada (other than national championships).

This year, the event moves to May, with the 19 kilometre Chrono Gatineau Time Trial taking place on Thursday, May 19th, and the 98 kilometre Road Race on Saturday, May 21st. On Sunday, a Grand Fondo will be held on closed roads through the Gatineau Park. Thirty, 47 and 94 kilometre events will be offered. The City has contruibuted $30,000 towards the event, plus over $15,000 of in-kind services.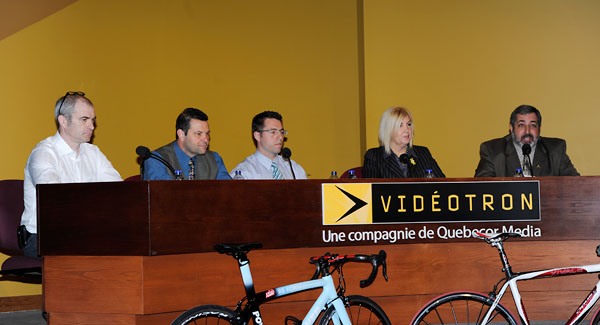 Grand Prix Cycliste Gatineau is supported by both city and provincial officials
"It is a great pleasure to be part of these events," said John Large, the Technical Director. "The cycling community in the region straddles both sides of the Quebec-Ontario border, and we expect a very strong local turnout. We will also have an expanded cycling exhibition for participants and spectators."

Large explains that the race changed dates to avoid conflicting with a World Cup event scheduled for the previous June date, despite the fact that they are no longer on back-to-back weekends with the classic Philadelphia race.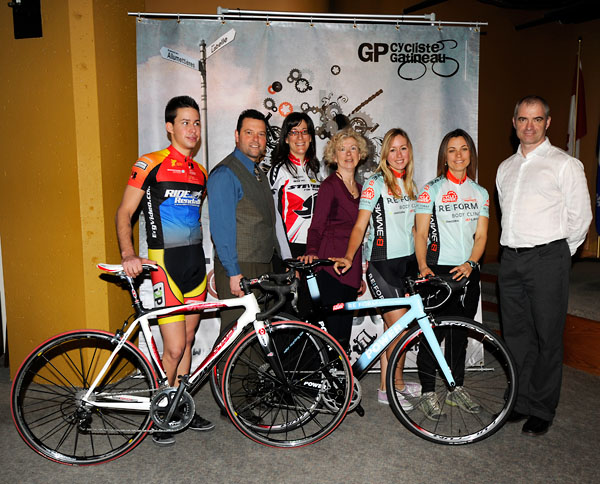 John Large (far right) and some of the riders who will participate in the GP Gatineau
"We had to think long term," he explained, "If we wnated to move forward with a World Cup bid in the future. We were in conflict with a Spanish World Cup, and now we become the first [UCI sanction] race of the year [in North America] for women. This allows us to showcase the women."



The GP Cycliste Gatineau has also dropped the men's UCI sanction time trial, to focus on the women. They will still offer a 98 kilometre road race on Saturday (May 21st) for local male racers (non-UCI).

So far there are 14 teams signed up, including the Italian squad of world road champion Giorgia Bronzini. Canadian national champion Joelle Numainville will be there to defend her title in the road race, along with Team Tibco team mates Tara Whitten and Erinne Willock. Also expected on the start line is multi-time Olympic medalist Clara Hughes, who has returned to cycling from speedskating. In addition to Tibco, teams that are confirmed include:

HTC-Highroad
Ukraine National team
Team Canada
Juverderm/Specialized
Colavita Forno D'Asolo
Team Quebec
BMW-Bianchi
Team Vienne/Futuroscope

Large says that the time trial is almost full, but that there are still team spots available for the road race. He also said that organizers are assisting riders and teams with local billets.

Online registration is now open for all events, visit www.grandprixcyclistegatineau.com . For billet information, contact John Large at johnlarge@primus.ca.

Full Schedule:

Thursday, May 19
11 am: Chrono Gatineau - International Women's 19-km Individual Time Trial

Friday, May 20
3 pm: Team Presentation

Saturday, May 21
8 am - 7 pm: Exhibitors Site presented by Gazifère
8 am: Departure of the Grand Foulée presented by Gazifère - a 5 km running race
9:30 am: Ride with the Pros presented by Gazifère
11 am: Grand Prix Cycliste Gatineau presented by Hydro-Québec - International Women's Road Race
3 pm: Grand Prix Cycliste Outaouais - Men's Road Race

Sunday, May 22
7 am - 4 pm: Exhibitors Site opens
7:30 am: Grand Fondo - Cyclosportive of 94 km
8 am: Medio Fondo - Cyclosportive of 47 km
9:30 am: Alto Fondo, formly known as la Grande Visite - Cyclosportive of 30 km
---
Related Photo Galleries
---