July 3/11 19:08 pm - MSA World Cup Concludes with Downhill - Full Report and PHOTOS

Posted by Editor on 07/3/11

Round four of the Mountain Bike World Cup in Mont Ste Anne, Quebec, concluded with the crowd-pleasing Downhill. Both Aaron Gwin (Trek World Racing) and Tracy Moseley (Trek World Racing), the men's and women's leaders in the World Cup, won their respective events, padding their leads after this fourth round. Steve Smith (Devinci) was the top Canadian, finishing seventh in the men's race and retaining his fifth in the overall standings.

Women

Moseley took her third win of the season to extend her lead in the overall women's standings to 140 points. Moseley, who had qualified first by an impressive 11.5 seconds, had more of a battle on her hands in the final, with second-ranked Floriane Pugin (Scott 11) finishing 1.850 seconds behind.

Canadian national champion Micayla Gatto was the first to go under 5:40, but she was quickly supplanted by Emmeline Ragot (Team GR). Sabrina Jonnier (Maxxis-Rocky Mountain) was next to sit in the Hot Seat, taking the time down to 5:21. American national champion Jill Kintner crashed high on the course and could only manage 12th. Jonnier's time would hold until the final three riders came down the course, with each bumping the other out of the lead.

Rachel Atherton (Commencal) took a second off of Jonnier's time, but even she knew that wouldn't be enough, and Pugin came in nearly five seconds faster. But Moseley was faster still - over two and half seconds up at the first split, and an additional second up by the second split. She lost a bit of time in the lowest part of the course, but still comfortably took the win, to extend her lead over Pugin to 140 points with three events remaining.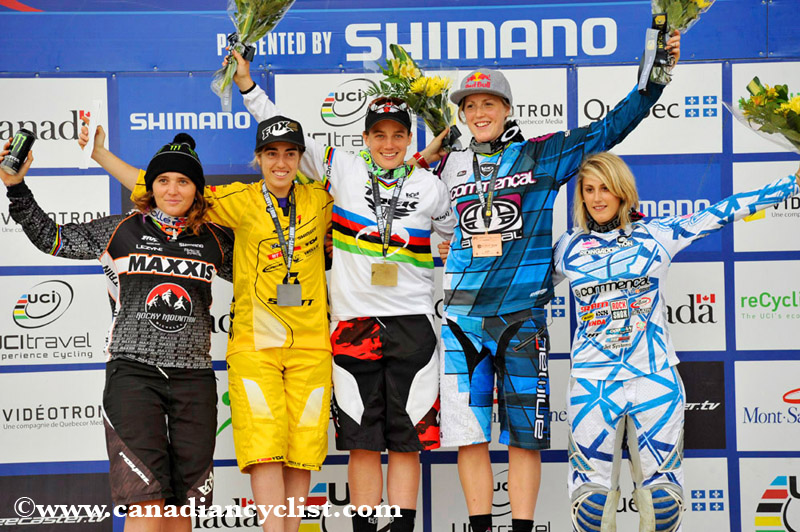 "I've definitely got good memories from Mont Ste Anne, when I won [the world title] here last year," commented Moseley. "But the course changed completely yesterday after it had been so wet all week. It had some big holes and was possibly the roughest Mont Ste Anne I have ever raced. It's really great to get the win here again, but it's the same top three every race, so I can't count on the title yet."

Moseley now has 910 points to Pugin's 770, with Atherton in third at 580 points. Manon Carpenter (Madison Saracen) continues to lead the Junior World Cup, with 200 points.

Women's Results

Race Notes

- Gatto was the top Canadian finisher, in tenth, with Miranda Miller fininishing 15th. Gatto commented after her run, "I definitely had a few close calls, and maybe gave a bit of a show to the crowd. It was a little scary for me, but no completely off the bike crashes, so I was pretty happy with that, considering the course is so long and some of the girls are falling right near the end because it is so exhausting and physically demanding. It was an okay run, but I think I could have done better."

Men

The men's Downhill was expected to be a battle between current leader Gwin from the U.S. and second-placed Greg Minnaar (Santa Cruz Syndicate), who was only 36 points back. Minnaar had qualified first and Gwin second, and the rider who won the final would don the leader's jersey. Unfortunately, Minnaar's crash derailed his attempt to take the jersey, while Gwin padded his lead with his third win of the season.

Czech national champion Matej Charvat set the early standard of 4:47, but riders following him steadily jumped away at it. Justin Leov (Trek World Racing) was the first to go under 4:40, and his time would be good enough for tenth at the end of the day.

Andrew Neethling (Giant) knocked a few tenths off Leov's time, but Junior World Cup leader Troy Brosnan (Monster Energy/Specialized/Mad Catz) then took a significant 1.2 seconds off the lead. Brook MacDonald (MS Evil), one of the revelations of the season, then took a massive five and a half seconds off the leading time two riders later.

MacDonald's time held up through pre-race and local favourite Steve Smith (Devinci), Sam Blenkinsop (Lapierre International), Gee Atherton (Commencal) - who flatted - and Danny Hart (Giant) and Cameron Cole (Lapierre International). It took Josh Bryceland (Santa Cruz Syndicate), the third fastest qualifier, to finally remove MacDonald from the top spot, by five-hundredths of a second.

All that were left were Gwin and Minnaar. Gwin had a good, solid run, but less than half a second faster than Bryceland; not the spectacular gaps we have seen earlier in the season. Minnaar started strongly, setting the highest speed through the speed trap - the only rider to crack 60 kilometres an hour. At the first split he was less than a tenth of a second behind Gwin, but then disaster struck for the South African, when he hit a rock and crashed. While he was back on his bike quickly, the damage was done, and Minnaar would finish 18th, seceding an additional 137 points to Gwin in the World Cup race.

"I was on a good one, having a smooth fast top," explained Minnaar, "so I backed off a bit at the bottom to continue the flow through, and somehow I got too close to a tree, got hooked on a rock and went over the bars. I'm pretty banged up right now, but hopefully I'll be back next week to keep the challenge going.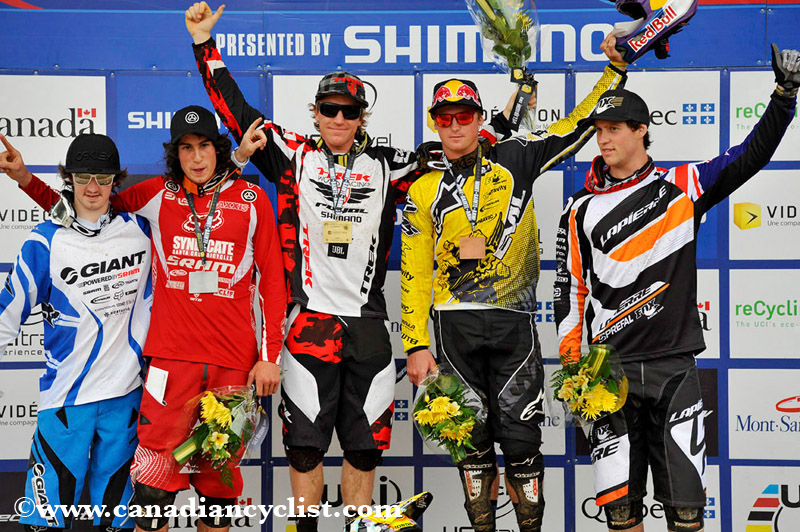 Gwin tried to put the pressure of the world Cup lead out of his mind for the final. "My qualifying run didn't go as well as I hoped it would, so I was focussed on not making any mistakes and riding like I knew I could. I know at this point that if I put a good one together I should be right up there, so I just focussed on doing that. Minus one massive mistake at the top, I think I did that, so it was good."

Gwin now has 868 points, followed by Minnaar with 695, and then Gee Atherton at 547. Brosnan leads the Junior World Cup standings with 314 points.

Men's Results

Race Notes

- Smith continued his string of top-ten finishes, but wasn't completely pleased with his ride. "It was really calm, which wasn't exactly what i wanted to do this race run. There were no mistakes, but I just wasn't happy with how I performed. This is the kind of course where you have to hang it loose and I just didn't do that."

Kyle Sanger was the second Canadian man, finishing 42nd, and 18.197 seconds behind Gwin. he was also the fifth Junior. "I don't think I could do that run again ... it was a really good run, and I just tried to keep it up on two wheels and get a little bit loose in sections. I can't complain. This course is amazing, I raced the world champs here last year, and every year it just gets better and better. I'm leaving tomorrow for Windham, and hopefully I can do the same thing next weekend."
---
Related Photo Galleries

MSA World Cup July 1/11 - July 3/11, Mont Ste-Anne, Quebec


Women DH Qualifying
Men DH Qualifying
Women DH Final
Men DH Final
Elite Women XC
Elite Men XC - Pt 1
Elite Men XC - Pt 2
U23 Women XC
Junior Women XC
Junior Men XC
---