July 8/11 18:12 pm - Windham World Cup Opens with DH Qualifying

Posted by Editoress on 07/8/11

The Windham World Cup opened this afternoon with the qualifying for the Downhill. Qualifying was delayed for 45 minutes for women and one hour for men after a thunderstorm rolled in and the gondola ferrying riders to the top of course had to be halted. However, the rain did not affect the track to much, and by the time the men were racing it was mostly dried out again.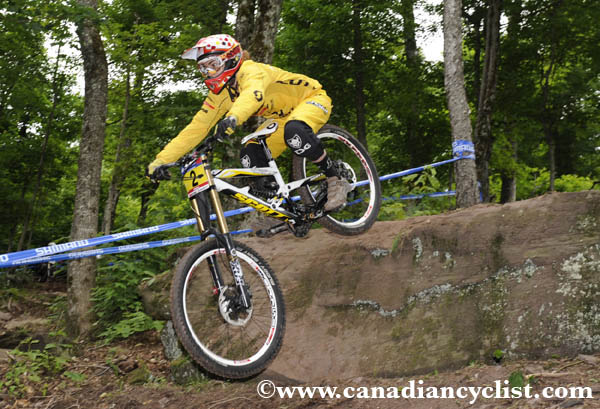 Floriane Pugin

The women's qualifying saw a bit of an upset, with World Cup leader and world champion Tracy Moseley (Trek World Racing) only managing third, over four seconds (4.226) behind Floriane Pugin (Scott 11). Pugin is the only rider to beat Moseley in World Cup competition this year, and her qualifying win keeps the points race in the overall standings close. Rachel Atherton (Commencal) took second, 3.921 seconds down on Pugin.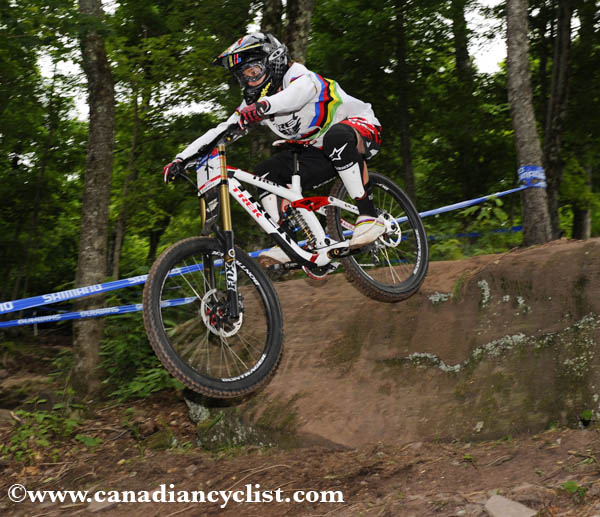 Tracy Moseley

Two of the three Canadian women qualified for the final, with national champion Micayla Gatto 12th and Miranda Miller 15th. Anne Laplante was just outside qualifying, in 21st.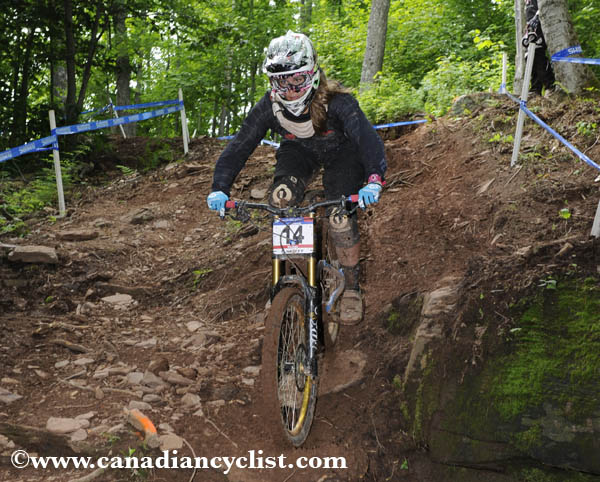 Micayla Gatto

Aaron Gwin (Trek World Racing) continues to dominate the men's field, finishing nearly six seconds (5.797) ahead of Gee Atherton (Commencal). Atherton flatted in last week's final at Mont Ste Anne, so he is eager to make up some points that he missed out on. New young stars Brook MacDonald (MS Evil) and Junior World Cup leader Troy Brosnan (Monster Energy/Specialized/Mad Catz) took the next two spots, with Justin Leov (Trek World Racing) fifth. Canada's Steve Smith (Devinci) finished seventh, 7.746 seconds back.

Greg Minnaar (Santa Cruz Syndicate), second in the overall standings, had a disappointing run, finishing 13th and conceding a further 38 points to Gwin in the copetition for the title. Minnaar crashed last week in Mont Ste Anne and finished 18th, so Gwin's lead is beginning to look insurmountable. Minnaar's team mate Josh Bryceland, who is sixth in the standings and was third last weekend, rolled the start and did not finish after tweaking his shoulder in a training crash. However, since he is top-20 ranked, he is a protected rider. World Cup 4-Cross leader Jared Graves (Yeti Fox Shox) was a no-show, despite saying earlier he would race and being on the start list.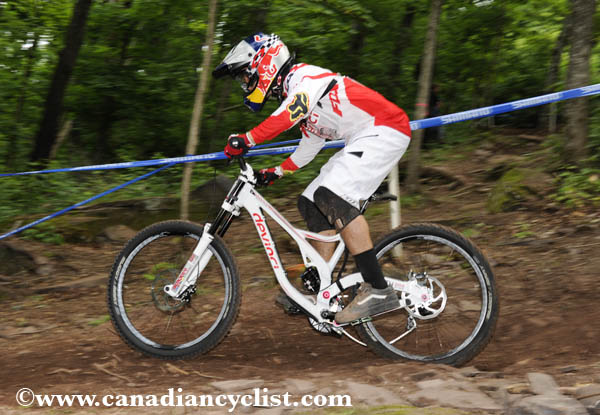 Steve Smith

In addition to Smith, six other Canadian men qualified in the top-80 and will race on Sunday. Junior-aged Kyle Sanger was once again the top rider in 45th, with Hans Lambert 55th, Rob Fraser 69th, Matt Zdriluk 73rd, Matt Beer 76th and Dean Tennant the final qualifier in 80th. Yann Gauvin (104th), Tyler Allison (121st), Remi Gauvin (123rd), Andrew Mitchell (125th) and Chris Del Bosco (129th) did not qualify.
---
Related Photo Galleries
---