July 16/11 14:10 pm - MTB XC Nationals: Elite and U23 Women's UPDATES

Posted by Editor on 07/16/11

The Elite women and U23 women will be on course at the same time, with 30 seconds between their starts
The 6.8 kilometre circuit features two climbs per lap and additional technical sections than the 2010 course. Races begin with a 1.5 kilometre start loop with the Elite women doing four full laps and the Under-23 women three. 1 lap is 6.8 kilometres
9 - U23 women and 19 - Elites
The wind of earlier in the day has died down and the temp is ~ 23C. There is some light cloud cover, but no rain in sight.
Lap 1
As they head out for the first lap
Elite women: Catharine Pendrel (Luna Pro Team), Marie-Hélène Prémont (Team Maxxis-Rocky Mountain) and Emily Batty (Subaru-Trek) are all together and they have opened a gap to the rest of the field.
U23 women: Laura Bietola (3 Rox Racing) and Mikaela Kofman (3 Rox Racing) lead
Elite Women: 1/2 way through the first lap. Pendrel has 24 seconds on Premont and 39 seconds on Batty. Amanda Sin (3 Rox Racing) is at the front of a group of 3: Sandra Walter (Xprezo-Borsao) and Catherine Vipond (Norco Factory Team) at 1: 20 back
U23 women: Mikaela Kofman (3 Rox Racing) and Rebecca Beaumont (Équipe du Québec) together with Laura Bietola (3 Rox Racing) and Andréanne Pichette (Équipe du Québec) at 30 sec
Lap 2
Elite Women: Pendrel heads out on her 2nd lap with a 40 second lead on Premont and 1:16 on Batty. Sin and Walter are at 2:06, Vipnd 6th at 2:15, Brandi Heisterman (Team Whistler/Rocky Mountain) 7th at 2:32, Mical Dyck (Pro City Racing) at 2:32
Jean Ann Berkenpas (Xprezo-Borsao) is in the pits with a mechanical
U23 women: Kofman heads out onto lap 2 with 7 seconds over Beaumont , 1:15 on Pichette and Bietola
2:55 pm ET
Elite Women: 1/2 way through the 2nd lap and Pendrel is "taking no prisoners" . She has extended her lead over Premont to 1:12 and Batty to 2 min. Sin at 3:15, Walter at 3:23
3:06 pm ET
U23 women: 1/2 way through the 2nd lap - Kofman has opened the gap up on Beaumont to 25 seconds
3:05 pm ET
Lap 3
Elite women: Pendrel crosses the line to head out for her 3rd lap with a gap of 1:26 on Premont. Batty is still 3rd at 2:25. Sin 4th at 3:42, Walter 5th at 3:55, Vipond 6th at 4:26, Dyck 7th at 4:48
3:11pm ET
U23 women: Kofman has 55 seconds on Beaumont as they head out on the final lap. Bietola 3rd at 2:42 back
3:20 pm ET
1/2 way through Lap 3: Pendrel , Premont at 1:40, Batty 2:05
U23 women: Kofman is on her last 1/2 lap
3:24 pm ET
Lap 4
Elite women: Pendrel has started the last lap. She has completed the start loop and 3 full laps in a time of 1:08:55
Premont heads out at 1:43 back. Batty crosses at 3:15
3:40 pm ET
Pendrel is on the final 1/2 lap
Finish:
UNOFFICIAL
U23 women
1 Mikaela Kofman (3 Rox Racing), 1:14:30
2 Rebecca Beaumont (Équipe du Québec) at 1:26
3 Laura Bietola (3 Rox Racing)
Elite Women
1 Catharine Pendrel (Luna Pro Team) 1:31:51
2 Marie-Hélène Prémont (Team Maxxis-Rocky Mountain) at 2:02
3 Emily Batty (Subaru-Trek) 4:29
Profile (map below)

Course map (for a larger map click here)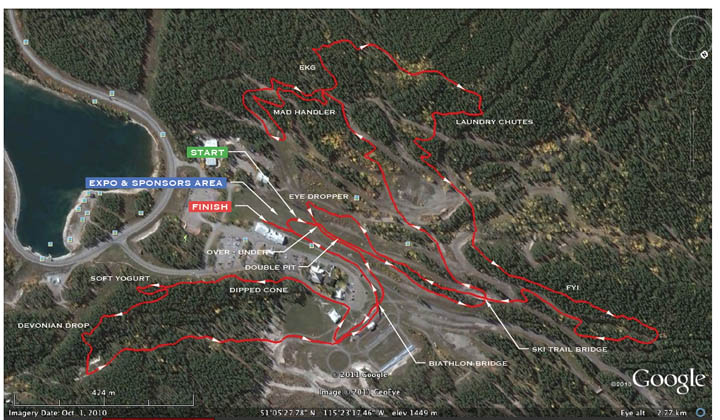 ---
Related Photo Galleries
---