July 16/11 20:18 pm - MTB XC Nationals: Report and photos

Posted by Editoress on 07/16/11

There were both new and old faces on the top step of the podium for the Canadian National Mountain Bike Championships on Saturday, in Canmore, Alberta. Catharine Pendrel (Luna), took her third consecutive title in the elite women's category, while Max Plaxton (Specialized) finally dethroned seven time men's champion Geoff Kabush (Maxxis-Rocky Mountain).

Held in perfect conditions beneath the Three Sisters mountains in Kananaskis Country, Canada's top professional mountain bike racers made a rare appearance on Canadian soil to battle for the right to race in the maple leaf jersey of national champion for the next twelve months.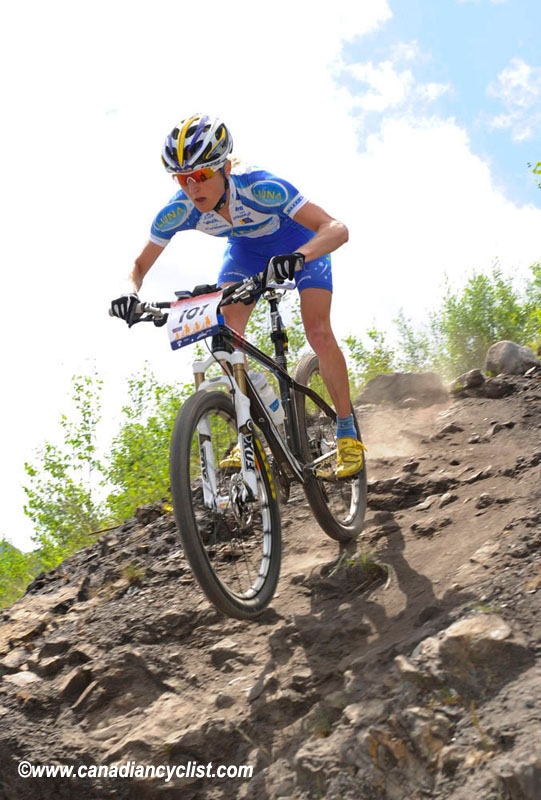 Pendrel, coming off a first and second place finish in the World Cup over the past two weeks, was untouchable in the four lap, 28.7 kilometre race. She dropped former champion Marie-Helene Premont (Maxxis-Rocky Mountain) on the main climb of the first lap, and soloed in two minutes and two seconds in front of Premont. Emily Batty (Subaru-Trek) took the bronze medal, four minutes and 29 seconds in arrears.

"I knew that I had good form," explained Pendrel, "but Marie has been getting stronger and stronger in the last few World Cups, so I didn't take anything for granted. We went up the main climb together, but I think I was riding the technical descents a bit better, so I was able to get a gap there, and then extend it."

The men's five lap, 35.5 kilometre race was expected to be a fight between Plaxton and Kabush. Plaxton has been inching closer to victory over the past few years, but the veteran Kabush has always managed to have something extra for the national championships. This year, Plaxton skipped the last two World Cups to training specifically for the national championships, and it paid off. He dropped Kabush on the second lap and steadily increased his lead over the remainder of the race to win by one minute and 41 seconds. Derek Zandstra (3 Rox Racing) finished third, three minutes and 22 seconds back.

"I've been chasing this a long time," admitted Plaxton. "I know it was a bit risky not doing the World Cups, but I also know my body pretty well, and this was the better choice for me. We were just sort of feeling each other out on the first lap, and then I attacked on the second lap and got maybe 20 seconds. Geoff held me there for a while, but then I pushed it on the fourth lap and was able to open it up. I'm super happy right now, this is probably the biggest result of my career."
Catharine Pendrel (right)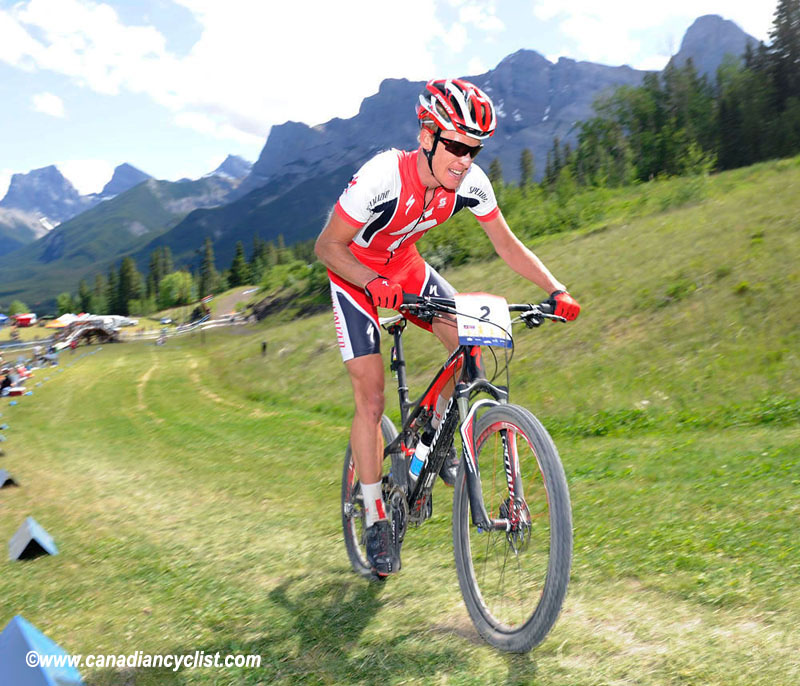 Max Plaxton
Race Notes

- Leandre Bouchard (Equipe Quebec) took the U23 men's title, after a tough race-long battle with Mitch Bailey (Team Ontario) and Evan McNeely (Team Ontario). Bouchard dropped everyone but Bailey by mid-race, and then attacked to leave Bailey behind on the final lap. McNeely faded to finish fifth, while Jeremy Martin (Equipe Quebec) moved up to take the bronze medal. Mikaela Kofman (3 Rox Racing) won the U23 women's title, leading from start to finish. Rebecca Beaumont (Equipe Quebec) took silver and Laura Bietola (Team Ontario) bronze.

- In earlier morning races, Marc-Antoine Nadon (3 Rox Racing) scorched the Junior men's field to lead from start to finish, while Frederique Trudel (Equipe Quebec) followed up last weekend's World Cup victory with her first national title in the Junior women's race. Nadon's sister Marie-Pierre Nadon won the U17 women's race, and Marc-Andre Fortier (Sarto Gagne) won the U17 men's.
---
Related Photo Galleries

Canadian XCO Nationals July 16/11 - July 17/11, Canmore, AB


Junior Men XC
Junior Women XC
U17 Men XC
U17 Women XC
Elite Women XC
U23 Women XC
Elite Men XC
U23 Men XC
Team Relay
---