February 9/12 21:33 pm - Local Ride / Dr Vie Superfoods+ Announces 2012 Squad

Posted by Editoress on 02/9/12

The Maple Ridge, B.C. based Local Ride/Dr. Vie Superfoods+ Elite Women's Cycling Team presented by Local Ride Bike Shop and Dr. Vie Superfoods+ is pleased to announce its powerhouse roster of extraordinary female athletes for the 2012 season, three of whom are very likely to be London-bound for this August's Olympic Games.

"We feel that this year's team has a really good mix of youth, experience, and sheer firepower," said the Team's Manager, co-sponsor, and owner of Local Ride Bike Shop, Barry Lyster. "I believe we will be even stronger this year than we were in 2011."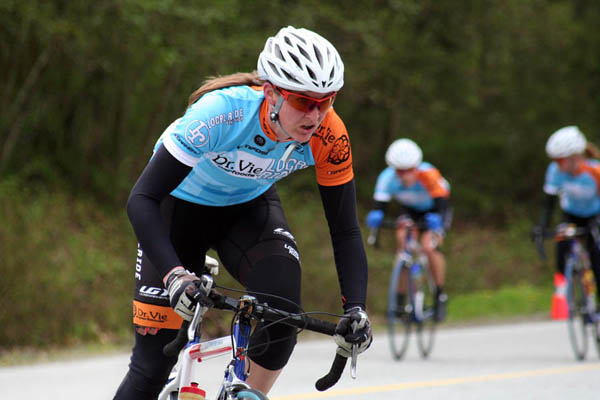 "2012 will be big!" affirmed Laura Brown, Local Ride/Dr. Vie Superfoods+ squad road racer and part of the Team Canada trio that won team pursuit gold on the track at the 2011 PanAm Games in Guadalajara, Mexico. Fellow Local Ride/Dr. Vie Superfoods+ rider Steph Roorda was also on the gold medal winning team that set both a Canadian and a PanAm record in the event.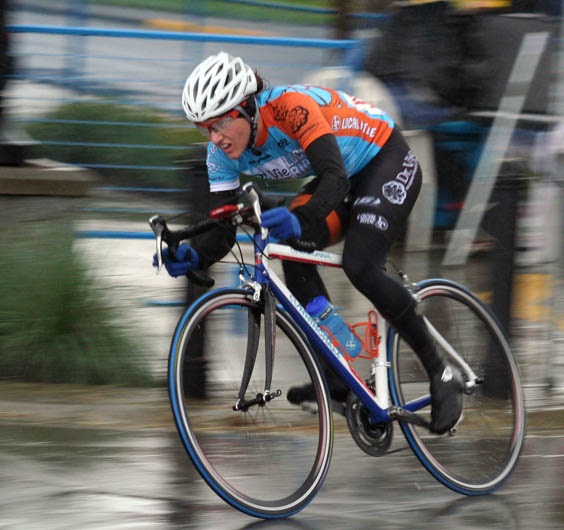 Laura Brown
Brown and Roorda of Vancouver, along with their new teammate, Gillian Carleton of Victoria, are all gunning to be on the Canadian team pursuit squad going for gold at the London Olympics.

Carleton is a flourishing young cyclist with many strengths on the road and on the track. Formerly a dedicated road racer, Carleton has shifted her focus to the track, where she has found immediate success, finishing sixth in her first World Cup event last year.

"I can't believe the strength and depth we have on the team this year," said Lyster. "We have senior riders who are on track to represent Canada at the Olympics and a group of developing riders who will make us proud closer to home."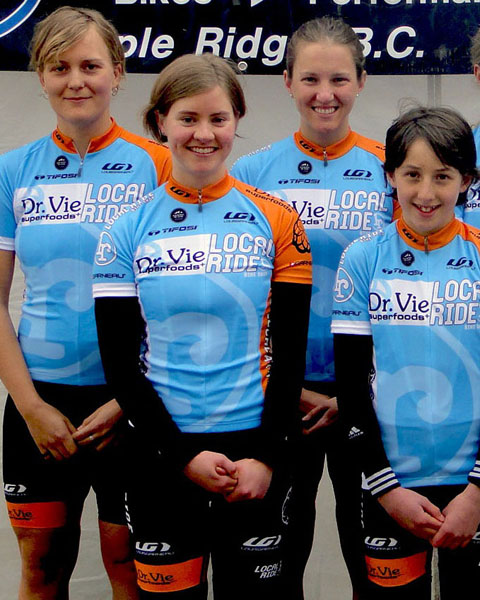 Steph, Rachel, Laura, Maggie
Local Ride/Dr. Vie Superfoods+ welcomes back returning riders, Sarah Coney (Coquitlam), Rachel Canning (Vancouver), and Maggie Coles-Lyster (Maple Ridge). Sandra Walter (Coquitlam) will guest ride with the team at select events.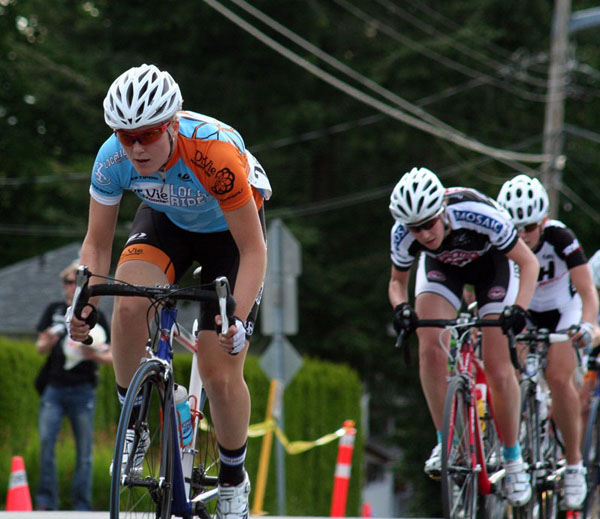 Steph_Roorda
Coles-Lyster, 12, is the team's youngest member and will compete in U17 Youth road, track, and cyclo-cross events all over the province. She is the 2011 BC Cup and Provincial U17 Women's Cyclo-cross Champion.

Veteran racer and new mother, Lisa Howard, the squad's newest member, will take a leadership role.

A resident of Vancouver, Howard participated in the 2004 Paralympic Games as a pilot in the women's tandem cycling races. She is also a former Canadian Cycling Team member, who represented Canada at some of the most prestigious women's road races in the world and won a Canadian Championship medal in track cycling as a junior.

"I'm really excited about my role on the Local Ride/Dr. Vie Superfoods+ team. The squad has a lot of talented young riders and I hope my cycling experience can help them achieve their potential," said Howard.

The Local Ride/Dr. Vie Superfoods+ team's racing calendar has yet to be confirmed, awaiting publication of the 2012 competition calendars. Key provincial races include Race the Ridge, April 28-29, and Barry's Roubaix, April 8th - two Ridge-Meadows-based road cycling events presented by Local Ride Bike Shop. Last year, each of Race the Ridge's three elite women's stages, the overall elite women's title, and the women's category of Barry's Roubaix were won by Local Ride/Dr. Vie Superfoods+ riders.

"Race the Ridge and Barry's Roubaix are definitely important events for the team," said Lyster. "Basically, they are the team's home races and we want to do well in front of the hometown crowd."

The team will also be present at all of the BC Cup races, BC Championships, and BC Superweek - the province's biggest week in competitive cycling.

Local Ride Bike Shop and Dr. Vie Superfoods+ are sharing title sponsorship of the team for a second year. After the squad's successful inaugural year in 2011, both companies were keen to be on board with the extraordinary project for another season.

"Whenever I see these awesome women wearing the Local Ride/Dr. Vie Superfoods+ uniform and representing Canada on the world stage, I feel incredibly proud," said Lyster. "I can't wait to see what they will achieve this season."

Dr. Vie Superfoods+ is a Montreal-based company that has been engaged in research and development of fresh foods for healthy lives. Dr. Cherie Vie founded Dr. Vie, Inc. in 2005.

"Mother Vie and I look forward to an exciting year with our Local Ride Dr. Vie Superfoods team," said Dr. Vie.

"Our athletes are Dr. Vie role models for young girls, children and women around our planet. Our focus for this year is children's health and women's health, as we will hold workshops, conferences and events to educate families on healthy lifestyle, sports and prevention of illness."

2012 Local Ride/Dr. Vie Superfoods+ Elite Women's Cycling Team Roster

• Laura Brown

• Steph Roorda

• Gillian Carleton

• Sarah Coney

• Rachel Canning

• Lisa Howard

• Maggie Coles-Lyster*

• Sandra Walter**

* Development rider

** Guest rider
---
Related Photo Galleries
---