February 16/12 17:06 pm - Track World Cup London: Day 1 report and photos

Posted by Editoress on 02/16/12

Canada got off to a great start at the final round of the World Cup, in London on the new Olympic track, when the women's Team Pursuit squad of Tara Whitten, Jasmin Glaesser and Gillian Carleton came within 1.216 seconds of beating the World Record during qualifying. Great Britain, racing before a partisan crowd that raised the roof during their ride, finished 0.585 seconds behind Canada, and the two teams will fight for the gold medal tomorrow evening, when a new world record will likely be set. Australia and the Netherlands will battle for bronze.

Great Britain started out fast, setting the fastest opening 1000 metres in the 3000 metre race, while Canada (only third fastest in the opening 1000 metres) steadily built their speed through the race, recording the fastest splits for both the second and third 1000 metre segments.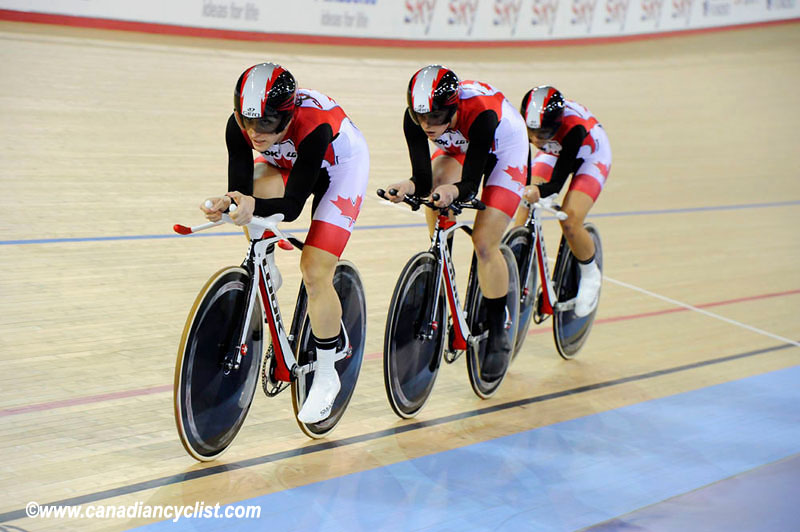 Tara Whitten commented: "You can never be disappointed when you set a new Canadian record. The feeling didn't feel quite as smooth as when we trained, a couple of days ago. We worked hard for every tenth of second we got, and so I am very happy."

"It's a really exciting time for our team right now. When we had our trials in LA, we saw that all five of us are produced fast times. It makes the decision really hard for the coaches, and pushes us to be at our best every day, and makes the team a lot faster."

We asked Tara whether the team backed off slightly in the final half lap to 'save' a world title attempt until the medal round, she laughed and said "I couldn't have gone any harder, I was at my maximum."

Jasmine Glaesser, in only her third international level Team Pursuit, said "Once we got out there it was a bit different than what I had envisioned. It was a bit windy, and it wasn't as smooth as it could have been. The team showed a lot of maturity. We kept controlled and stayed relaxed - no one panicked. We executed as well as we could have, and we can be happy with that ride."

"We did have a set schedule that we wanted to try, but you can never really predict the conditions until you get out there. We did a really good job with the conditions we faced."

Gillian Carleton, also a newcomer to the team in her second Team Pursuit, was extremely pleased with the ride, "It was a very exciting ride. I knew that our team was going really fast heading into this race. We raced the way we were capable. It's really exciting to set the new Canadian record."

"I would be very happy with this race as a stand-alone race. Our goal was to qualify, and move on to the medal round. Now that I see what we can do, on a track with conditions that weren't as good as in training, I feel confident that that we have a chance to win the gold medal tomorrow, and put everything on the line again."

Track Impressions

Whitten: "It's a beautiful track. Feels so good to ride, and have the atmosphere of the spectators in the stands. The rest of weekend will be crazy. It's really loud out there, so it's important to maintain your own bubble. There is a lot of energy, and we know it will just build over the next months."

Glaesser: "It's super exciting to ride in a country where cycling is held in such esteem. You can really tell that the passion is there, that the crowd is behind you. There is an appreciation for the sport, and it makes me feel really motivated to ride."

Carleton: "Other than the physical characteristic of the track, what struck me most tonight was the crowd. You can tell that the people here are crazy about cycling. I could hear during the race the announcer amping the crowd, with every split that showed up on the time board, which I would normally never do. I just thought that was the most motivating thing to do. It's very exciting to hear when you're on pace for the World Record, but at the same time, it doesn't register too much, because we're still focused on the execution of the plan, and what we're supposed to do. It's still a great morale boost!"

Our comments are that it is indeed a superb facility, which will set a new standard for world class tracks.
Prior to the start, in a small room under the track (and with little fanfare), a brief ceremony was held to award the 2011 Rainbow jerseys and gold medals to Jason Kenny of Great Britain for the men's Sprint and Germany for the men's Team Sprint. Both were awarded the titles after Gregory Bauge of France was disqualified for missing doping controls (see Daily News January 16), losing the individual Sprint title, and the team losing the Team Sprint title.
Jason Kenny received his World Champion medal and jersey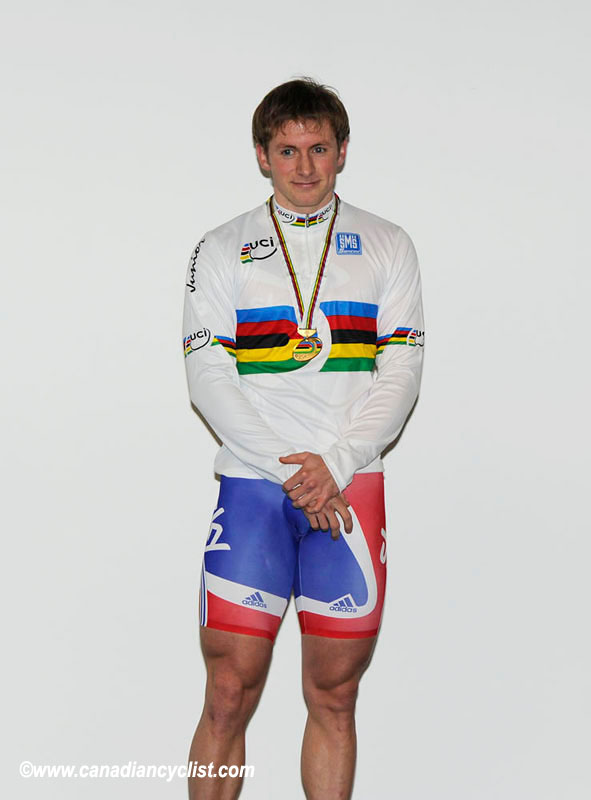 ---
Related Photo Galleries

Track World Cup London February 16/12 - February 19/12,


Preview
Women Team Pursuit-Qualifying
Men Team Pursuit-Qualifying
Men Omnium - Qualifying and Points
Men Omnium - Qualifying and Points
Men Omnium - Flying Lap
Women Team Pursuit-Final
Men Team Sprint-Qualifying
Men Omnium - Elimination
Women Team Sprint Qualifying
Women Scratch Race
Men Team Sprint Final
Men Kilo TT
Men Points Race
Women Pursuit Qualifying
Men Omnium- Pursuit and Scratch
Men Omnium - Kilo TT and podium
Women Sprint - Qualifying
Women Omnium - Flying Lap
Women Omnium - Scratch
Women Omnium - Time Trial
Men Sprint Final
Women Keirin Final
Men Sprint Qualifying
Men Team Pursuit - Final
Men Keirin - Round One
Men Keirin - Final
Women Omnium - Elimination
Women Omnium - Points Race
Women Omnium - Pursuit
Women Pursuit Final
Women Sprint Part 2
---