March 10/12 10:09 am - Garneau Introduces Energy Gel

Posted by Editoress on 03/10/12

Louis Garneau has launched a new product line known as Garneau Nutrition. Six flavors of energy gel will hit the market for the debut of this product line, with an electrolyte sports drink and more nutritional products to follow in the near future.

LG Gel is made with natural ingredients and an optimum blend of complex carbohydrates, electrolytes, and antioxidants needed to meet the nutritional demands of athletes during racing and training.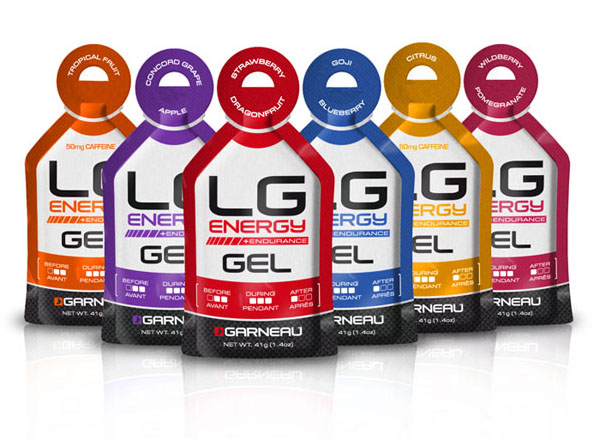 Foremost, LG Gel tastes great and is available in six flavors: Citrus, Concord Grape-Apple, Goji-Blueberry, Strawberry-Dragonfruit, Tropical Fruit, and Wildberry Pomegranate. Unlike other energy gels, LG Energy Gel contains real fruit juice, which gives it a clean, simple, and natural taste with no chemical, bitter, or harsh after-taste. During intense workouts, taste is intensified; therefore, the flavors have been specially formulated to appeal to athletes of all abilities. In addition, the consistency of the gel makes it easy to swallow with or without water, and allows for easy digestion.

We've perfected the packaging after two years in development (patent pending). The packaging is designed for a quick, no-struggle opening on the bike or during the run with a hole-punched tab for fingers to grip. The gel control spout allows the user to control the flow to the mouth and eliminates mess. The gel can easily be opened while in motion and the opening easily dispenses either directly to the mouth or in the waterbottle. Gel also stores perfectly in back pockets. The hole-punched tab will also be integrated to other products currently in development including bags and accessories.

"During my cycling career, nutrition always played a vital role in my success. As a cycling company, we work with athletes on a daily basis and therefore, had the desire to provide them with products essential for their training and racing. The launch of LG Energy will allow us to continue to be the cycling solution," remarked Founder and President, Louis Garneau.

Each gel packet is a serving size of 41g and contains 100 calories, with 25 grams of complex carbohydrates for quick absorption and increased long-term energy output and just 4 grams of simple sugars that make it easy to digest. Two Key Electrolytes (sodium and potassium) assist in rehydration and replenish electrolytes lost from perspiration. LG Gel contains no artificial flavors, colours or sweeteners, and delivers 100% DV of antioxidant vitamins C & E, which help reduce muscle soreness and aid in recovery. Two flavors - Citrus and Tropical Fruit - are caffeinated. Citrus has 50mg of caffeine, or roughly the equivalent of a single shot of espresso, and Tropical Fruit has 25mg of caffeine.

LG Gel will be available throughout bike shops in both the United States and Canada. LG Energy will be marketed as part of Louis Garneau's Cycling Solution - and part of everything needed for the cyclist.


---
Related Photo Galleries
---