March 11/12 16:47 pm - Kirchmann Takes Pan Am Road Silver UPDATED

Posted by Editoress on 03/11/12

Leah Kirchmann of Winnipeg took the silver medal in the women's road race as the 2012 UCI Pan-American Championships came to an end on Sunday in Mar Del Plata, Argentina.

After 90 kilometres of racing, Kirchmann crossed the finish line in second place in a bunch sprint. Cuban rider Yumari Gonzalez took the gold medal and Janildes Fernandez of Brazil the bronze. FULL RESULTS BELOW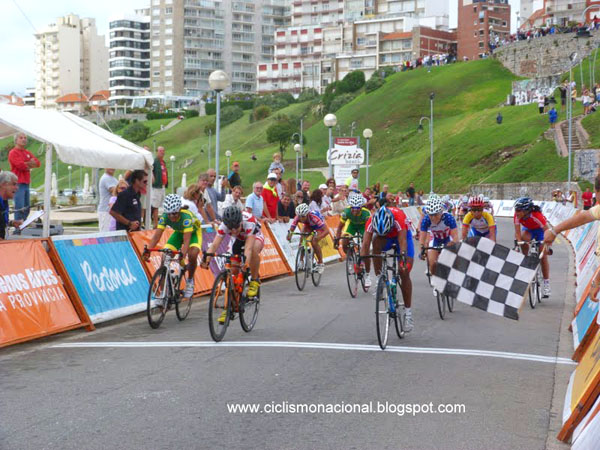 The Sprint - Photo courtesy Daniel Fulgenci, Ciclismo Nacional
"I'm really excited that I won a silver for Canada. It's one of my greatest achievements and it was one of my targeted races this season. The team worked really well together. We wanted a break so we played well off each other by continually attacking and putting pressure on the group. The Americans wanted a sprint so they brought back a lot of the attacks. It worked well for us in the end," said Kirchmann, the 2011 Canadian Criterium Champion, and winner of the 2011 Tour of Elk Grove.

"I really enjoyed my time in Argentina. The staff made our time easy as they were so helpful - we were well taken care of," Kirchmann added.

Denise Kelly, Head coach of the Canadian Road Cycling Team, is happy with this podium performance. "I couldn't be happier with the overall success of the team. Motivation was high all through the week, and the team cohesion was great and the athletes performed their best. It's a great start to the season for us."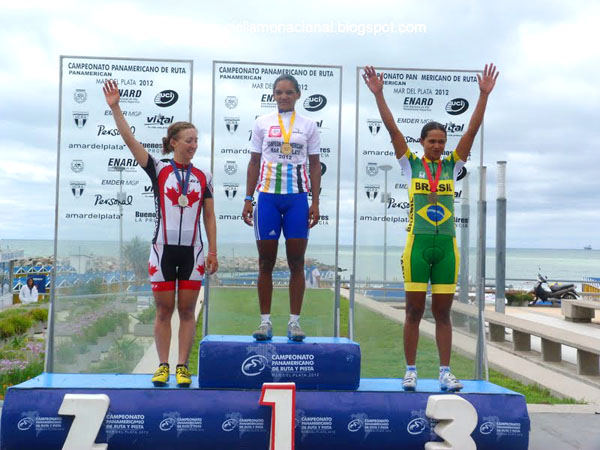 Podium - Photo courtesy Daniel Fulgenci, Ciclismo Nacional
Five other Canadians were in the race: Rhae Shaw of Seattle, Denise Ramsden of Yellowknife, Karol-Ann Canuel of Amos, Québec, Heather Logan-Sprenger of Madoc, Ontario, and Joanie Caron of Québec City.

The 12-lap, 90-kilometre race took place on a 7.5 kilometre circuit, which featured a sharp, 200 metre ascent soon after the start-finish line, the biggest challenge for the riders.
Canada ended a very successful 2012 UCI Pan-American Championships, winning five medal on the track and two medals on the road.
Report CCA
Women, 90 km
1 Yumari Gonzalez (Cuba) 2:19:27
2 Leah Kirchmann (Canada)
3 Janildes Fernandez (Brazil)
4 Shelley Olds (USA)
5 Marlies Majias (Cuba)
6 Clemilda Silva (Brazil)
7 Daniely Garcia (Venezuela)
8 Paola Muñoz (Chile)
9 Valeria Pintos (Argentina)
10 Ana Teresa Casas (Mexico)
11 Rhae Shaw (Canada)
12 Heather Sprenger (Canada)
13 Karol Ann Canuel (Canada)
14 Marcela Rubiano (Costa Rica)
15 Fernanda Sousa (Brazil)
16 Valquiria Pardial (Brazil)
17 Lilibeth Chacon (Venezuela)
18 Denise Ramsden (Canada)
19 Claudia Leal (Mexico)
20 Joanie Caron (Canada)
21 Daniela Guajardo (Chile), all s.t.
22 Amber Neben (USA), 0:11
23 Jessica Jurado (Mexico), 0:17
24 Ingrid Drexel (Mexico), 0:38
25 Elizabeth Newell (USA), 2:40
26 Flor Palma (Chile), 2:40
27 Dolores Rodríguez (Argentina), 3:16
28 Edith Guillén (Costa Rica), 3:16
29 Rivera Coryn (USA), 4:35
30 Ana Polegatch (Brazil), 4:41
31 Valquiria Pardial (Brazil), 6:33
32 Alesandra Serrano (Ecuador), 6:33
33 Karelia Machado (Venzuela), 6:47
34 Olga Cisterna (Chile), 6:48
DNF Cari Higgins (USA)
DNF Gleydimar Tapia (Venzuela)
DNF Angie González (Venzuela)
DNF Tamiko Butler (Antigua and Barbuda)
DNF Gabriela Rojas (Chile)
DNF Marta Bobadilla (Chile)
DNF Valeria Muller (Argentina)
DNF Erica Peralta (Argentina)

---
Related Photo Galleries
---