March 25/12 9:44 am - Numainville Wins Redlands Stage 2 - Report

Posted by Editoress on 03/25/12

Optum Pro Cycling presented by Kelly Benefit Strategies continued their winning ways in Stage 2 of the Redlands Bicycle Classic, a fast-paced criterium through the streets of downtown Redlands. Joelle Numainville, clad in the green sprinters jersey she claimed one day earlier, executed a flawless sprint to claim victory on the women's side. A few hours later, Alex Candelario returned to the Redlands podium, finishing second in a massive field sprint after a race-long team effort to control the race.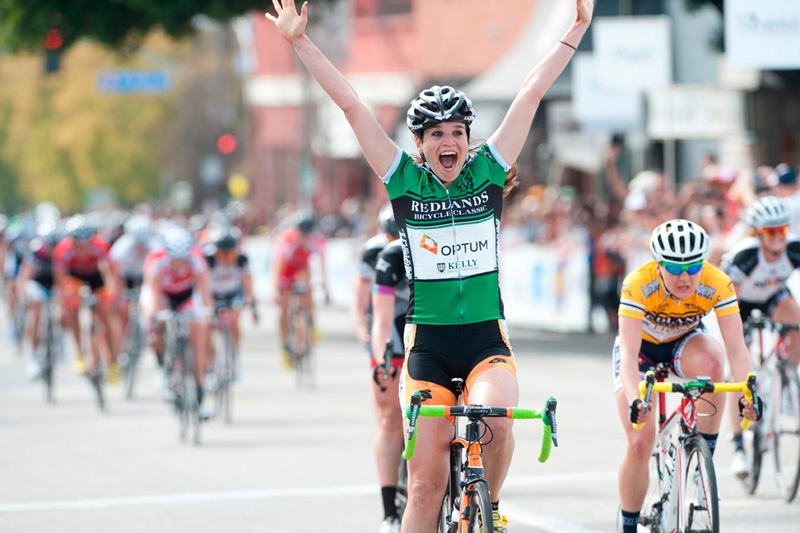 Joelle Numainville wins scroll to bottom for link to more photos
The women's team rolled into the criterium event in great position - holding two leader's jerseys (Numainville in Green, Jade Wilcoxson in QOM red). Performance Director Rachel Heal employed aggressive tactics to help her team capture the stage.

"Criterium events are a strong point for our team, and today we did an excellent job delivering Joelle in prime position. Denise (Ramsden) charged hard all day, and Lex (Albrecht) and Jade drove the pace late. Joelle capitalized on the team effort. It puts us in great position heading into a big day tomorrow on Sunset Loop."
Numainville lead through the final turn and was untouchable on the drag to the finish, but not before swiftly passing a Primal rider who, leading the charge to the line, crashed on the second to last corner.

"I managed to maneuver around her," Numainville said of the chaos in the lead up to the finish line. "Once I came around her and came first through the last corner, I knew I could win the race."

The win gave Numainville a 10 second time bonus, vaulting her into fourth place on the general classification for tomorrow's [Sunday] finale.

The men's side of the Optum p/b KBS coin delivered another show for the large crowd in downtown Redlands. Breakaways were rare until Mike Creed jumped, followed by Cameron Peterson (Eclipse-ATC). The duo rode a two-man flyer for numerous laps until the rest of the Optum p/b KBS team hit the front, stretching the peloton to its limits. The orange and black train controlled the second half of the race.

Report courtesy Optum p/b KBS
---
Related Photo Galleries

Redlands Classic Stage Race March 22/12 - March 25/12, Redlands, California


Prologue
Stage 1
Stage 2
Stage 3
---