April 5/12 21:02 pm - Track Worlds - Day 2 report

Posted by Editoress on 04/5/12

Wrap up of competition for Day 2 at the Track World Championships:

Women's Team Pursuit Results

Canada had one of its strongest days ever at a Track Cycling World Championships on Thursday, winning both a silver and a bronze medal. The Women's Team Pursuit squad of Tara Whitten, Gillian Carleton and Jasmin Glaesser rode the 3000 metre time trial with a time of three minutes and 19.529 seconds for bronze. Great Britain successfully defended their world title with a world record time od three minutes and 15.720 seconds, with Australia taking silver, 1.225 seconds in arrears. Great Britain's win follows the triumph by the British against Australia in the men's Team Pursuit, also in world record time.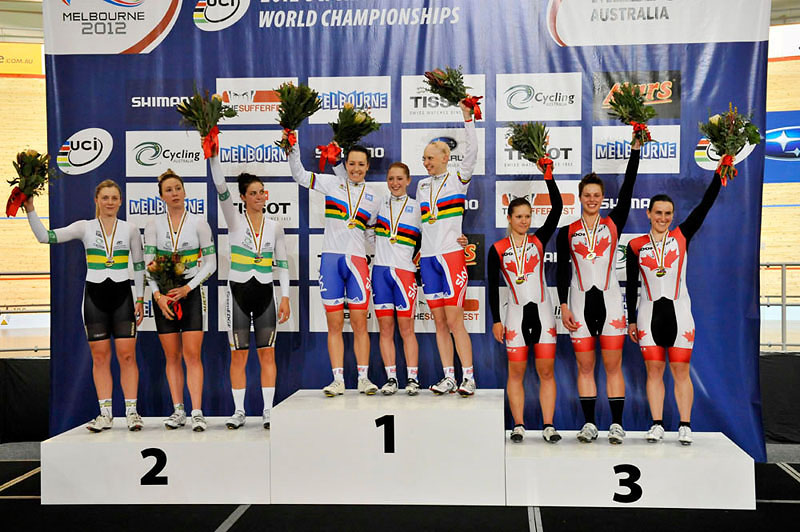 Podium
"I was pretty impressed with Great Britain doing a three-fifteen," commented Whitten, "But now I'm excited, because we know what we have to shoot for in London at the Olympics. It's going to be fast, but I think we have the power to do it."

"We weren't quite as focussed on this event as we were in February at the Olympic test event, so we did a lot of training heading into it," explained Carleton. "I'm happy with the time we did. I think it is representative of what we are capable of right now, and we have four months to re-focus for the Olympics."

[See our video interview with Whitten and Carleton Here]

Women's Points Race

Glaesser also won Canada's second medal of the day in the Points Race, this time silver. The 19 year old rider, attending her first world championships, came into the Points Race with two hard Team Pursuit rides in her legs, but attacked multiple times, before finally getting clear at the halfway point. She was joined after seven laps on her own by the eventual winner, Anastasia Chulkova of Russia, the bronze medalist, Caroline Ryan of Ireland, and Wong Wan Yiu of Hong Kong. The three lapped the field, attaining the maximum 20 points, with Chulkova finishing second in the final sprint to win gold with 31 points to Glaesser's 28.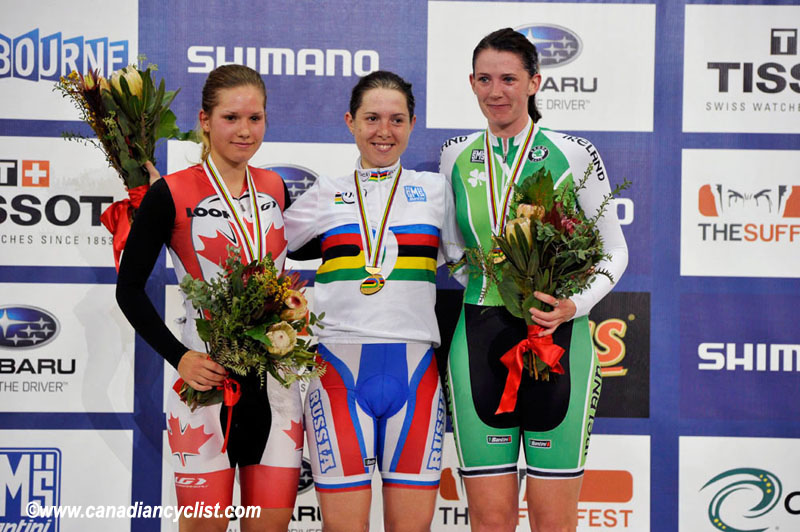 "The main focus was the Team Pursuit, because that's the Olympic event," agreed Glaesser, "but I was given the opportunity to do the Points Race, and any time you get a chance to win a medal at the world championships, that's fantastic. We knew that this team Pursuit was really big for the British and Australian teams, but our build up is for the Olympics in four months, so I'm not as disappointed as I would be normally with a bronze medal. For the Points Race, it was offered to me a couple of weeks ago, and I didn't really get a chance to prepare. But it's a great opportunity, and I was really glad I got to do it. I was tired, but having been on the podium earlier in the evening, there was some adrenalin in my system and that definitely helped out."

[See our video interview with Glaesser Here]

Men's Omnium - Day 1 Results

Zach Bell finished the first half of the men's Omnium in second place, six points out of the lead after finishing fourth in the opening Flying Lap, thirdin the Points Race and eighth in the Elimination Race. Bell was in a three-way tie for the lead after the Points Race, but Australian Glenn O'Shea finished second in the Elimination to open a gap in the standings.

Great Britain's Ed Clancy took the first win in the flying lap with a time of 12.881, ahead of New Zealand's Shane Archibold and O'Shea. Bell's time was 13.270 seconds.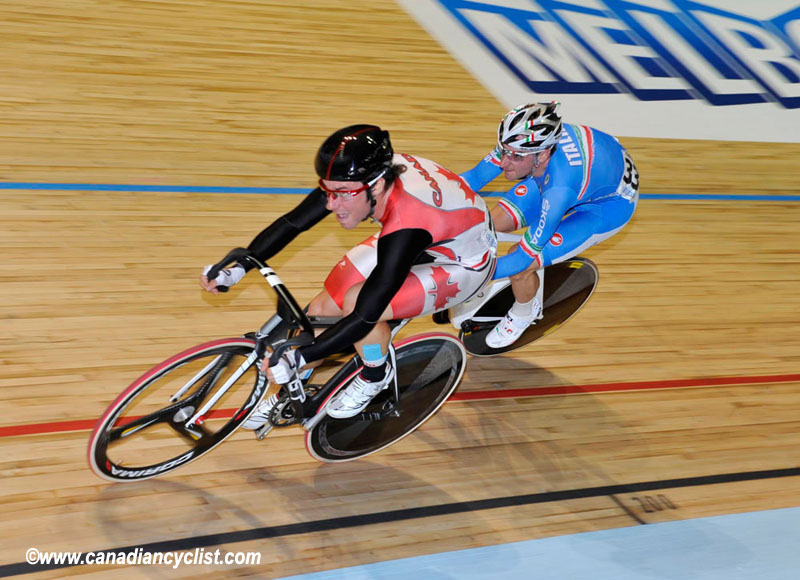 Zach Bell and Elia Viviani in Points race
The second event, the 25 kilometre Points Race, was full of drama after Chinese rider Liu Hao took out the race leader Elia Vivian in the final two laps on his second fall for the event. Vivian was awarded the victory with 43 points despite not finishing the event. Viviani, Bell, Eloy Teruel Rovira (Spain) and Ho Sung Cho (Korea) were the only four riders to lap the field.

Bryan Coquard of France was the last man standing in the elimination round, proving too fast for O'Shea over the final lap. Viviani, who had been tied with Bell and O'Shea after his Points win, was an early victim, pulled for forcing another rider onto the apron in an elimination sprint.

"It's more consistent than last year, for sure," agreed Bell. "I think I'm growing up as a rider, and can control things more, so it was really positive. The Flying Lap there was probably some technical things [to work on], but I'm really happy with the two bunch races. The Elimination went about as well as it could have gone; it was a lot better than London [the Olympic Test Event in February]. The Points Race has been bugging me this year - I know how to race a Points Race [Seventh at the Beijing Games], and I haven't been getting the job done, so that was back to basics and it worked out."

"Tomorrow, the Scratch Race can change everything. He [O'Shea] is going to put in solid time trials, so you have to count on catching him off-guard in the Scratch Race. It's going to be hard, and I'm going to need a few allies out there, but there's a couple of guys who might be interested, so we'll see what we can do."

Women's Sprint Results

Olympic and world champion Anna Meares broke the first world record of the day, stopping the clock at 10.782 seconds in the flying 200m sprint qualifying, shaving 11 thousandths off the previous mark of 10.793 set by Lithuanian Simona Krupeckaite in Moscow in May 2010. Meares will meet rival Victoria Pendleton of Great Britain in one semi-final tomorrow evening, with Krupeckaite meeting Lyubov Shulika of the Ukraine in the other. Canada's Monique Sullivan qualified a career-best ninth but was knocked out in the first round against Korean rider Lee Hyejin. [Monique Hanley has a full story on Monique Sullivan's race Here]

Cruising through the early finals, Meares had a shaky first quarter-final match against China's Guo Shaung when the two clashed, but managed to recover. Pendleton, a five-time world sprint champion, defeated France's Virginie Cueff 2-0 in her quarter-final to set up the semi-final matchup with Meares.

Meares was surprised by her world record in qualifying after a less than ideal start.

"I was surprised during the effort because I remember when I sat down I was thinking to myself 'this doesn't feel good. Go! Go! Go!, Go harder! Go harder! Go harder!' I probably should do that every time I do a 200 because I ended up breaking the world record," Meares said after posting the world's fastest time in qualifying.

Men's Kilo Results

Germany's Stefan Nimke won the men's kilometre time trial world championship to join Frenchman Arnaud Tournant and Sir Chris Hoy of Great Britain as a four-time world 'kilo' champion.

As defending champion, Nimke rode last of the 27 cyclists and he clocked one minute 0.082 seconds for the 1000 metres at Hisense Arena. The German started slowly but gained on each lap to be only 0.078 seconds behind France's Michael D'Almeida at 750 metres before increasing his pace for a 0.427 second winning margin.

"It means an enormous amount to me because this is my last world championship in the sprint discipline, maybe even for my general sporting career, you never know what's to come, but I've been saying after the Olympics I'll stop with sprint. Hence this will be my last appearance in the world championship," Nimke said.
---
Related Photo Galleries

Track World Championships April 4/12 - April 8/12, Melbourne, Australia


Men Team Sprint
Men Team Pursuit
Women Team Sprint
Men Scratch Race
Men Omnium - Flying Lap
Women Team Pursuit - Qualifying
Women Team Pursuit - Final
Men Omnium - Points Race
Men Omnium - Elimination
Women Points Race
Women Sprint - Qualifying
Women Sprint - 1/16, 1/8, 1/4
Men Omnium - Pursuit
Men Omnium - Scratch Race
Men Omnium - Kilo and podium
Men Sprint - Qualifying
Men Sprint - 1/16, 1/8, 1/4
Women Sprint - Semi and Final
Women Omnium - Flying lap
Women Omnium - Points Race
Women Omnium - Elimination
Women Omnium - Pursuit
Women Omnium - Scratch race
Women Omnium - 500 TT and podium
Men Sprint - SemiFinal and Final
Women Individual Pursuit
Women Keirin
---