May 1/12 11:42 am - 10th Annual Race the Ridge Brings Elite Cycling Action to Maple Ridge

Posted by Editoress on 05/1/12

The 10th Annual Race the Ridge cycling stage race presented by Local Ride Bike Shop attracted 150 racers to Maple Ridge for what is the province's only timed stage race and an event renowned for its quality courses and organization.

"I can't believe it's been 10 years since we hosted the first Race the Ridge," said event organizer and Local Ride Bike Shop owner Barry Lyster. "We really appreciate the District of Maple Ridge allowing us to use the downtown core for this great event, and also for allowing us to share the beautiful rural roads with cyclists from across the province. The three courses we use for Race the Ridge are extremely popular with the racers."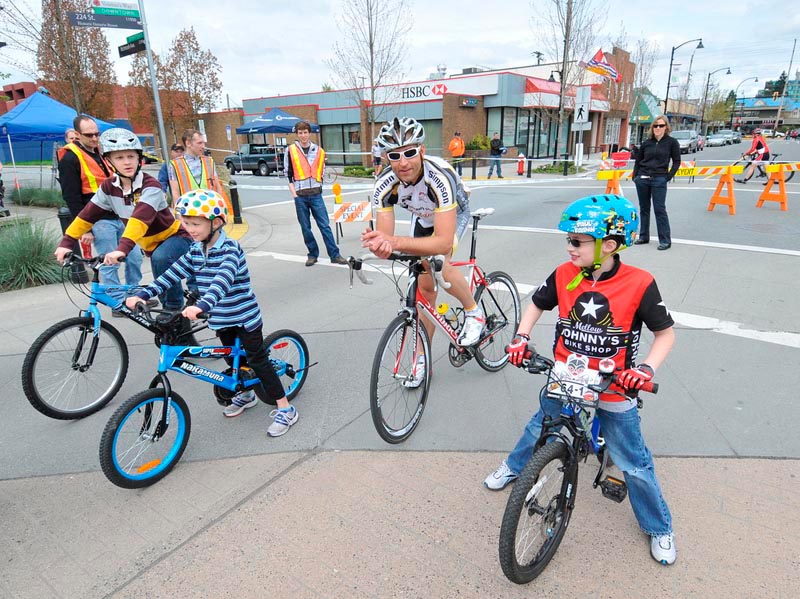 Excited youngsters line up for Sunday's free Kid's Race in downtown Maple Ridge more photo galleries at bottom of page
Race the Ridge wrapped up Sunday with the exciting Town Core Criterium - a high-speed, multi-lap contest in downtown Maple Ridge that featured a closed course, speeds of up to 50km/hour, and lots of sprints, attacks, and crashes. The race hub at Memorial Peace Park offered spectators great views of the action, along with music, and play-by-play race commentary for those unable to keep up with the constantly changing race leaders as the pack zipped by.

Winners of the overall stage race were honoured after the event, with the rider finishing all three stages with the lowest cumulative time in his or her category named Race the Ridge 2012 champion.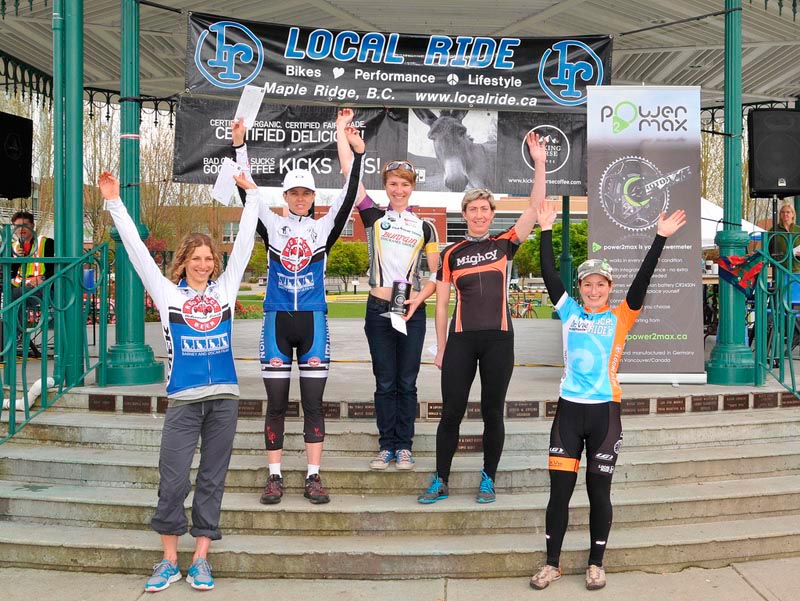 Elite Women's podium more photo galleries at bottom of page
In the Elite/Cat 1/2/3 women's competition, it was young up-and-comer Morgan Cabot (Vancouver - Glotman Simpson Cycling Team) who cinched the overall win after finishing fourth in the 70km Thorn Hill Road Race, first in the 22km Golden Ears Time Trial, and fifth in the Town Core Criterium, with a total cumulative time of 3:48:52. Cabot's killer individual time trial effort in the rain on Saturday evening gave her the time advantage she needed to hold onto the win. Kristine Brynjolfson (Kamloops - Trek Red Truck Racing) finished second, with Claire Cameron (Vancouver - Mighty Riders) in third overall. Road race winner Jenny Lehmann (Vancouver - Trek Red Truck Racing) took fourth in the general classification, and home team rider Sandra Walter (Coquitlam - Local Ride/Dr. Vie Superfoods+) was fifth.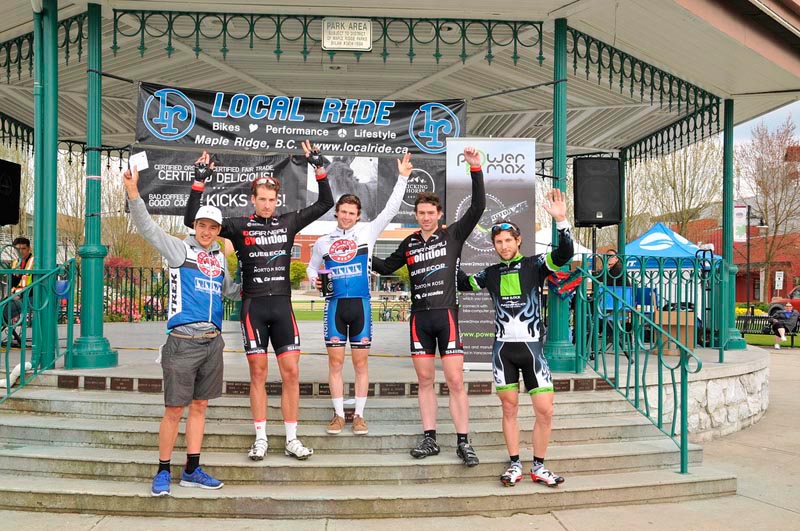 Elite Men's podium more photo galleries at bottom of page

To the delight of race fans, Walter contributed to making the women's Town Core Criterium an über-exciting finale to the weekend by escaping from the pack on a long-lived solo breakaway. After much speculation as to whether she could stay clear of her chasers, she was eventually caught, only to help her team mate, Lisa Howard (Vancouver) grab second overall in the final sprint, despite a crash with just four laps to go. Walter avoided the crash and still managed to eke out a fourth-place finish, while Cameron won the final stage.

"It was such an exciting race to be a part of," said Walter. "We worked really well together as a team. It's so much fun when everyone is on the same page and contributing to the race. Lisa [Howard] is such an experienced rider and Melanie [von Stetten, Langley, Local Ride/Dr. Vie Superfoods+] was a great contributor."

The Elite/Cat 1/2 men's race was equally exciting, with some of the province's top contenders taking to the start line for Saturday's stage one road race. The men rushed around ten laps of the scenic 9.8km Thorn Hill course, with Trek Red Truck Racing's Cody Canning (Sherwood Park, AB) securing top spot out of a four-man breakaway. Canning went on to score a respectable fifth place in the time trial, but put it all together in the final stage criterium to win the overall general classification. His criterium victory was impressive, as he seemingly appeared from nowhere to fling his bike across the line ahead of second place, Greg Christian (Vancouver - Garneau Evolution) in a photo finish. Despite Christian's second place finish in stage three, his team mate Tim Abercrombie (Vancouver) took second overall in the general classification, trailing Canning's overall time of 4:05:02 by a mere 14 seconds. Christian had to settle for third, with Adam de Vos (Victoria - Trek Red Truck Racing) in fourth and Mike Sidic (Vancouver - H&R Block) fifth.

Dave Stephens (Vancouver - Garneau Evolution) made Race the Ridge history on Saturday evening when he won the Golden Ears Time Trial and set a new record with a time of 28 minutes, 25 seconds.

The Cat 3/4 women's field was a competitive one and featured the province's up-and-coming stars, including 13-year-old Maggie Coles-Lyster (Maple Ridge - Local Ride/Dr. Vie Superfoods+). The young rider chose to contest the more competitive category instead of her U17 age group in order to gain more valuable experience in a bigger pack. After all three stages, she eventually finished ninth overall and showed some impressive progression, especially on the final stage, riding with the lead group for much of the race. "It was really fun," said Coles-Lyster. "Once I moved up in the pack, it felt much easier to stay there." When she eventually dropped back from the leaders, she said it was due to a lapse in concentration that allowed a gap to open, which she could not surmount. Overall, she was pleased with her first foray into the senior ranks.

Meghan Wolfe (Vancouver) was the clear frontrunner in the Cat 3/4 women's field. She dominated all three races to take the overall stage race win. Janna Gillick (Nanaimo - Mid Island Velo Association) picked up a third and two second place finishes to secure second overall, followed by Justine Clift (Vancouver - Leading Edge) in third. Local Ride Racing's Jeanine Ball (Vancouver) took 10th overall.

The Cat 3 men's race for the general classification was a close one, with the top two separated in the end by only 12 seconds. It was Jordan Duncan (Victoria - Russ Hays/Accent Inn), however, who took the crown after winning a decisive time trial. Despite his exciting road race win in a breakaway, Geordie Morrison (Victoria - Pro City Racing) was unable to hold onto the overall lead and had to settle for second place. Ted Matson (Langley - Daryl Evans Racing) finished third. Local Ride Racing's Rich Machhein (Port Coquitlam) won the bunch sprint for fourth place in the Thorn Hill road race, but his time trial was not competitive enough to keep him in contention for the top spot. He eventually finished fourth overall, with teammate Carsten Ivany (Langley) 16th. Trevor Pearson (Team Coastal) won the criterium.

The Cat 4 men's race was the biggest category of the weekend, proving to Lyster that his decision to separate the Cat 3 and 4 men was the right decision. "The Cat 4 men's category traditionally contains a lot of young up-and-coming riders and a lot of juniors, so constantly throwing them in with the more experienced and much stronger Cat 3's often leads to a negative experience for them. With their own field, the developing riders were on a much more level playing field and gained valuable experience," said Lyster.

As in the other categories, the time trial was the decider in the Cat 4 men's race. Geoffrey Parslow (Vancouver - Todd's Racing) won the Golden Ears Park effort and took the overall title. Local Ride Racing's Brett Wakefield (Maple Ridge), who recently hung up his running shoes after a long track and field career for SFU Varstiy, proved his switch to cycling holds promise. Despite his relative lack of experience, the young racer's fitness proved invaluable on the weekend. His impressive second place in the road race behind Arturo Suarez (Vancouver), fourth in the time trial, and pack finish in the crit secured him second overall. His more experienced teammate, Ryan Newsome (Port Moody), worked for the young phenom, chasing breaks and controlling the pack to conserve Wakefield for the finish. Tony Martin (Langley - Fraser Valley Road Cycling) finished third in the general classification. John Livingstone (Vancouver - Escape Velocity) won the criterium and, once the time bonuses were awarded, he clocked in only one second away from third place overall.

Sunday also featured a free kid's race in Memorial Peace Park. The enthusiastic and bike-happy children had a blast as they cruised around a modified course with cheering fans offering support.

"It was the best kid's race we've ever hosted," commented Lyster. "It epitomized what Race the Ridge is all about - making cycling fun for everyone and showing off what a fantastic cycling community Maple Ridge can be."
More photos on Paul Craig's Flickr page
---
Related Photo Galleries
---