May 10/12 13:07 pm - UCI World Cup XC Nove Mesto na Morave Preview

Posted by Editoress on 05/10/12

The UCI Mountain Bike World Cup returns this weekend after a month break, with round three of the Cross-country series and round two of the new Eliminator series, in Nove Mesto na Morave in the Czech Republic. Even though last year was the first time Nove Mesto had hosted a World Cup, it was chosen by the riders, teams and press of the World Cup as the top Cross-country event of 2011.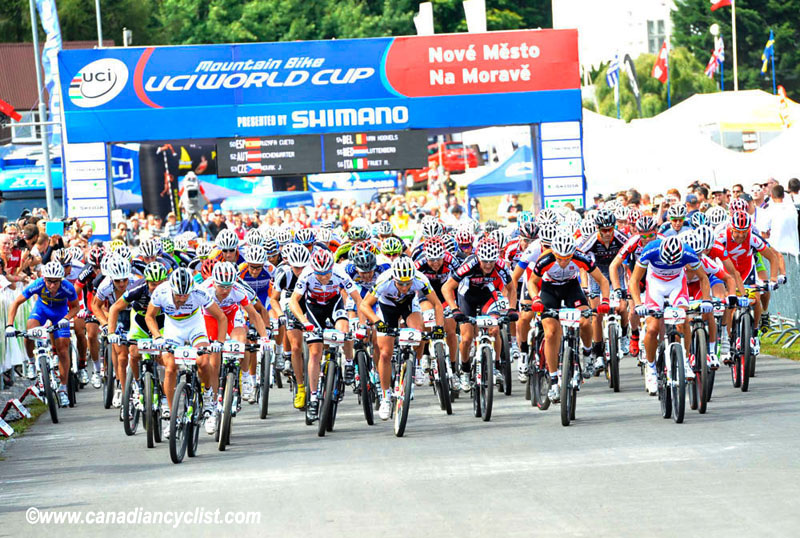 Battles for final Olympoc spots should make for intense racing

While nation rankings are pretty much set for Olympic start spots, Nove Mesto, and round four next weekend in La Bresse, France, are some of the final opportunities for riders to score valuable ranking points for Olympic qualification and to meet national Olympic standards, so the level of competition will be more intense than ever, with riders fighting for every position.

Canada has sent a large contingent of riders - 18 in total on trade teams and the national team. The full list is included at the bottom.

Held in the scenic Vysocina region southeast of Prague, the event is headquartered at the Czech Nordic and Biathlon centre, providing a superb stadium (doubled in size from last year) for fans to watch the start and finish of the racing, and cheer on their countryman, defending men's champion Jaroslav Kulhavy (Specialized).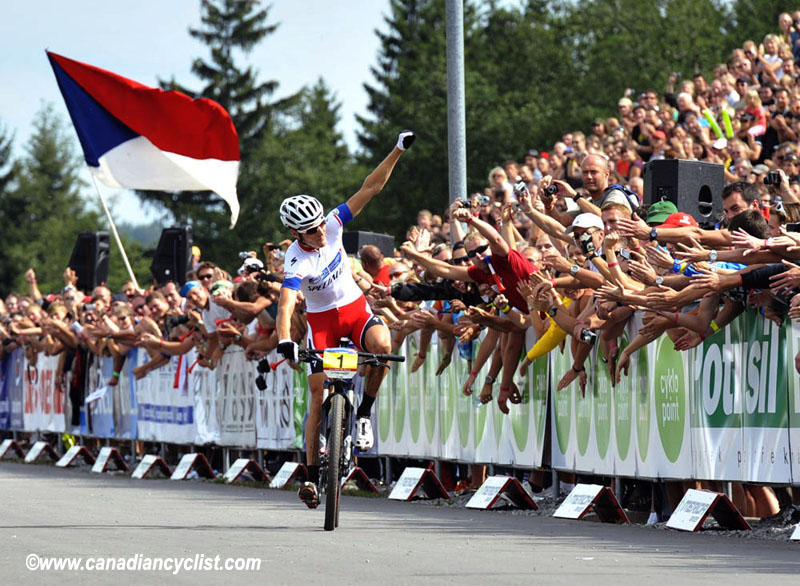 Jaroslav Kulhavy winning in 2011

The action begins with the Eliminator on Friday, an exciting short course event that has riders sprint around a course filled with obstacles, with the top two moving on to the next round after each heat. Usually, the Eliminator runs heats of four riders at a time, however, Nove Mesto will run six on the track at once, to make the racing even more exciting. The course has been totally redesigned from last year and will take place mostly on asphalt, meaning that spectators are like to see multiple bunch sprint finishes. Annie Last (Milka Brentjens) and American Brian Lopes won the first round in Houffalize, Belgium, last month, but the tight racing and crashes mean that they are by no means assured of repeating.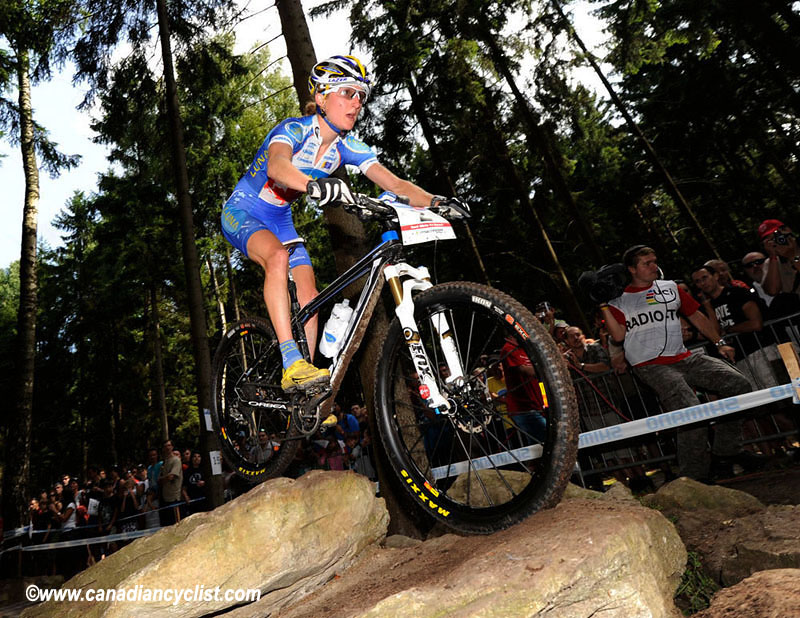 Catharine Pendrel conquering the rocks

The cross-country circuit is similar to last year, with the long climbs through the surrounding forest requiring tremendous fitness, plus technical descents demanding concentration and skill to do well. However, organizers have made a few changes to the course. It has been lengthened to 4.46 kilometres with the addition of a BMX-style technical section at the far end of the course. This will require both speed and technical skill - a rider could easily open a gap here, or drop out of contention with a mistake. On Sunday, it is expected that the Elite men will do six laps (plus a start loop) and the Elite women one lap less.

One other factor could be the weather. Currently, it is sunny and in the low-20s Celcius. However, a cold front is moving in for the weekend, with frost expected Saturday night, and it could be as low as single digits for the start of the women's race.

World champion Catharine Pendrel (Luna) leads the women's World Cup standings after her dominating performance in Houffalize, but she is tied on points with Maja Wloszczowska (CCC Polkowice) at 410. The 2011 World Cup champion Julie Bresset (BH-SR Suntour-Peisey Vallandry) sits in third place at 340 points, just 20 points ahead of Emily Batty (Subaru-Trek). Pendrel and Bresset finished 1-2 in Nove Mesto last year, so expect them both to be contenders, along with Wloszczowska. One other rider who is sure to be in the mix is Pendrel's team mate Katerina Nash, a local Czech rider who began her international sports career here as a Nordic skiier.

In the Olympic qualifying battle, the women's category for two spots on the start line is pretty much set. It is based on the total number of points a nation has for the combined total of 2010/2011 as of May 23rd and 2011/2012 as of May 23rd. Canada is first and, theoretically, could be bumped to second by Switzerland, but it's a long shot. The USA is also safe in fifth. Norway, in eighth place, has a 457 point lead over Russia as of May 1st. The remainder of the nations (down to 18th place for one spot on the start line) are pretty much safe, except in the battle for the final two spots (17th and 18th ranked). Sweden is currently in 17th place, followed by Hungary in 18th and Denmark in 19th. All three are separated by less than 100 points, with Hungary and Denmark a mere six points apart for the final spot. Denmark has the added problem that their top World Cup rider, Annika Langvad, ninth in the world rankings, is out with broken ribs. Potentially, this regular top-10 rider could miss out on going to the Olympics. For Canada, the battle will be between Emily Batty and Marie-Helene Premont (Rocky Mountain) for the second Canadian spot. Batty holds the advantage with two top-ten results this season.

For the men, it should be an exciting battle between defending champion and local hero Kulhavy, the current World Cup leader Nino Schurter (Scott-Swisspower), and World Cup round two winner Julien Absalon (Orbea). Kulhavy dominated the entire World Cup season last year, including his home win in Nove Mesto, however, this year he has been building his fitness slower and is currently ranked seventh in the overall standings. This trio finished 1-2-3 last year and it will be interesting to see if the influx of 20,000 local fans will inspire Kulhavy to new levels and a repeat win. Geoff Kabush (Scott-3Rox) will be looking to see if he can improve one spot upon his 11th at Houffalize, while Canadian national champion Max Plaxton (Specialized USA) will be looking for a strong World Cup result to put him in contention with Derek Zandstra (Scott-3Rox) for Canada's second Olympic spot. Zandstra holds the advantage with a top-30 result.

In the men's Olympic qualifying battle, the top five nations are safe for the the maximum three spots, as are 6th through 13th ranked nations for two spots - the USA is 1oth and Canada 11th. In fact, it is almost impossible for the remaining 14th through 24th place nations that get one spot to lose their places either. There could be some movement within each grouping, but it is unlikely that any nation will change the number of spots it receives.

The Canadian riders for Nove Mesto and La Bresse:

Elite Women
Emily Batty (Team Subaru-Trek)
Jean Ann Berkenpas (Canadian National Team)
Mikaela Kofman (Scott-3RoxRacing)
Catharine Pendrel (Team LUNA Pro)
Marie-Helene Premont (Rocky Mountain Bicycles Factory Team)
Amanda Sin (Scott-3RoxRacing)
Catherine Vipond (Canadian National Team)

U23 Women
Laura Bietola (Canadian National Team)
Andreanne Pichette (Canadian National Team)

Elite Men
Cameron Jette (Scott-3RoxRacing)
Geoff Kabush (Scott-3RoxRacing)
Adam Morka
Max Plaxton (Team Specialized Racing)
Tyson Wagler (Scott-3RoxRacing)
Derek Zandstra (Scott-3RoxRacing)

U23 Men
Evan Guthrie (Canadian National Team)
Evan McNeely (Canadian National Team)
Etienne Moreau (Team XPREZO-Borsao)
---
Related Photo Galleries

Nove Mesto Na Morave World Cup August 12/11 - August 14/11, Czech Republic


Women Eliminator
Men Eliminator
U23 Men XC
Junior Men XC
Junior Women XC
U23 Women XC
Elite Women XC
Elite Men XC
Elite Men XC
---