May 20/12 4:46 am - La Bresse World Cup: Women's XC UPDATES

Posted by Editoress on 05/20/12

Welcome to our coverage from La Bresse World Cup
See our Preview for Course information
The women are on the line under sunny skies. It rained intermittently last night, so the wooded and DH sections will be quite slippery.
The women will do a start loop and then 5 full laps of the course, which is 4.9 km in length. 89 on the start list, but there are 6 DNS, so 83 will actually start
A couple of the Canadian riders who were in the Czech Republic last weekend will not be competing in France: Mikayla Kofman and Cameron Jette have opted for the Canada Cup instead.
The UCI has started to fine riders for not wearing full national team kit, if they are registered to ride for their National Team. Many riders were wearing their national team jersey and their sponsor short and in Nova Mesto, which is against the rules.
Start loop
Heading out it is a big bunch theough the town, but as they head up the first climb it is Gunn-Rita Dahle Flesjaa (Multivan Merida Biking Team) leading Elisabeth Brandau (Notebooksbilliger.de Team) and Katerina Nash (Luna Pro Team).
A the end of the loop, Dahl is leading with a gap of 3 sec on Brandau, 4 sec on Nash, Maja Wloszczowska (CCC Polkowice), Julie Bresset (BH - SR Suntour - Peisey Vallandry),. Eva Lechner (Colnago Sudtirol) and Annie Last (Milka Brentjens MTB Racing Team) at 5 sec.
Marie-Helene Premont (Rocky Mountain) 13th at 11 sec, Catharine Pendrel (Luna Pro Team) 13th at s.t.
Emily Batty (Subaru - Trek) 26th at 20 sec
Lap 1
Heading out on the first time up the long, LONG (1 km) climb to the top of the course it is Wloszczowska leading Nash, Dahle, Bresset.
5:44 am
Throught he very technical rock section descent a group of 6 has gotten a good gap: Nash, Bressett, Pendrel, Wloszczowska, Dahle and Last
5:46 am
Last is getting dropped off the bunch as they start to climb again at 22 sec at 192 way
Katrin Leumann (Ghost Factory Racing Team) 7th at 37 sec
Sabine Spitz (Sabine Spitz Haibike Team) 8th at 58 sec
5:49 am
Nash and Bresset are starting to seperate from the group on the decents
Pendrel still 3rd and Dahle 4th.
Lap 2
Heading out on lap 2, Nash leading Bressett at 1 sec. Pendrel 3rd at 21 sec, Pendrel 3rd at 23 sec, Dahle 4th at 27 sec, Wloszczowska 5th at 27 sec, Last 6th at 1:09
Emily Batty (Subaru - Trek) 13th at 1:52
Marie-Helene Premont (Rocky Mountain) 14th at 2:02
5:55 am
Bresset leading Nash now as they start up the long climb
Pendrel, Dahle and Wloszczowska together at 20 sec
5:58 am
Pendrel has close the gap to the leaders on the climb
Catherine Vipond has not started.
Annika Langvad (Team Fujibikes Rockets) has started with broken ribs. She still needs to qualify for Olympics. Not a course you want to ride with broken ribs.
6:02 am
Bresset leading Nash and Pendrel (at 2 sec) now on the descent. Dahle 3rd
Wloszczowska 4th but seems to be having more trouble on the technical sections.
6:04 am
At the top of the course
The 3 leaders have a gap of 20 sec on Dahle, 38 sec on Wloszczowska
Last still 6th at 1:35
Leauman and Gould (8& 9) now on her heels at 1:40
Batty 9th at 1:59
6:07 am
Pendre ltries to pass Bresset to get to the next technical descent section. She manages to get by Nash, but Bresset blocks the move.
Bresset hits the descent first and opens up a gap now on Pendrel and Nash.
Lap 3
Heading out, Bresset leading Nash by 7 sec. Pendrel at 15 sec, Dahle at 30 sec, Wloszczowska 5th at 1:12, Last at 1:46, Leuman at 2:07 and Gould at 2:10
Batty 9th at 2:30
Premont 19th at 3:49
Amanda Sin 37th at 7:03
6:15 am
Heading up the main climb, Bresset leading Pendrel and then Nash
6:17 am
Pendrel now passes Bresset and takes the lead partway up the climb
6:21 am
Pendrel has opened up a bit of a gap of 3 sec on Bresset on the descent .
6:24 am - 1/2 way round
Pendrel now has 9 sec on Bresset and Nash
Dahle at 24 sec
Wloszczowska still 5th but is showing evedence of a crash - she is now 1:26 back
Nathalie Schneitter (Colnago Sudtirol) hoping to be the 2nd Swiss woman in the Olympics has dropped out of today's racing, dashing any chance for an Olympic entry.
6:29 am
Down the descent and Penddrel crashes, taking Bresset down with her. The corner where they crashed is wet and getting quite dug out into a hole.
Pendrel has dropped her chain and has now been gapped by Nash and Bresset
Lap 4
Nash now leading Bresset by 7 sec. Pendrel and Dahle together at 13 sec
Wloszczowska 5th at 1:19
Katrin Leumann (Ghost Factory Racing Team) 6th at 2:16
Gould 7th at 2:21
Last 8th at s.t.
Batty 9th at 2:37
6:41 am
On the descent, Nash leading Pendrel and Dahle. Bresset now 4th
6:42 am
1/2 way around - Nash leading with Pendrel and Dahle at 10 sec
Bresset 4th at 25 sec
Wloszczowska 5th at 1:44
Leumann 6th at 2:09
Gould on her wheel
Last 8th 2:36
Batty 9th 2:48
6:47 am
Nash leading on the descent goes down. Dahle 2nd is closing the gap. Pendrel 3rd.
Lap 4 6:50 am

Starting the Final lap
Nash leading Dahle by 4 sec. Pendrel and Bresset at 19 sec.
Wloszczowska 5th at 1:52 back
Leuman 6th at 2:38
Gould at 2:40
Last at 2:44
Batty at 3:08
Spitz 10th at 3:56
Lea Davison (Specialized Racing) 15th
Premont 22nd at 6:55
6:52 am
Nash and Dahle together now as they head out along the river.
6:56
As they start up the climb Nash leading Dahle
Pendrel alone in 3rd. Bresset at a couple seconds back
7:04 am
1/2 way round
Nash leading Dahle by 8 sec
Bresset in front of Pendrel by 1 sec
Wloszczowska 5th at 2:06
Gould 6th at 2:21
Leumann 7th at 2:21
7:07 am
Nash has gone down AGAIN
Dahle has caught and passed Nash now. Dahle is heading for her first World Cup win since 2006 in Spa Belgium 2008 in Madrid
Finish UNOFFICAL
1 Gunn-Rita Dahle Flesjaa (Multivan Merida Biking Team) 1:39:57
2 Katerina Nash (Luna Pro Team) at 0:06
3 Julie Bresset (BH - SR Suntour - Peisey Vallandry) at 0:55
4 Catharine Pendrel (Luna Pro Team) at 1:12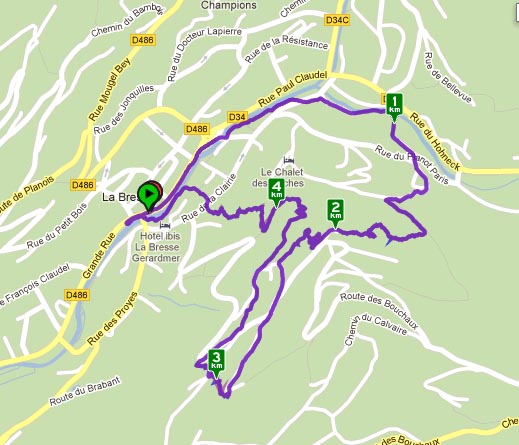 ---
Related Photo Galleries
---