May 21/12 9:12 am - La Bresse World Cup: Report, Photos, Results

Posted by Editoress on 05/21/12

The course in La Bresse, France, for round four of the Cross-country Mountain Bike World Cup had been described repeatedly as 'Old School', and a couple of seasoned veterans clearly liked it, as Gunn-Rita Dahle Flesjaa (Multivan Merida) took her 27th career World Cup win and Julien Absalon (Orbea) his 25th before the biggest crowds of the season. Canada had a number of strong performances, with Catharine Pendrel (Luna) finishing fourth, Emily Batty (Subaru-Trek) ninth and Max Plaxton (Specialized) a career-high ninth.

After rain overnight made the already technical downhills even more muddy and slippery, the riders were greeted with a hot sunny race day. The 4.8 kilometre circuit consisted of a long, steep singletrack climb and a technical downhill, so riders needed to be both skilled and very fit.
Women
Dahle Flesjaa led out the women's race through the start loop and then stayed in touch with a changing set of leaders. Katerina Nash (Luna) took the lead on the first climb, and was joined by World Cup leader Julie Bresset (BH-SR Suntour-Peisey Vallandry). World champion Catharine Pendrel (Luna) bridged up to them and attacked, with Nash dropping back to join Dahle Flesjaa.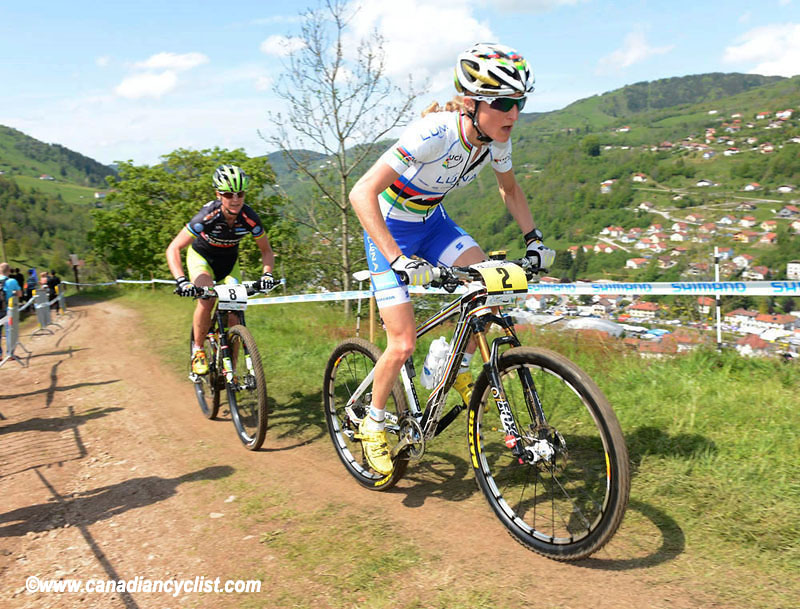 Catharine Pendrel and Gunn-Rita Dahle Flesjaa for more photos scroll to bottom of page

In the downhill, Pendrel and Bresset both crashed heavily at the halfway point of the race, and were overtaken by Nash and Dahle Flesjaa. The top two ranked World Cup riders chased but were unable to rejoin the new race leaders. In the final lap, Nash gained a slight gap on Dahle Flesjaa, but then crashed herself, opening the way for the patient Norwegian to move within one win of career leader Julie Furtado.

"I was just focusing on not going over my limit," explained Dahle Flesjaa, "because you need so much power and concentration on this course, I was thinking I have to focus on my thing, she might be over her limit, and I think that she was. I did a very, very good race, I paced myself - to the limit but didn't go too much over . This course is great. It is tough up, it is tough down. It is just a little dream for me."

Bresset dropped Pendrel by a few seconds to take third and pad her lead in the World Cup standings, with a very muddy Maja Wloszczowska (CCC Polkwice) taking the final podium spot.

Bresset retains her lead in the World Cup, with 750 points to Pendrel's 690, followed by Wloszczowska at 670. Batty remains in fifth.

"Crashes played a role today," agreed Pendrel. "I certainly wasn't riding at best on the technical parts. This is probably my worst riding of the year. It was a very hard course, a real mountain bike course, and you had to be on top of things for the whole race. I'm glad to be back on the podium again, and looking forward to a bit of a break at home before we start preparing for London."

Note: We have interviews with Batty, Pendrel and Dahle Flesjaa here.
Men
For Absalon, this was a unique opportunity to race literally before his home crowd, since the two-time Olympic champion lives within ten kilometres of La Bresse, and his brother was involved in designing the course.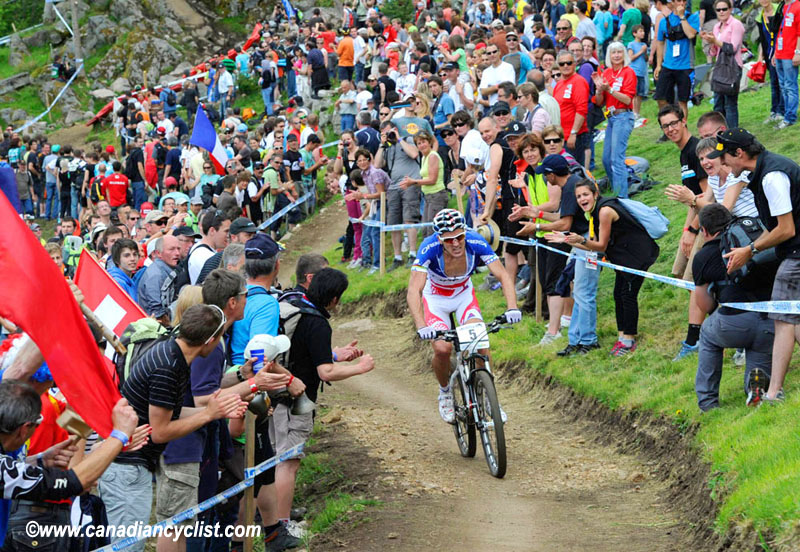 Absalon rides the final lap through throngs of fans for more photos scroll to bottom of page
Swiss riders Ralph Näf (Multivan Merida) and Florian Vogel (Scott-Swisspower), each vying for an Olympic spot, set the early fast pace, joned by Marco Fontana (Cannondale), who flatted a long way from a tech zone and dropped out. Absalon bridged up on lap two of the six lap race. Näf dropped back first, and then Vogel, as they struggled to match the searing pace of the French champion.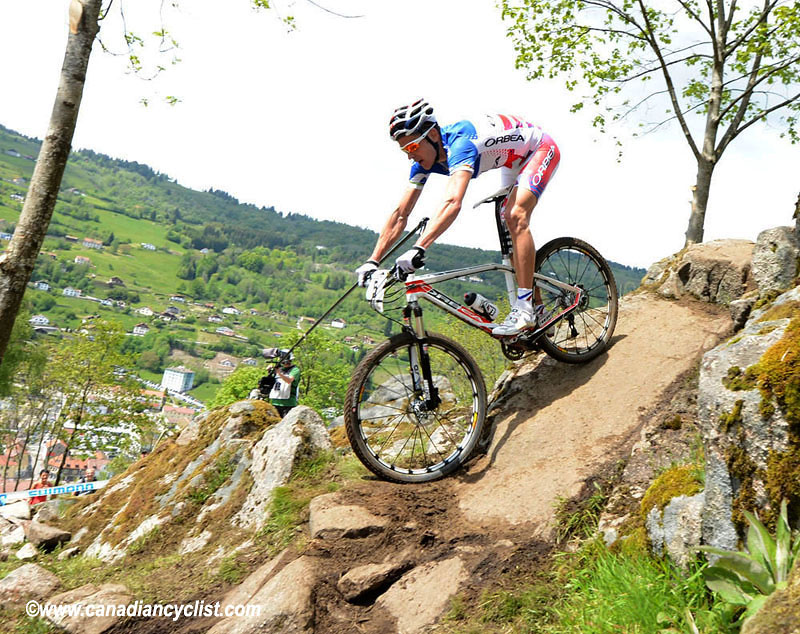 Julien Absalon for more photos scroll to bottom of page
World champion and 2011 World Cup champion Jaroslav Kulhavy (Specialized), after a poor start, was gradually moving forward through the field, and moved to less than 20 seconds from the lead, especially when Absalon crashed on the final descent, going over the bars. But the day was Absalon's, as he rolled onto the main street of La Bresse in front of thousands of fans, a handful of seconds in front of Kulhavy.

"It is maybe one of my best races," agreed Absalon. "It will be for sure extra special in my mind, first World Cup at home, that is a big honour for me. I am really happy for me,but also for the organization, for all my supporters. It was very hard. I was in good shape, but I was suffering a lot, and when I saw Jaroslav in the last lap ... I was dead, but managed to stay at the front to the finish."

Nino Schurter (Scott-Swisspower), who did not start the race due to illness, remains the World Cup leader, with 700 points, followed by Absalon with 650 and Kulhavy at 625.

Plaxton, who has struggled in Europe in the past, clearly received a confidence boost after his 14th place last week. He moved up steadily through the field, catching Lukas Flückiger (Trek World Racing) on the final lap.

"Everything just came together for me today. I knew I was capable of a top-ten, and this was a great course to do it on, a real mountain bike course."

Plaxton jumped from 33rd to 23rd in the World Cup rankings, while Geoff Kabush (Scott-3Rox) dropped to 26th after not finishing the race in La Bresse.

Note: We have interviews with Absalon and Plaxton here.
---
Related Photo Galleries

La Bresse World Cup May 18/12 - May 20/12, La Bresse, France


Preview
Women Eliminator
Men Eliminator
Junior Women XC
U23 Women XC
U23 Men XC
Elite Women XC
Elite Men XC - PT1
Junior Men XC
Elite Men XC - PT2
Elite Women XC - PT2
---