May 25/12 10:21 am - Exergy Tour: Prologue report and photos

Posted by Editoress on 05/25/12

Three-time world track champion Tara Whitten (TIBCO - To The Top) won the opening Prologue of the inaugural Exergy Tour on Thursday, finishing the two-mile (3.2-kilometre) course in downtown Boise in just over four minutes (4:09.64). It was an all-Canadian podium, with Gillian Carleton (Canadian National Team) in second place, 34-hundredths of a second behind the leader, and Clara Hughes (Specialized-Lululemon) in third at 4:09:98.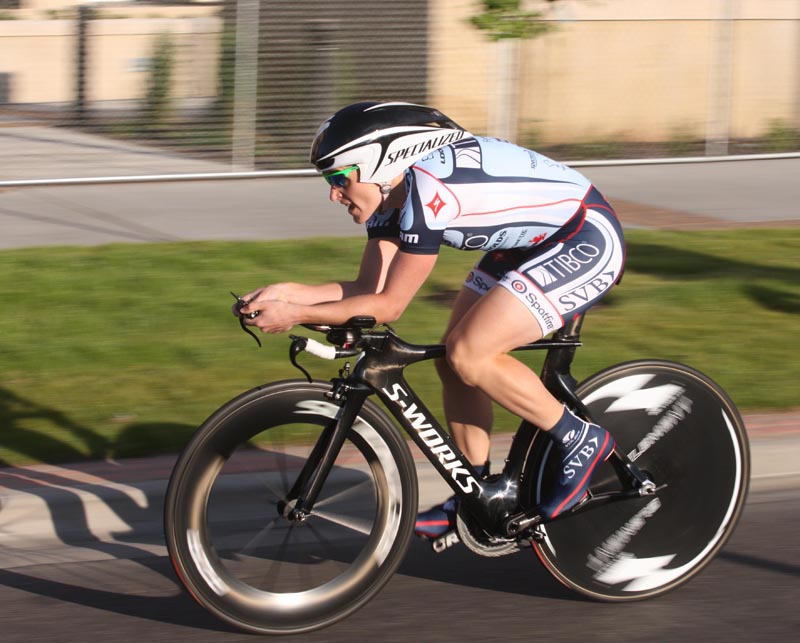 Tara Whitten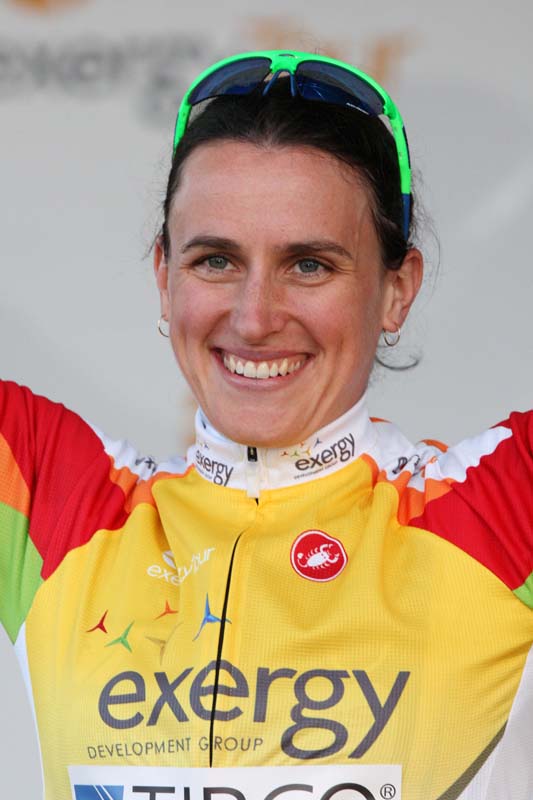 "It was such a strong field today. I am very proud to wear the first ever yellow jersey at the Exergy Tour," said Whitten.

"The Canadian cycling program made huge improvements over the past several years," Whitten added. "It's pretty unusual for us to have great crowds. It's exciting. The first comment I got from one of my teammates coming back was that the crowds were amazing, and it pushes you to give everything you have in there. We have a really strong team here and we are excited for the days to come."

Kristin Armstrong, team leader of Exergy Twenty12 professional cycling team and pre-race favorite, crashed at the halfway point of the Prologue course in the 180-degree turn just beyond the Boise Train Depot. The 2008 Olympic gold medalist finished the race in obvious pain, and holding her left shoulder, just eight seconds behind the winner for 13th place.

According to Jim Johnston, MD, Orthopedic Surgeon of St. Luke's Sports Medicine, Armstrong has a mid-shaft clavicle fracture. Surgery is scheduled for Friday morning forcing Armstrong to withdraw from competition. The Exergy Twenty12 team issued a statement saying a swift recovery is expected, and she plans to be back on her trainer within a few days to continue her pursuit of another Olympic gold medal.

The Exergy Tour kicked off with thousands of spectators lining the downtown course, which had views of the state Capitol building, foothills and Boise River. The loudest roar of the crowd was heard at 8:13 p.m. (Mountain Time) when Armstrong, a Boise native, set off down the time trial ramp. The race featured 103 riders in the Prologue, representing 16 professional teams, including six of the top 11 teams in the world.

"My team has had quite a bit of interaction with the city (of Boise)," said Whitten, whose team discovered 14 of its bicycles and other equipment had been stolen early Wednesday morning. Within hours, the Boise Police Department had recovered the team's equipment, avoiding a disasterous situation. "(It was an) incredible effort people put forward. Police were cheering for us which was extra incentive. They were admiring the bikes that they had recovered."

The 2012 Exergy Tour continues Friday with Stage 1 in Nampa, Idaho. This 76.7-mile (123.5 kilometre) road race features 1,800 feet of climbing through the hills and vineyards by the Snake River.
---
Related Photo Galleries
---