June 7/12 10:37 am - Blizzard Bike Club Celebrates 30th Anniversary

Posted by Editoress on 06/7/12

The Blizzard Bike Club of Fort St John, BC, is celebrating its 30 year Anniversary this weekend, with two races and a BBQ at the Baldonnel School.

The Blizzard Bike Club started its long history of cycling in the Peace back in 1982. The trio of Pat Ferris, Patricia Emery and Gary Leung decided to see if a cycling club could be of interest and thrive in a small town like Fort St. John. Thrive it did!

Initially, the Blizzards was a road race club and offered its first scheduled year of road race events in 1984. From that base it also expanded into mountain biking in 1989. Robert Martens introduced the club to cyclo-cross on his home made circuit at his house in 1998. The club members had their first Penticton Ironman, Grant Magusin, in 1992, two dozen more triathletes completing this tough event since then. A club duathlon series started in 2002. The event calendar has swelled to over a 100 events, from the January 1st New Years ride to the final cyclo cross event in late October.

It is a large club of 90 + members on average. It was originally affiliated with BC Cycling but climate and distance made an Alberta Affiliation more practical.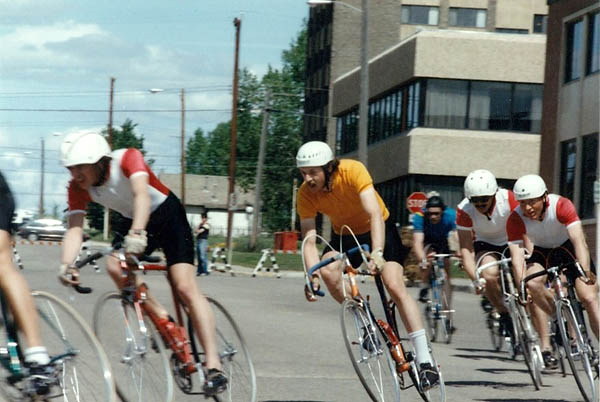 Photo: circuit race from 1985 Challenge Cup. The loop went around the old Frontier Hotel lot. L t R Tim Ferris, Pat Ferris, Bill Scott and Ray Kim.
To date, the club has had many top cyclists come from its ranks, including a National Silver medal with Richard Wood. Club members have won 48 Provincial Championship medals, 131 BC Games medals, had three riders placing on the World Cyclo-Cross rankings and have represented on Provincial Teams eight times. Local riders like Dan and Jon Wood, Stephen Ferris, Colter Young and Janelle Morrison have moved up to national competition in larger National and International competition. It has been a very successful 30 year history.

The 30th weekend festivities start with a social at the Baldonnel School at 4 pm. A time trial will be held on the traditional 16 kilometre Baldonnel road course at 6 pm, followed by a BBQ in the gym. Sunday's team race starts at 11 am with a social to follow. There will be ex-Blizzards as well as some fellow Peace Country cyclists coming to visit.

Check out the times and details on Face book : Blizzard Bike Club or call Ferris Fast Cycles for details.
---
Related Photo Galleries
---