June 22/12 10:05 am - Elite Road Nationals - ITT report

Posted by Editoress on 06/22/12

Clara Hughes (Specialized-lululemon) and Svein Tuft (Orica-GreenEdge) both repeated as Elite national champions on Thursday in the individual time trial. For Tuft it was his fifth consecutive title and for Hughes her second since returning to cycling from speedskating. Hugo Houle (SpiderTech p/b C10) repeated as the Under-23 men's champion, while Jasmin Glaesser (Cycling BC) took the women's Under-23 jersey.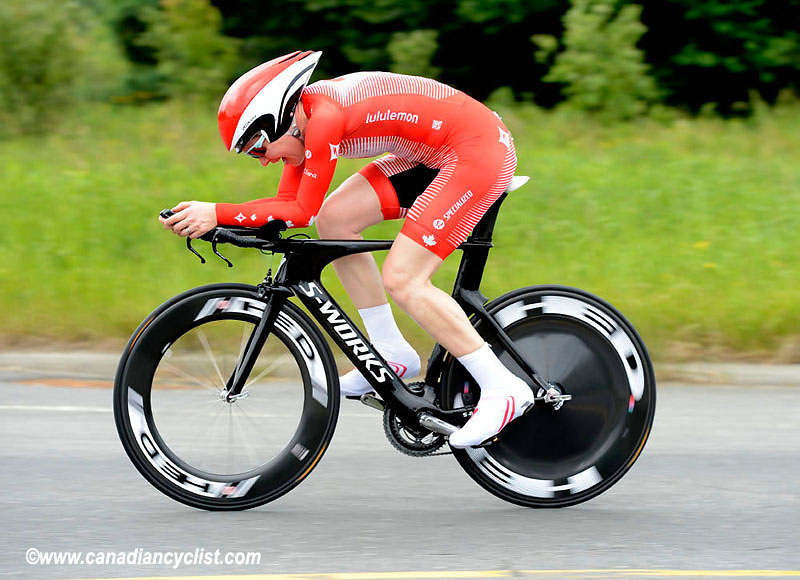 Clara Hughes for more photos - scroll to bottom of page
Held on an out-and-back circuit, the women completed 30 kilometres over two laps and the men 39 kilometres over three laps. While the circuit featured a climb into headwind on the return portion, it was the heat that proved to be the hardest factor. Registering over 32 Celcius with high humidity under bright sun, it sapped the energy of the riders.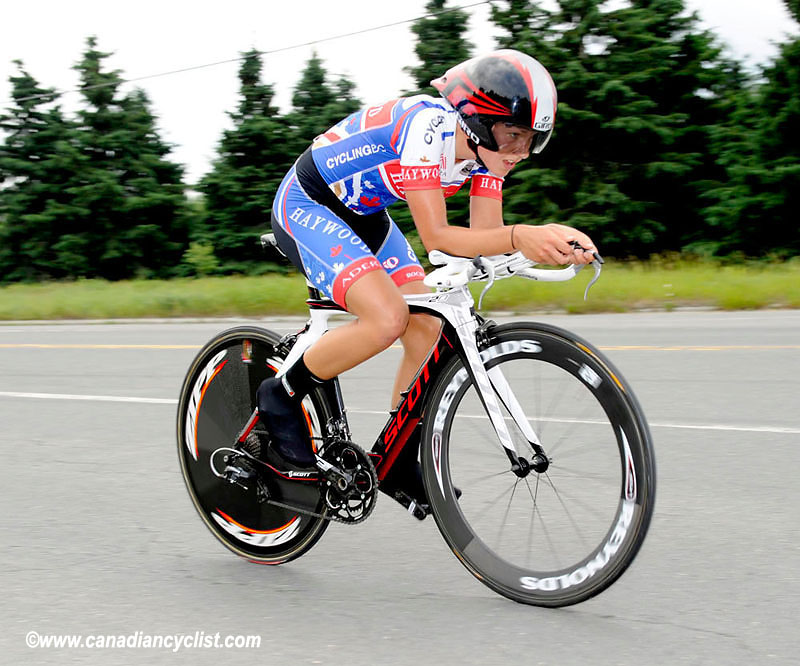 Jasmin Glaesser for more photos - scroll to bottom of page
Under-23 rider Annie Ewart (Optum p/b Kelly Benefit Strategies) set the first sub-45 minute time in the women's race at 44:07, with team mate Joelle Numainville knocking 38 seconds off it shortly afterwards. These times stood until second year Under-23 Glaesser, riding sixth from last, took the lead down to 42:41. But the final three riders to start would all beat that time in succession - first Julie Beveridge (Equipe Vienne Futuroscope) took five seconds off. Rhae Shaw (Exergy Twenty12) would knock over a minute off the time, however, she was caught by Hughes, who started two minutes behind. Hughes posted the only sub-40 minute time, at 39:42.

"That was so hard," exclaimed Hughes. "The heat was blistering, and I didn't bother taking water, since taking a sip wouldn't have made any difference. I'm really glad that [the organizers] gave us such a long time trial, since it is good preparation as I get ready for London [Olympics] in five weeks." (Note: we have a video interview with Hughes posted Here)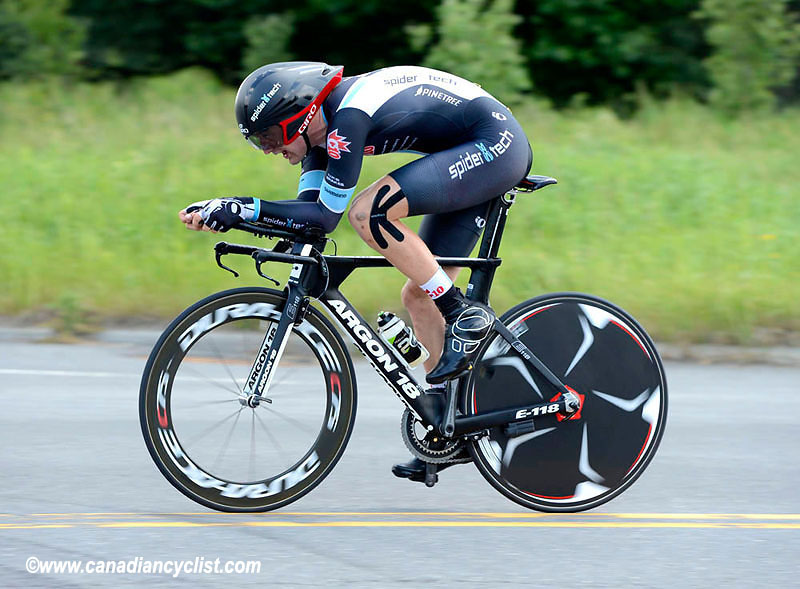 Hugo Houle for more photos - scroll to bottom of page
Jordan Cheyne (H&R Block) was the first man off, and set an impressive time of 51:55, good enough for 11th overall. That time held through 8 riders until Frank Parisien (SpiderTech p/b C10) finally knocked 1:03 off. Parisien held the lead for nearly two hours until former national road champion Aaron Fillion (Ride with Rendall) knocked another minute off the top time. Just as with the women, Fillion's time held until the final three riders. Tuft's team mate Christian Meier recorded the first sub-50 minute time of 49:34, and then Tuft, who had caught his two minute man Houle, crushed that by over two minutes to take the title. Houle came in just over 50 minutes for the third fastest time overall and the best Under-23 time.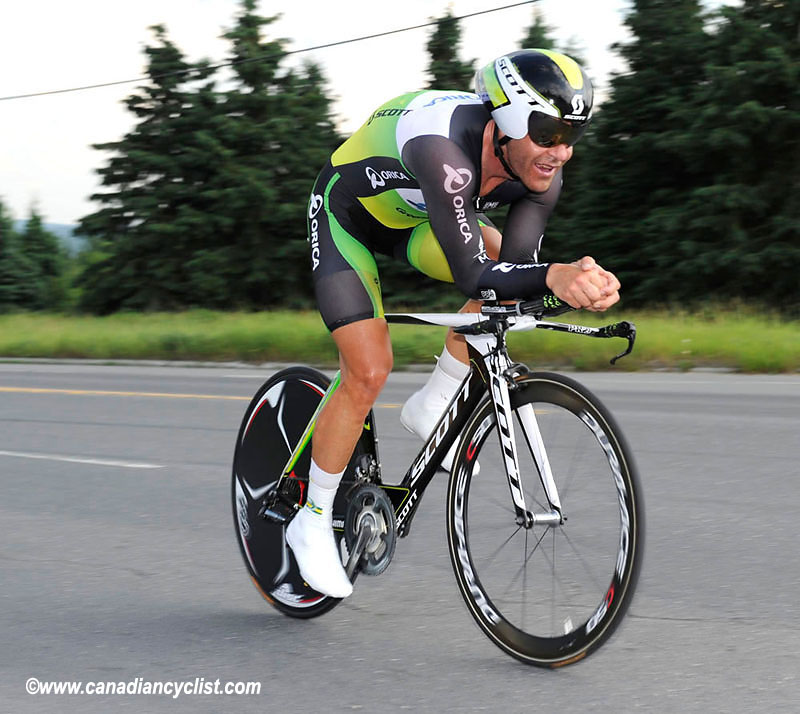 Svein Tuft for more photos - scroll to bottom of page
"The heat was intense," agreed Tuft. "For me it was all about managing heat fade. I think a lot of riders went out too hard in the first lap and then the heat caught up with them. This season has been all about building my time trialing for later in the season. The Team Time Trial [at the Worlds] and the [Individual] time trial are a big focus, so I'm happy that my form continues to improve." (Note: we have a video interview with Tuft posted Here)

Men's results

Women's results
---
Related Photo Galleries

Road National Championships June 21/12 - June 24/12, Lac Megantic, QC


Women ITT
Men
Men ITT PT2
Women ITT PT2
Women Road Racce
Women Road Race PT2
Men Road Race - PT1
Men Road Race - PT2
Men Road Race - PT2
Men Road Race - PT3
Men Criterium
Women Criterium
Challenge Sprint
---