June 28/12 10:21 am - 2013 Shimano Saint Review

Posted by Editoress on 06/28/12

Although Shimano revealed the existance of the third generation of Shimano Saint - M820 - a while ago, it wasn't until the 2013 Shimano Saint Media Camp at the beginning of June that the press actually got their hands on it. Several journalists, including former national Downhill team member Katrina Strand for Canadian Cyclist, were invited to sample the new product in the best testing grounds possible, the Whistler Bike Park, BC. Katrina provides her expert opinion on the latest Gravity offering from Shimano.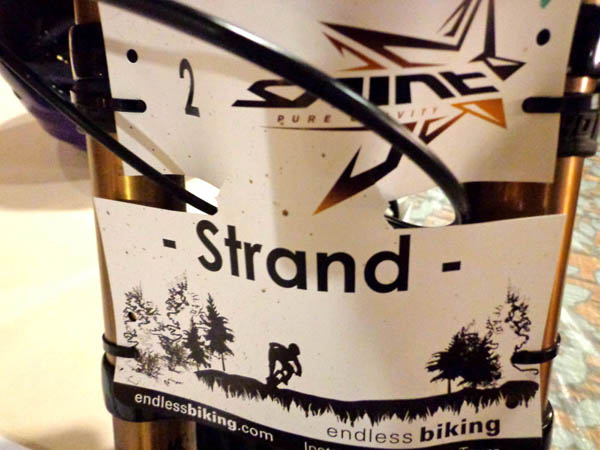 Personalized name plates for the attendees
The Shimano mechs suited up my Santa Cruz V10 with the new product and sent me off to chase the Shimano athletes for three days – two days of hero dirt, and one rain day. We jumped, we dropped, and we charged rough rocks, roots and other prime testing terrain.

Brakes

For me, brakes are everything - feel, reliability and consistency – so the number one product highlight would have to be the brakes. The Saint brakes have always been powerful, but after a few unintentional nose wheelies, I knew this generation is even MORE powerful. The modulation throughout the braking seems to be more sensitive, and the textured lever is now like my adjustable seat post on my XC bike, I'll never go back! This fine tune may be my favorite new feature on the brakes, as it makes a huge difference for grip. Furthermore, a common Saint brakes complaint is the noise they create, which seems to have been eliminated in the new generation, even when wet.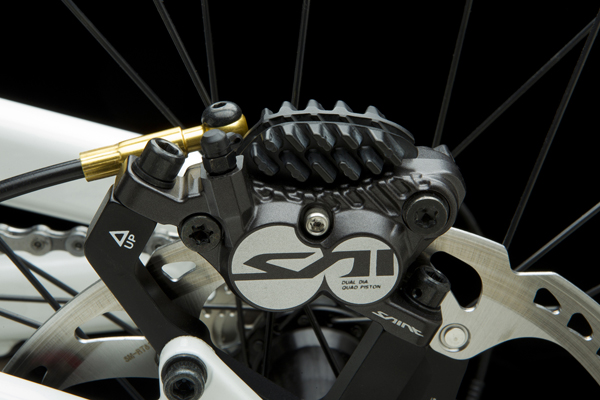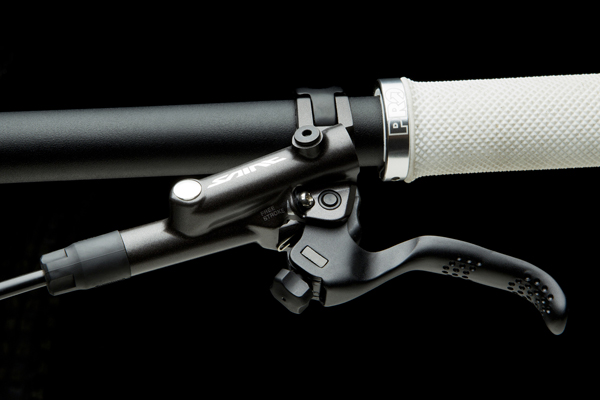 The details

• One way bleed procedure alongside funnel bleeding tool allow for easy and clean bleeding
• Ceramic pistons, longer banjo bolt, fins on the brake pads and fin structure on rotors all contribute to heat management
• Shorter, textured lever that is lighter weight than previous generations

Drivetrain – Shifter and Derailleur

The Shadow+ rear derailleur, in combination with the quiet brakes, has made my bike virtually silent. The adjustable clutch maintains tension on the chain, while an integrated, exclusive to Saint, rubber bumper prevents any further noise. It is quite a weird experience to blast over braking bumps, charge down other rough terrain, and hear only yourself giggling.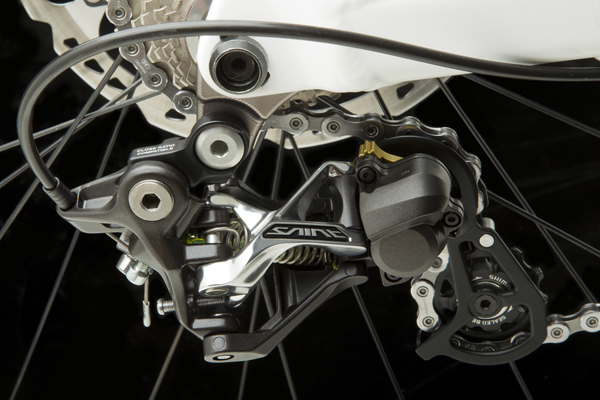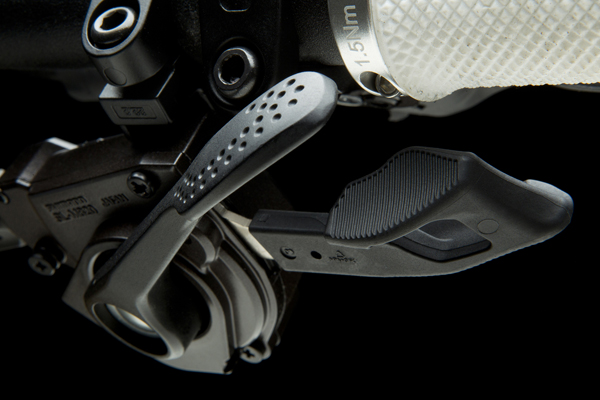 The details

• Long textured shifter levers makes shifting easier
• Linear shifting pattern so shifting effort has decreased from previous generations
• Direct mount compatible design
• 10 speed group with two modes so you can run the cassette of your preference.

Cranks

Still tough! Thomas Vanderham said he has yet to bend or break a Saint crank. The stats say around 250 % stronger than XTR, and around 100 grams lighter than previous Saint generations.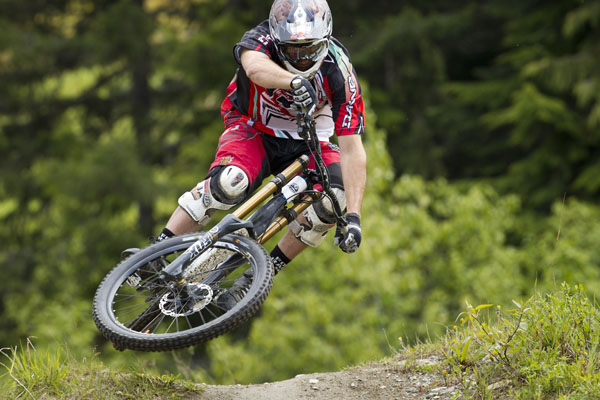 Cranks are Thomas Vanderham proof
The details

• Press fit bb available
• Available in 165, 170 and 175
• Steel pedal inserts

Pedals

I ride my clips most often, but decided to give these a try. I guess it was a good sign that I forgot I was wearing flats!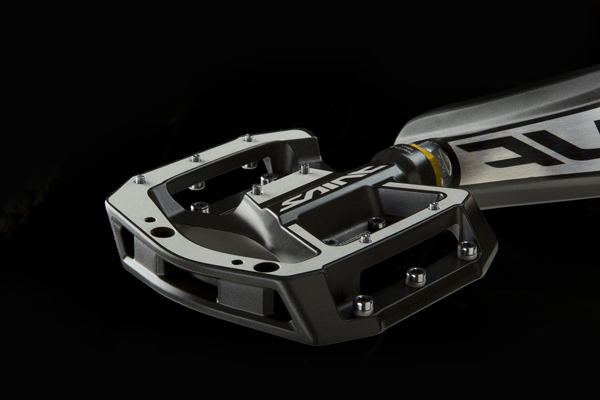 The details

• Wider (+3mm), lower profile (-8.5 mm) platform
• Pins are easier to change than the previous generation, and pin height is adjustable
• Concave platform for comfort and pedaling efficiency

Hubs

Out of all the new Saint product, the hubs have changed the least. They are still cup and cone and center lock only, with just a little weight shaved off the front hub as well as a new lock nut assembly.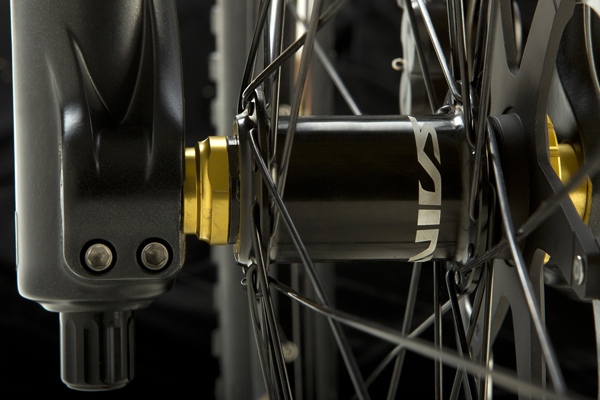 The details

• Front hub 20 mm option only
• Rear now available in 142 X 12 option alongside 135 X 10, 135 X 12, and 150 X 12

The Nutshell Version

The Pure Gravity design philosophy behind the new Shimano Saint group has bridged the gap between the lightweight sought by DH racers, and the strength needed by freeriders. The consistency of strength and durability has remained from the past generations, but now the product is more refined, lighter and therefore faster!

So, is the 2013 Shimano Saint worth your hard earned dollars? I'd have to say yes, it's worth the investment. Time is valuable, you don't want to mess around with product that is sub-standard or continually needs to be replaced. Everyone wants reliable, strong but light and consistent product, and every rider will experience that with the M820 group.

Former national Downhill team member Katrina Strand competed at the world championships and World Cup level for Canada. In addition to her ongoing activities in mountain biking, Katrina runs Strand Training as a Strength and Conditioning coach, and is a founding member of www.canadiandhgirls.com .

Photo gallery - photos by Sterling Lorence and Katrina Strand
---
Related Photo Galleries
---