July 1/12 0:53 am - Windham World Cup: Elite Women and Men's XC report and photos

Posted by Editoress on 07/1/12

Pendrel seals World Cup overall, Stander takes first World Cup win since 2009.
Cycling+Canada
Round six of the cross-country series for the UCI Mountain Bike World Cup saw some of the closest and most exciting racing of the year. Catharine Pendrel led a 1-2-3 finish for the Luna team in the women's race, wrapping up the World Cup title in the process. On the men's side, a combination of heat and technical problems decimated the field, with Burry Stander (Specialized) the last man standing to take only the second World Cup win of his career.

Extreme heat, plus a dry and dusty course with lots of climbing, made for hard conditions. Riders had to drink constantly, and avoid going out too hard, too early if they didn't want to 'blow up'.
Women
In the Elite women's race Georgia Gould (Luna) had come close to taking the first World Cup of her career a week earlier in Mont-Ste-Anne, but faded in the last lap, and was overtaken by team mate Pendrel. This time, on home soil, she was inspired, riding away from early leader Marie-Helene Premont (Rocky Mountain) to carve out a 50 second lead with a lap to go in the five lap race. Chasing were her two team mates - Pendrel and Katerina Nash - who had dropped Premont. Gunn-Rita Dahle Flesjaa (Multivan Merida) passed Premont to move into fourth, while the Canadian was holding off a late charge by American Olympian Lea Davison (Specialized).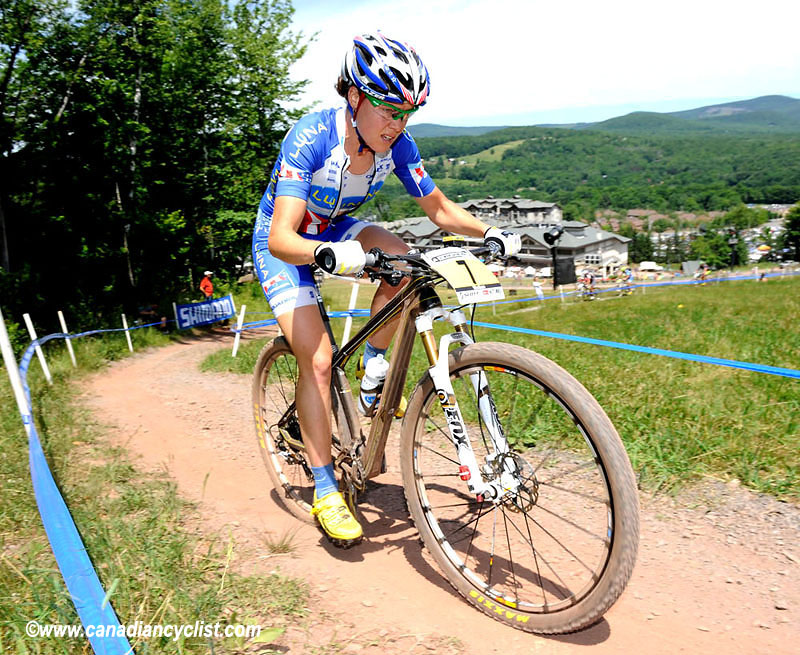 Georgia Gould (Luna)

Cresting the final climb, Gould looked to have the win, but then suffered a pinch flat in a a rocky section. She quickly used an inflation cartridge, but the tire went flat again almost within sight of the finish, and she started to run. Pendrel and Nash were surprised to come upon their team mate, with less than 100 metres to go, sweeping around her and sprinting to the line, with Pendrel getting the victory. Gould hung on for third.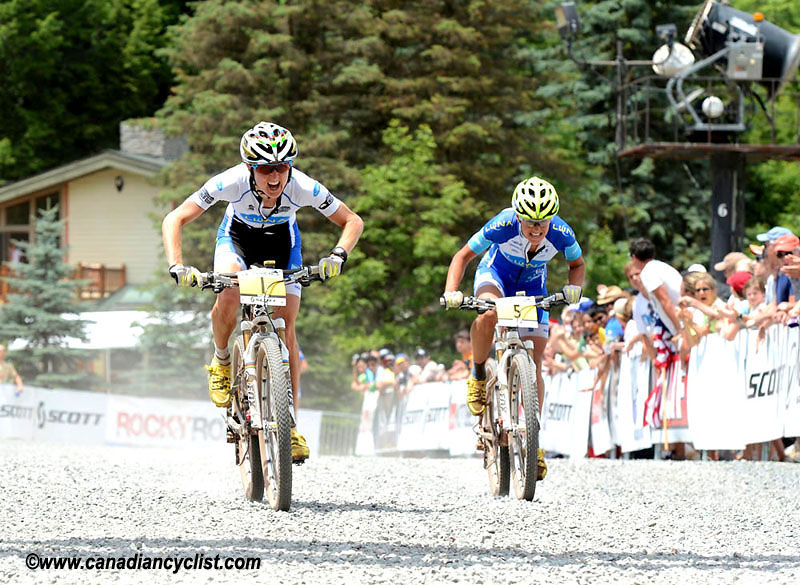 Pendrel and Nash sprint


"I was really sad (about catching Gould in final metres)," commented Pendrel. "I did not want it to come down to that. Georgia rode so well, she was obviously riding the best both up and down today. She deserved the win. I looked back and thought maybe Katerina is not going to sprint, but Katerina was going to sprint, so I gotta go for it. It was not the situation I wanted; yes, I wanted Luna 1-2-3 , but I wanted the best legs to win on the day and that was Georgia."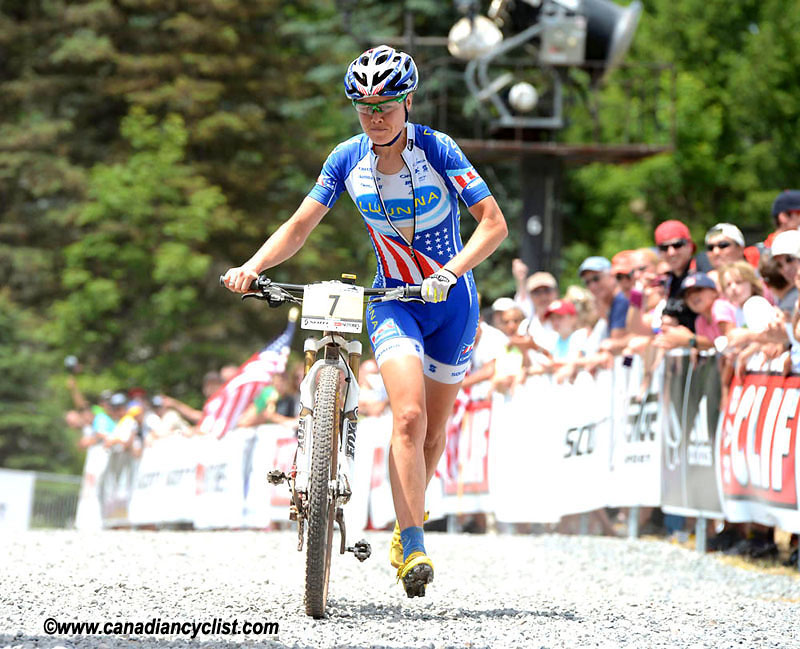 Gould crosses line in 3rd


For Gould it was a bitter disappointment, and the American champion could not talk with choking up. "I had a really good gap, and I just pinch flatted on one of the rocky downhills, I thought it might seal up but I had a lot of high speed downhill, so I stopped and used my CO2 cartridge to fill it up. But it was very soft an it just went flat again. I just didn't have enough traction for the last climb and had to get off and run. It's pretty disappointing."

Premont took fourth after Dahle Flesjaa flatted, and Davison became the second American on the podium, in fifth. Emily Batty (Subaru-Trek), after struggling in the early laps, surged in the final lap to finish 11th.

Pendrel's third win of the season gives her an insurmountable lead in the standings, with one race remaining, in Val d'Isere, France at the end of July. Nash moves into second, followed by Dahle Flesjaa and Gould, with Batty remaining sixth and Premont in ninth.
Men
The men's race saw a small group of favourites take the lead in the early laps of the six lap race, including Stander, Manuel Fumic (Cannondale Factory), Jaroslav Kulhavy (Specialized), Florian Vogel (Scott - Swisspower), Sergio Mantecon (Wildwolf - Trek Pro Racing), Rudi Van Houts (Multivan Merida), José Hermida (Multivan Merida), Fabian Giger (Rabobank Giant) and Marco Fontana (Cannondale Factory).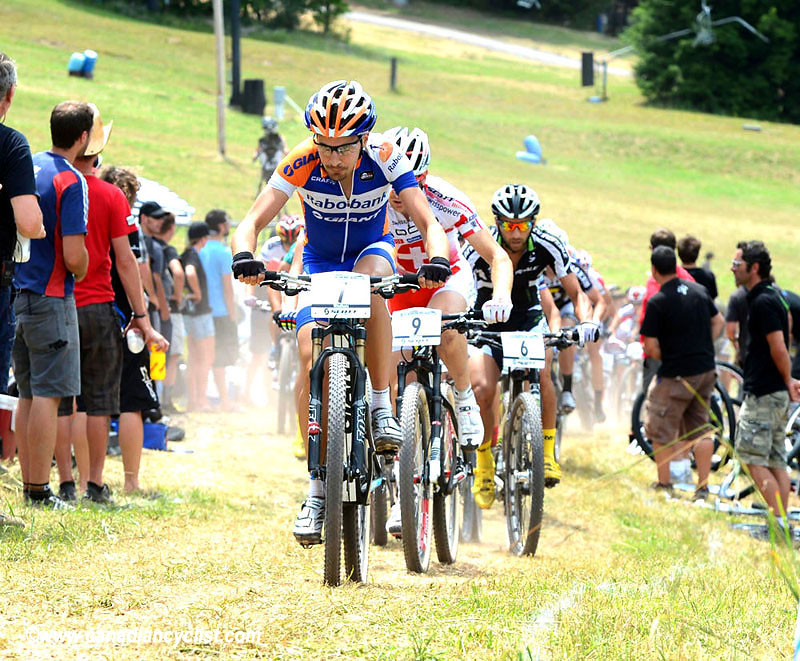 Fabian Giger leads up the climb


Gradually, riders fell off the pace, either through mechanical problems (Fumic and Hermida), or because they were unable to handle the heat. World champion Kulhavy, who with a first or second place could take the World Cup lead from the absent Nino Schurter (Scott-Swisspower), just disappeared part way through one lap, and even his team didn't know where he went. he eventually Tweeted that he had been feeling sick before the start and was suffering from diarrhea.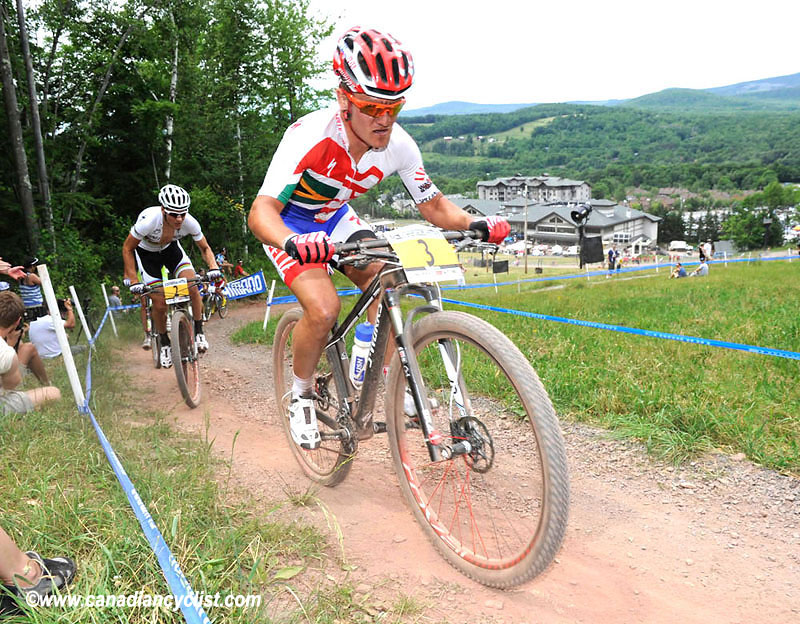 Burry Stander


It came down to three riders: Stander, Mantecon and Fontana, and then Stander upped the pace with a lap and a half to go, steadily increasing his lead on Mantecon, with Fontana holding onto third. The three finished in this order, with Stander taking his first World Cup win since 2009.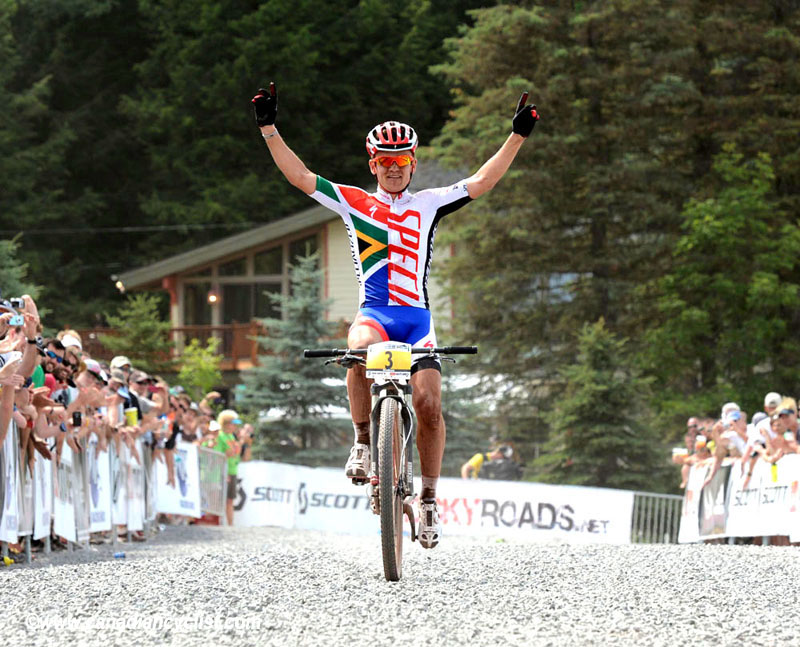 Stander wins


"I have always done well on this course and always been in the lead group," explained Stander, "but then had problems at the end. This is a course where it is easy to crash, because it's very high speed. Easy to push too hard and get a flat tire. Today I just decided to ride my own speed and not worry about anyone else, just ride controlled. I made sure at the top of the climb I went into the singletrack first and I could control the speed on the way down, not taking any chances. Then, yah, toward the end I knew with the endurance coming into play and the heat it would be good for me."

American champion Todd Wells (Specialized), after struggling for much of the season after a crash prior to the opening round of the World Cup back in March, is finally seeing his form come around, working his way up through the field to finish fourth, with Mathias Fluckiger (Trek World Racing) taking fifth.

Canada's two Olympians - Max Plaxton (Specialized) and Geoff Kabush (Scott-3Rox) finished seventh and eighth respectively, within 90 seconds of the winner. Both moved up from the mid-teens during the race.

"I think I had a bit of an off day, so seventh is pretty good," agreed Plaxton. "That was a tough day ... it was everything - course, plus it was really hot. The descent was long, but it was rough and relentless, not just one big downhill, so you couldn't rest."

The absent Nino Schurter retained his lead in the standings, by a slim 12 points over Stander, with Jaroslav Kulhavy a distant third. Plaxton moves up to 13th from 18th, and Kabush to 22nd from 25th.

Race Notes

- Adam Craig (Rabobank Giant) rode the race on a single speed, finishing 37th, and getting a lot of support from the crowd. "As I wind down my World Cup career, I have a checklist of things I'd like to do, and this is one of them," he explained. Craig is a former Single Speed World Champion.
---
Related Photo Galleries

Windham World Cup June 29/12 - July 1/12, Windham, NY, USA


Preview
Elite Women XC
Elite Men XC
Junior Women XC
U23 Men XC
U23 Women XC
Women DH Final
Men DH Final
Men DH Final
---