July 7/12 13:36 pm - BCBR Day 6: Report, Photos and Results

Posted by Editoress on 07/7/12

BC Bike Race: Day 6 (July 6th) Squamish: 48km Epic Course


Photos
by: Dave Silver, Margus Riga, Todd Weselake


On the penultimate stage it was time to open up and see what is under the hood.

Yesterday riders of the BC Bike Race awoke to the sun peaking over the 'Chief', a solid dome of granite, standing a reassuring 417 meters above the tents of base-camp. Nestled by the protective 'Chief' and Garibaldi Peak, the atmosphere of the traveling pageant that is the BC Bike Race obtained a sense of peace unmatched by any other stage.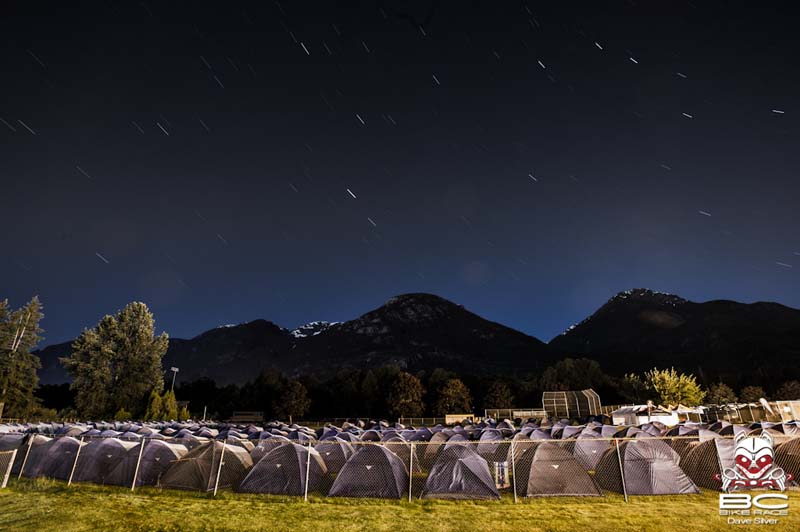 That was the morning calm, but this Squamish stage, sponsored by Shimano, was one of the most colorful of the week. There was a kids race, a snow cone vendor, a brick-oven pizza cart and pulled pork BBQ all served in the race pit. The traditional beer garden was filled all afternoon, giving spectators and riders an open-air social club to cheer the finishing riders. The beautiful day on the trails capped with a beer and cheering set the celebratory tone for riders who now see the end of their seven-day journey only one stage away in Whistler.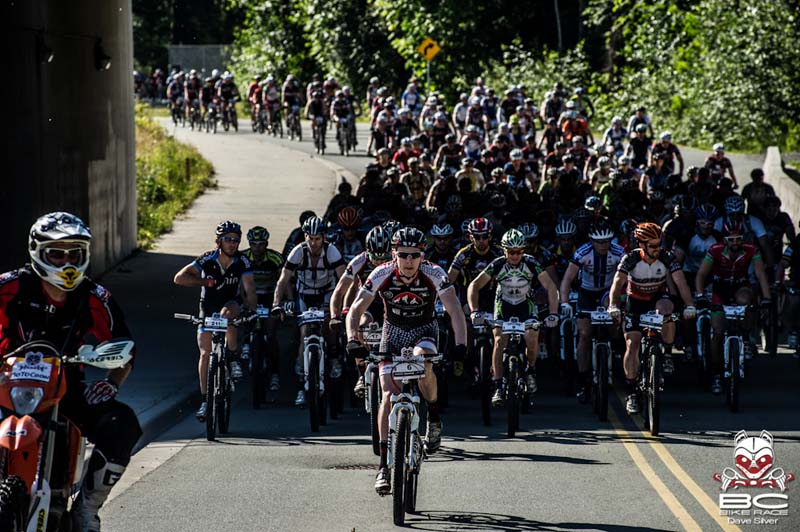 For riders, a multi-day stage race will rub away the layers of paint that racers live behind, eventually bringing different hues of emotions to the surface. Some days the emotion exposed is joy while on others it's a mental low to overcome. By day six every rider has grappled with a few of their inner beings, each coming to an understanding of the other, like neighbors who can yell through the apartment walls asking for sugar.

From Neil Kindree, the Solo Epic leader, to Janet Rygnestad in the Solo Challenge category the emotional tug-of-war is an act of becoming better more self-aware riders. On stages previous to Squamish, Rygnestad was loving life one day, hypothermic another, on top of the world the following then at a low point the next. "I was shattered last night, and I just lay in bed this morning thinking 'I don't want to ride this anymore'" When asked what got her motivated to get up and ride she said "I just love Squamish. I got it out of my head that I was chasing these three particular women and I switched out of race mode and I switched to 'I'm going to have a really good day riding today. And I did, I had a fabulous time."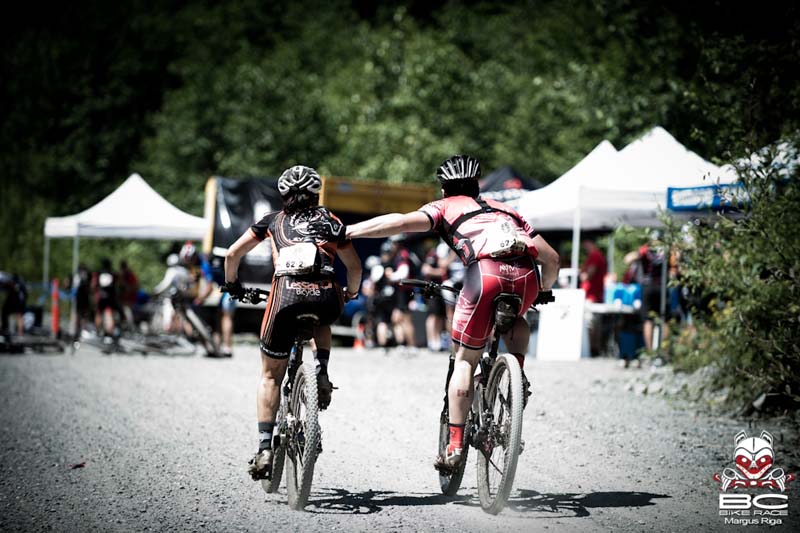 Six days on the road and the end is looming near for racers who have forgotten what day it is, but know what stage they just completed. Today, stage six, the bubble that is the BC Bike Race occupied the town of Squamish and its miles of premium singletrack. The experience of riding trails like 'Half Nelson', 'The Plunge', and 'Seven Stitches' are never justified by videos. In a place like Squamish, the experience is only complete when the dirt is under you.

It was Austrailan Dave Nairn's reason to return, "I did the race four years ago and it was my favorite stage then and I think it will be again. So flowy and just all the woops and massive berms that are bigger than you. It's nothing you get in Australia."

You also don't get Neil Kindree or Chris Sheppard working together for a common cause.

Easton Gravity Enduro
The Easton Gravity Enduro was expanded to 13 stages this year and as the week has progressed riders have become more aware of the significance of having some of the best descents labeled before-hand. The result of the Enduro has been to give people a cue for when they can really enjoy a section of trail.

Riders like Ross Schnell (Trek), Josh Carlson (Giant) and even Barrry Wicks (Kona) were expected to be duking it out, but going into the last stage it seems that Andreas Hestler (Rocky Mountain) has wrapped his fists around the virtual trophy.

Carlson is looking to be closest to Hestler but the chances of anyone catching him is narrowing each stage. Hestler took both the Fox Gravity Enduro and the Redbull GE today. Beating fresh guests who were invited to participate in today's challenge ride.

The legendary Fro-rider Wade Simmons (Rocky Retro95) was thrown in the mix for contenders early but he dismissed that as a goal for the younger fit riders. Still Simmons could be seen throwing a little familiar flair on his Rocky Mountain 29.

In the women's category Wendy Simms is looking to be in a tight match with Megan Rose who won both stages today. Rose is racing in the Epic Mixed Open Category but all riders qualify for the overall in the Gravity Enduro.

Men's Epic Race
The story of the day for the men's solo category is the implosion of Barry Wicks (Kona Bikes) to the tune of a 16 minute loss in the General Classification. Wicks had such a strong beginning to the week, when he looked unstoppable. An experienced stage racer, Wicks must have finally discovered the hard-way a lesson he'll be sure to take back and study for another year. There is still one stage to go, but it's short and the chances of making up that kind of deficit is unlikely.

Initial accelerations by the solo champion from the last two years, Chris Sheppard of the Rocky Mountain Team, tore apart the field early as chasers and pacers began dissolving in the eddy from his efforts. Only Neil Kindree was able to make the cut, but even he felt the cable grow tight. Both riders had the most to gain from making Wicks disappear in the rearview mirror.

"I stayed on his wheel and when we came to the top of the climb we had a 50-100 ft gap and we kind of looked at each other and said yeah lets go with it." Kindree

The trick for Sheppard might have been the switch back to his 26" full suspension bike with the 1200 gram wheels. "I've been on this sized wheel since '88, and I think my descending is sharper on this bike. But on the rough stuff you can tell the 29er just goes." It was more likely determination than wheel size that made his quest for time over Barry a success.

After the first climb the two riders stuck together through the trails of 'Half Nelson', past aid station 1 and down into the Plunge. It wasn't until the Smoke Bluff trails that the two could start being comfortable with their time on the field and turn their attention to each other. "Chris made the first move up 'Farside' he had a little bit of a gap on the next descent, but I knew I could close it on the next climb, so I rode to 'not flat'. On the little rollers at the end of smoke bluff that's where I attacked and opened it up." Kindree won in his home town by 9 seconds over the veteran Sheppard.

Next across the line was Cory Wallace (Kona Bikes) who worked for a half hour to try and keep his teammate Wicks in the mix. After getting the go ahead to leave him, Wallace set his pace to 'stun' and made moves back to third up the climb to 'Half Nelson'. Matt Hadley (Exprezo-Borsao Factory) drilled it to make contact with Wallace and they came through the first aid station together, but Wallace was able to drop him before the finish. Less than two minutes separate the two riders and there might be fireworks in Whistler as Wallace fishes for another spot on the GC.

Men's Team of Two
Team Jamis hasn't let an opportunity to take a stage slip by, but they got a challenge from the second place Rocky Mountain Factory Team 2. Thomas Turner and Jason Sager were in sync all day as they stayed powered like two steam engines up the long grade to Half Nelson. Kevin Calhoun and Keith Stark of the Factory team, charged hard on the descents to stay in touch, but as the day grew longer and the effects of an early group crash took their toll, the two couldn't match the pace of Team Jamis.

The other Rocky Mountain Factory Team 1 is still in third, but it should be noted that early on day three, Colin Kerr fell on a bridge with steel meshing and sliced the palms of both his hands. For four days he has been gripping the bars with seven stitches in his right hand and deep gouges in his left. The fact that he is still riding is a testament to his toughness. When asked why he continued on he replied "Because we can. We can still finish on the podium."

Women's Epic Racing
Hanna Thorne made a serious bid to separate herself from Sonya Looney (Topeak/ Ergon) and stake claim to the third place position behind Wendy Simms (Kona) and Melinda Jackson (Team KiwiRoo). Looney had one of the days you'd prefer to forget while Melinda Jackson rushed forward without a problem.

Down in sixth and seventh place behind Pam Frentzel-Beyme (Gripped Racing), Fanny Paquette (Rocky Mountain) and Swiss rider Rahel Ruegge (Swisschocolate) are only separated by a 1:15 margin. In Whistler Ruegge will be looking to cut Paguette's program short and take some time back.

Whistler: Stage 7
On the final day of the BC Bike Race, riders travel up the Sea to Sky highway to the Whistler Olympic Village, the birthplace of bike park culture. Racers will get a taste of the park as they reverse the direction most prefer and will climb 'Easy Does It' to access the classic gravity fueled descent 'Crank it Up'. At the bottom the course turns to the woods of the Lost Lake trail network, a mind-blowing web of trails named after Frank Zappa songs. At the finish riders will get the cherished 'Bob' belt buckle they've been riding for all week.

Report by Harlan Price, BCBR


Epic GC
Challenge GC

Day 6 Video
---
Related Photo Galleries
---