July 13/12 11:54 am - Giro di Burnaby: report, photos and results

Posted by Editoress on 07/13/12

Van Gilder, Rowney swap podium spots at Giro di Burnaby


Photos by Greg Descantes

There was also a familiar feeling to the 30-lap women's race – at least in terms of who finished on top, if not the way it played out.

After a bunch sprint in Gastown, the Giro di Burnaby came down to two riders, with veteran American pro Laura Van Gilder beating impressive Australian rookie Loren Rowney by more than a second in a final-stretch sprint to the finish line – a reversal of their finishing order in the Gastown Grand Prix the night before.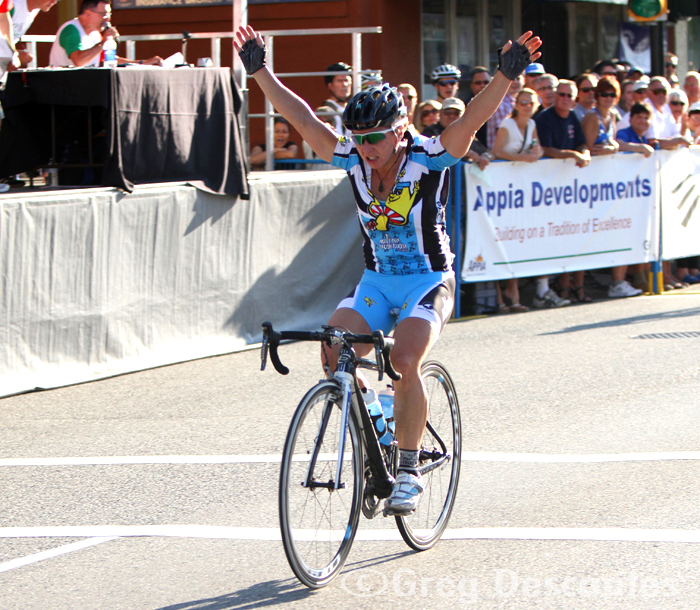 Van Gilder
"To come back here in Burnaby and get a win after duking it out with Loren last night in Gastown, I knew she was a strong rider and I knew if we got way we could really put the power to the pedals," said Van Gilder, who continues to collect trophies at age 47, after more than 20 years cycling.

Despite that resume – she could only say with certainty the win was in the "380-something" range – Van Gilder had never been to BC Superweek.

The Pennsylvania native, who changed her travel plans at the last minute and flew in Tuesday, doesn't plan to wait that long to come back again.

"The event has been amazing," said Van Gilder, fourth in Tuesday's UBC Grand Prix on a borrowed bike after hers got stuck in transit until Wednesday. "I'm very pleased with results and already looking forward to coming back next year."

Van Gilder, riding for Mellow Mushroom along with teammate Kristen LaSasso, finished the 39-kilometer race in one hour and 25.73 seconds.

Rowney, a 23-year-old in the midst of an impressive first pro season with the same Specialized-Lululemon team as Canadian Olympic legend Clara Hughes, echoed those sentiments after finishing on the podium in all three races she took part in at BC Superweek, starting with second place at the UBC Grand Prix.

Thursday's third place finisher wasn't as eager to come back, however.

Jean Ann Berkenpas, born in Valemount, B.C, but living for the last eight years in Maple Ridge, was only passing through the road cycling crowd between stints on the mountain bike that include time with Canada's National Team.

On a two-week "mental break" from mountain biking on the advice of her coach, Berkenpas actually bridged up to the early break by Van Gilder and Rowney, and managed to stay with them until getting dropped with eight laps left.

That's when things really got tough.

After failing on a couple of hard attempts to join the lead duo, Berkenpas was caught in no-man's land, with no help, and had to worry about getting caught by a chase that was picking up speed. She hung on to finish alone – 84 seconds behind the winners, but less than 14 ahead of a hard-chasing peleton.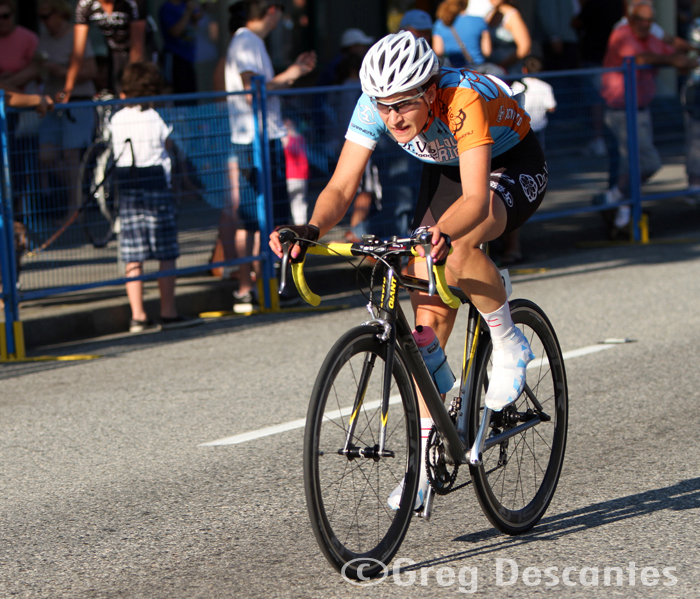 Berkenpas
"My coach gave me two weeks off mountain bike for a mental break so I signed up for BC Superweek and I'm guest riding with my local bike shop," Berkenpas said of the Local Ride / Dr. Vie Superfoods team she was representing.

"It's something different, I feel like there is something to learn in every discipline and there's always things that cross over. It's a change and I am training."

Despite competing at the Canada Cup level, and working towards the World Cup on the mountain bike, Berkenpass knew she was a level behind on the break.

"They were in a class of their own," she said "I was happy to stay with them."

Once dropped, however, Berkenpas's focus shifted quickly

"Oh my gosh. I was worried about getting caught," she said. "I'm used to riding at threshold but not usually that over the red zone effort. It was survival and I was able to pull it together the last two laps and keep third."

Despite the impressive performance, Berkenpas plans to stay on the mountain bike.

She may get to both as BC Superweek continues with the 33rd annual Tour de White Rock, a three-stage race that starts Friday night with the leg-melting Hillclimb and continues through Sunday morning's historic Road Race.

Report by Kevin Woodley


Women

1 Laura Van Gilder (USA) Mellow Mushroom
1:00:25.73
2 Loren Rowney (Aus) Specialized Lululemon
1:00:26.96
3 Jean Ann Berkenpas (Can) Local Ride/Dr. Vie Superfoods
1:01:49.65
4 Joanie Caron (Can) Colavita-espnW Pro Cycling
1:02:03.59
5 Stephanie Roorda (Can) Local Ride/Dr. Vie Superfoods
6 Nicky Wangsgard (USA) Primal/MapMyRide p/b BH Bicycles
7 Kate Finegan (Aus) Independent rider
8 Rhae Shaw (Can) Exergy TWENTY12
9 Shoshauna Laxson (Can) Trek Red Truck Racing p/b Mosaic Homes
10 Kristen LaSasso (USA) Mellow Mushroom
11 Jenny Lehmann (Can) Trek Red Truck Racing p/b Mosaic Homes
12 Jennifer McMahon (Can) Glotman Simpson Cycling
13 Jamie Gilgen (Can) Kallisto/Wheels of Oakville
14 Gina Haatz (Ger) Independent rider
15 Erika Broekema (Ned) NWVG
all s.t.
16 Carrie Cartmill (Can) Stevens Racing p/b The Cyclery
1:02:07.24
17 Stephanie Ossenbrink (Can) Independent rider
18 Kristine Brynjolfson (Can) Trek Red Truck Racing p/b Mosaic Homes
both s.t.
19 Melanie von Stetten (Can) Local Ride/Dr. Vie Superfoods
1:02:11.46
20 Moriah Jo MacGregor (Can) Colavita-espnW Pro cycling
1:02:13.04
21 Lisa Howard (Can) Local Ride/Dr. Vie Superfoods
1:02:19.86
DNF Naomi Cooper (Can) Trek Red Truck Racing p/b Mosaic Homes
DNF Jessica Daugharty Sterner (USA) Team Rep
DNS Erin Redl (Can) Glotman Simpson Cycling
DNS Katie Lotterhos (Can) Glotman Simpson Cycling
DNS Jessica Cutler (USA) Primal/MapMyRide p/b BH Bicycles
DNS Florence Laplante-Lamarche (Can) Stevens Racing p/b The Cyclery
DNS Rachel Canning (Can) Local Ride
---
Related Photo Galleries
---