July 14/12 11:07 am - Tour de White Rock: Stage 1, Cartmill wins

Posted by Editoress on 07/14/12

Carrie Cartmill certainly didn't mind going up the steep hill twice.
Photos by Greg Descantes
The 33-year-old Sault Ste. Marie native notched her first win in a comeback to competitive cycling, crossing the finish line well ahead of Exergy TWENTY12's Rhae Shaw, who was on Canada's 2012 Olympic shortlist for the road team, and Kristine Bryniolfson of the local Trek Red Truck Racing team.
Shaw had the best Qualifying TT time, but lost to Cartmill in the "head to head" finale.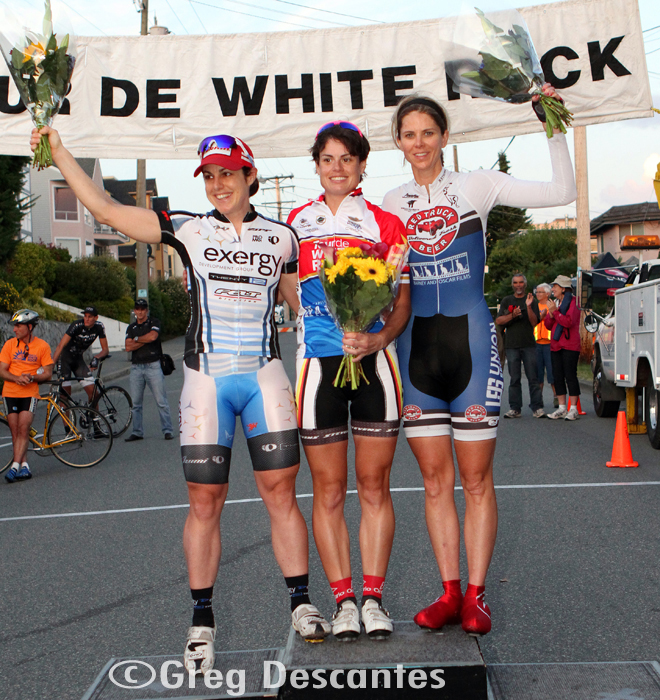 For Cartmill, who was racing National Team projects three years ago before a nearly two-year absence from cycling, it was an important victory.

"I've only ever won a race once," said Cartmill, riding for Ottawa-based Stevens Racing presented by The Cyclery. "A lot of second and third, but I have a hard time hitting the top step of the podium. It's really exciting to be up there."

Cartmill has never been to B.C. before, let alone BC Superweek, and while she has ridden hillclimbs before, they were generally longer and less steep. And she certainly never saw one that required the top-five racers to go up again.

"Everybody was going for sixth place – that was the consensus," she said. "The second time I went to the bottom and had to ask a couple other people – what do you recommend I do from now until an hour from now? Their advice was to spin around and stay warm but not doing anything really intense."

So Cartmill, who came to BC Superweek on the advice of team manager Jenny Trew, who used to live in Vancouver and compete for Trek Red Truck, texted a teammate back home, stayed loose, and took a big step up.

"[Trew] suggested it would be a great series of racing with a strong field and really good experience," she said. "Just a slight step up because I feel that's the range of racing that I missed. I've done some really, really hard races sort of above my level, and a lot of local races that aren't as challenging."

BC Superweek and the Tour de White Rock continue Saturday with the Choices Market Criterium, and wraps up with the Peace Arch Road Race on Sunday.

Report by Kevin Woodley
Results
Women

1 Carrie Cartmill (Can) Stevens Racing p/b The Cyclery
by position
2 Rhae Shaw (Can) Exergy TWENTY12
by position
3 Kristine Brynjolfson (Can) Trek Red Truck Racing p/b Mosaic Homes
by position
4 Shoshauna Laxson (Can) Trek Red Truck Racing p/b Mosaic Homes
by position
5 Morgan Cabot (Can) Glotman Simpson Cycling
by position
6 Jean Ann Berkenpas (Can) Local Ride/Dr. Vie Superfoods
2:08.06
7 Megan Rathwell (Can) Russ Hay's/Accent Inns
2:08.09
8 Joanie Caron (Can) Colavita-espnW Pro Cycling
2:12.08
9 Erin Redl (Can) Glotman Simpson Cycling
2:13.54
10 Nicky Wangsgard (USA) Primal/MapMyRide p/b BH Bicycles
2:15.08
11 Elizabeth Nettles (USA) Recycled Cycles
2:17.00
12 Erica Lengacher (USA) Recycled Cycles Racing
2:18.08
13 Katie Lotterhos (Can) Glotman Simpson Cycling
2:19.38
14 Naomi Cooper (Can) Trek Red Truck Racing p/b Mosaic Homes
2:23.39
15 Brook Nunn (USA) Recycled Cycles Racing
2:23.50
16 Tamiko Butler (Ant) Russ Hay's/Accent Inns
2:23.75
17 Justine Clift (Can) Glotman Simpson Cycling
2:25.04
18 Julie Robertson Zivin (USA) Recycled Cycles Racing
2:25.63
19 Beth Lyndon-Griffith (USA) Recycled Cycles Racing
2:30.07
20 Moriah Jo MacGregor (Can) Colavita-espnW Pro cycling
2:32.55
21 Jennifer McMahon (Can) Glotman Simpson Cycling
2:34.00
22 Erika Broekema (Ned) NWVG
2:39.76
23 Gina Haatz (Ger) independent
24 Jessica Cutler (USA) Primal/MapMyRide p/b BH Bicycles
25 Florence Laplante-Lamarche (Can) Stevens Racing p/b The Cyclery
26 Jenny Lehmann (Can) Trek Red Truck Racing p/b Mosaic Homes
---
Related Photo Galleries
---