July 24/12 17:29 pm - Ryder Hesjedal Supports Fellow Olympian and Cyclist Denise Ramsden Through CAN Fund

Posted by Editoress on 07/24/12

Ryders Cycling Society of Canada and CAN Fund are pleased to announce that cyclist Denise Ramsden is the athlete who will be supported by Ryder Hesjedal through the funds raised from the pink jersey auction held in June.

"I am very pleased to be able to give back to the cycling community and in particular support an up and coming female rider such as Denise," said Hesjedal from his training base in Europe. "I want cycling to continue to grow in Canada and I can't think of any better way than to support our young riders achieve their dreams, just as I was able to achieve mine."

After his historic Giro d'Italia win in May, Ryder Hesjedal's first ever pink jersey—the Maglia Rosa from Stage 7, was auctioned off on e-bay raising $10,300 supporting Ryders Cycling Society of Canada and CAN Fund.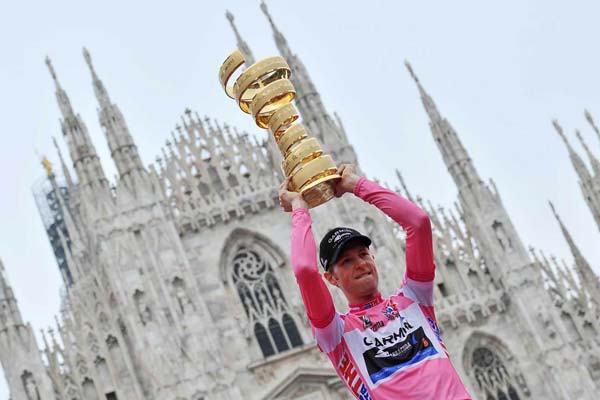 Ramsden will join Hesjedal at the London Olympics for her first Olympics where she will be competing in the road race and time trial events. She is joined by fellow riders Clara Hughes and Joelle Numainville. Hesjedal is the lone male road racer who will represent Canada in London.
Olympic Team Announcement: Hughes, Numainville, Ramsden
"We are excited to have Ryder take on a leadership role in helping our future heroes" says Conrad Leinemann COO – CAN Fund. "As a past recipient of a CAN Fund grant himself, it is always humbling to see our athletes who do so well give back to the athletes who still need assistance to achieve their goals."

Meanwhile, Ramsden was ecstatic when she was contacted by CAN Fund and told of the support and where it came from.

"It was really cool," said Ramsden. "I saw that he was auctioning off his pink jersey and proceeds were going to CAN Fund, even before I knew it was even involving me, and I thought it was great that he was doing that and giving back to Canadian athletes. Then when I found out I was the recipient I was very excited and happy. What he's doing is fantastic. I'm very grateful that other people will get a chance to benefit from RCSC going forward as well."

There are still 100 athletes who remain on the CAN Fund waiting list for financial assistance. With these athletes getting ready to represent Canada at the London Olympics only days away, Hesjedal is encouraging others who are able to donate what they can to support the athletes and help clear the waiting list.

"Let's work together and support the remaining athletes on the CAN Fund waiting list," said Hesjedal.

To support our remaining athletes, please donate online at www.myCANFund.ca or call 1-866-937-2012. Donors will receive a tax receipt and be able to find out who they helped.

For those wishing to donate to Ryders Cycling Society of Canada, please visit ryderscyclingsociety.org.
CAN Fund press release
---
Related Photo Galleries
---