July 28/12 22:50 pm - Val d'Isere World Cup: XC report and photos

Posted by Editoress on 07/28/12

While the world's attention may have been on London for the opening day of competition at the Olympics, many of the top cross-country mountain bikers were doing their final tune up for their Olympic event in two weekend's time. The final round of the UCI Cross-country World Cup took place on Saturday, in Val d'Isere, France, a new stop on the circuit.

The final round saw Gunn Rita Dahle Flesjaa (Multivan Merida) take her second win of the season and Nino Schurter (Scott-Swisspower) his fourth. Schurter took the men's overall series title, while world champion Catharine Pendrel (Luna) won the women's.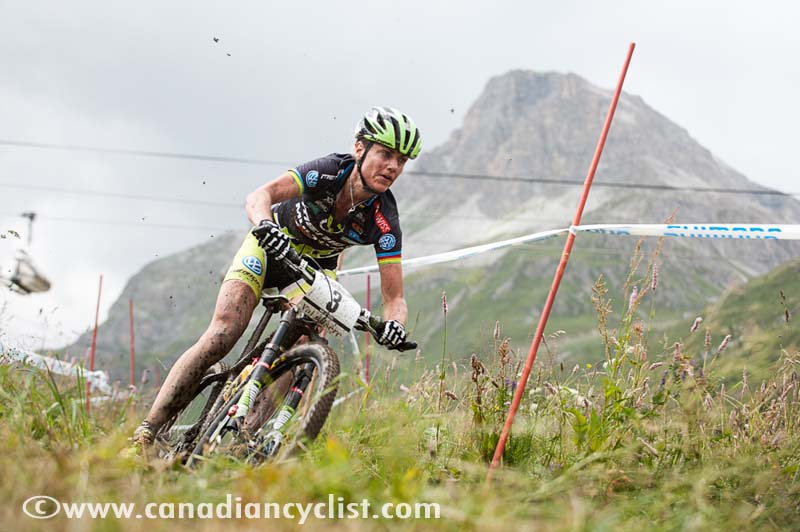 Gunn Rita Dahle Flesjaa (Multivan Merida) photo: Marius Maasewerd

Dahle Flesjaa jumped into an early lead in the women's five lap race, joined by Georgia Gould (Luna) and defending World Cup champion Julie Bresset (BH - SR Suntour - Peisey Vallandry). By mid-race, British champion Annie Last (Milka Brentjens) and Emily Batty (Subaru Trek) had moved up to join the chase, with Gould sliding back, as well as team mate Katerina Nash, who had mechanical problems. Pendrel, who had already won the World Cup title after the previous round, was riding back in ninth after a poor start.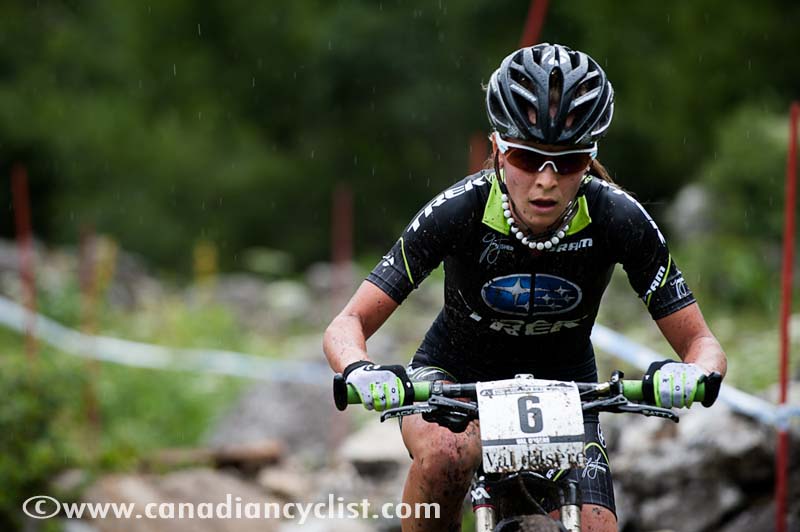 Emily Batty (Subaru Trek) photo: Marius Maasewerd


Dahle Flesjaa continued to pull away from her rivals in the last two laps, climbing and descending technical sections that the others struggled with. Starting the final lap it began to rain, and Dahle Flesjaa able to extend her lead over Bresset to 46 seconds by the finish, with Last finishing a career-best third and Batty fourth. Gould rounded out the top-five and Pendrel was ninth.

"It was very close to the perfect race," stated Dahle Flesjaa. "It's back to the old days where I was leading from the start to the finish. Yah, I had a good day. I knew before that I am starting to be in top shape for this season and this is the perfect feedback for what will be expected in the coming weeks."

Dahle Flesjaa's second win jumped her into second in the overall standings, with 1048 points to Pendrel's 1290, with Nash dropping to third. Gould was the top American in the overall standings, finishing fifth.

Pendrel agreed that she had a tough day: "Today it was super hard. It is a tough course, there's no recovery and there's significant altitude for someone from my neck of the woods. I didn't feel horrible, but there are definitely some girls out there with amazing legs. I had a good start until the first corner and then I got caught up in the course and then the whole pack went by me. So I just buried myself for two laps and paid for that, I think. But winning the World Cup is awesome. It is cool to be able to show consistency and also to be able to get it done on the day. And now I am happy to have two weeks in Europe to get used to the time zone and be ready for London."

Schurter, who skipped the previous round in Windham, New York, for Olympic preparation, showed that his form is better than ever by leading the men's race from start to finish. The newly titled national Swiss champion rocketed off the front of the field on the first lap, opening up a gap on a chase group containing team mate Florian Vogel, Marco Fontana (Cannondale), Ralf Naef (Multivan Merida), Sergio Gutierrez (Wildwolf-Trek), Windham winner Burry Stander (Specialized) and Julien Absalon (Orbea).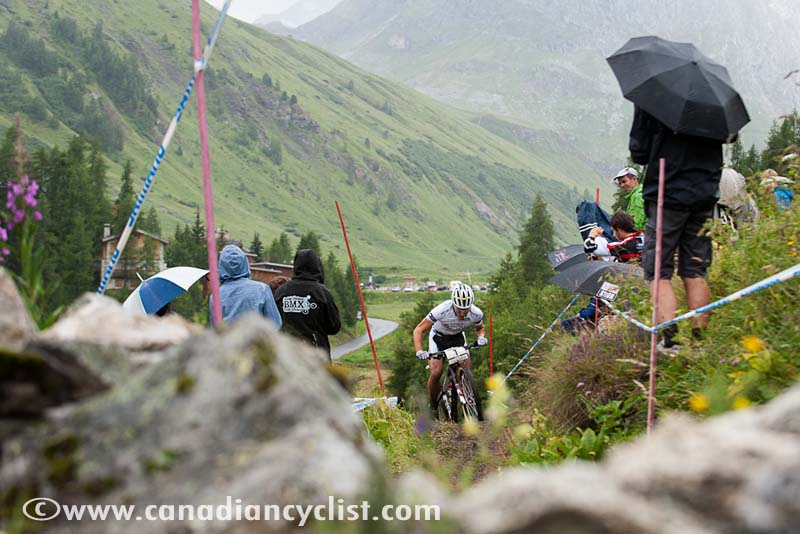 Nino Schurter (Scott-Swisspower) photo: Marius Maasewerd

Vogel and Fontana steadily began to gain ground on Schurter, while the others fell back, with Absalon struggling in particular in the muddy conditions, eventually pulling into the pit to change tires and then abandoning.

Fontana bridged up to Schurter by mid-race, with Lukas Flückiger (Trek World Racing) moving into third and Fontana's team mate Manuel Fumic into fourth as others faded from the intense pace. On the final lap, Schurter attacked again to solo in for victory, while Flückiger caught the fading Fontana for second.

"My tactic today was to start really fast," explained Schurter, "because Burry is always having problems at the beginning of the race when its really fast, as well as Absalon. So I decided to start very fast and that strategy was quite good. Neither Burry nor Absalon were in the leading group after the first lap. It was a perfect race for me. With Marco (Fontana) and Flo (Florian Vogel) together, we were a strong group in the lead."

"It is awesome for me to win the World Cup on an Olympic year. It gives me a really good feeling now for the upcoming Olympic Games. It was not my biggest target to win the World Cup, but now I am super happy; it is a bit of a surprise for me."

Schurter finishes the season with 1200 points to Stander's 1058, with defending champion Jaroslav Kulhavy (Specialized) third at 865 points. Top North American in the overall standings is Max Plaxton (Specialized), who skipped the race, in 17th, followed by Geoff Kabush (Scott-3Rox) in 21st and Sam Schultz (Subaru-Trek) in 25th.
---
Related Photo Galleries
---