July 29/12 15:55 pm - Val d'Isere World Cup: DH report and photos

Posted by Editoress on 07/29/12

Round six of the Downhill at the UCI Mountain Bike World Cup in Val d'Isere, France, turned out to be a much more difficult course than anyone anticipated, with many top riders crashing and performing below expectations. Rachel Atherton (GT Factory) took her fourth win of the season to extend her lead in the women's standings, while Brook MacDonald (MS Mondraker) took his first ever World Cup win in the men's race. Aaron Gwin (Trek World Racing), despite finishing fifth, locked up the men's overall title with one round remaining. Canada's Steve Smith (Devinci Global Racing), despite crashing in qualifying, actually moved up from fifth to fourth in the overall standings.

The rocky, open, alpine run was very different from most that the racers face on the World Cup circuit, and more than a few riders crashed in both training and qualifying.

In the women's race, Petra Bernhard (Alpine Commencal Austria) was the first to record a sub-2:50 run, but Myriam Nicole (Commencal / Riding Addiction) immediately took nearly seven seconds off the leading time, good enough to eventually finish fourth. Floriane Pugin (Scott 11) then knocked a further second off, but the final two riders were in a class of their own.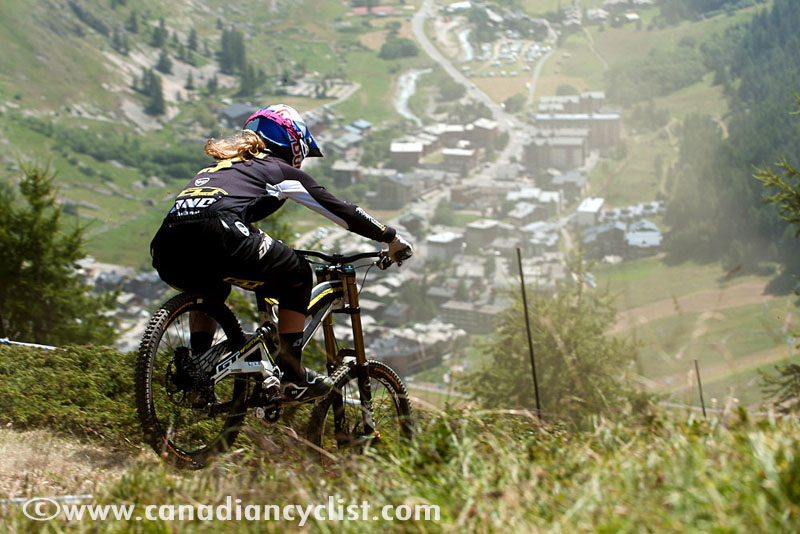 Rachel Atherton - photo Marius Maasewerd

World champion Emmeline Ragot (MS Mondraker) was 1.6 seconds faster than Pugin, but Atherton, the fastest qualifier, once again showed that her return this season, after struggling with injury, is complete - finishing a second and a half ahead of Ragot and recording the only sub-2:40 time of the day.

"I am so happy," stated Atherton. "I think this is the most nervous I have been all year. This track is very, very difficult. One day it's dry and then it's really, really wet, so tire and suspension changes are so important, and you don't know how it's gonna be on your race run. Everyone was just playing it like a guessing game.

"I almost crashed today [in training]; I landed on my seat. My stomach was hurting really bad, but I thought, this is like Fort William: I need to just switch off and then switch back on for the race. I have learned that from racing and crashing."

Atherton now holds an 80 point lead over Ragot, with Nicole a distant third at 892 points.

The men's competition for the last two seasons has been completely dominated by World Cup leader Aaron Gwin and his usual rival, Greg Minnaar (Santa Cruz Syndicate). Between the two of them, they have won every single World Cup in last season and this, until Val d'Isere. Every rider struggled on the fast, rough and rocky terrain, which was completely unforgiving of mistakes. Gwin crashed in qualifying, injuring his hand and finishing well back.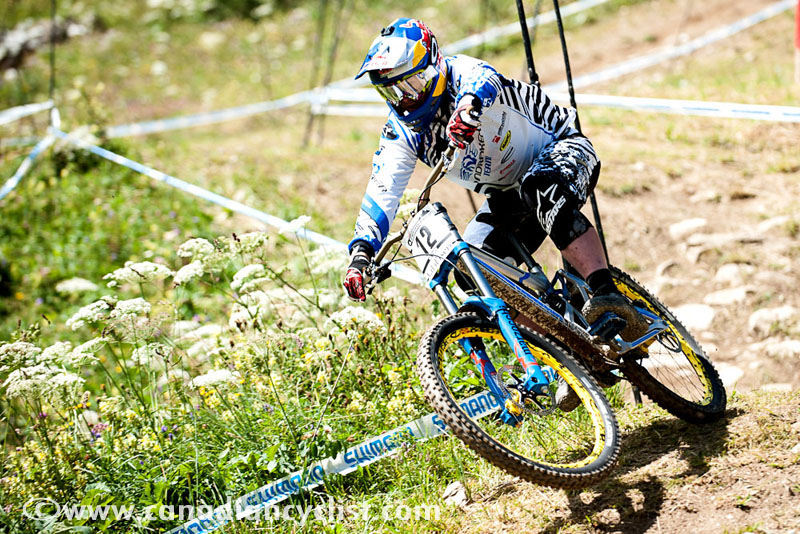 Brook MacDonald - photo Marius Maasewerd

In the Final, Thibaut Ruffin (Commencal / Riding Addiction) set the early best time, which stood for 16 riders until Matt Simmonds (Chain Reaction Cycles.Com / Nukeproof) bumped him by an infinitesimal six-thousandths of a second. Simmonds in turn was displaced by Andrew Neethling (Giant Factory), who barely finished before Mick Hannah (Hutchinson United Ride) took the lead. Gwin took the lead next by half a second, but Minnaar surpassed his rival by that same amount. Gee Atherton (GT Factory) then recorded the first sub-2:20 time, but it wasn't quite enough, as MacDonald knocked a final half second off the lead to record his first victory.

"I can't even explain how I feel," exclaimed MacDonald. "I had a solid run, no mistakes , it was one of those runs I was just pumped for. I am over the moon about this one. My early season has been a big struggle. I was at a point where I was hating riding. So I changed a few things on my bike, and it has all paid off."

"This track was hard. With the altitude, and being only two and a half minutes, you are just pushing the whole way. If you make a mistake you lose time and you can't really lose time on this kind of track. I put together a good run and I'm happy."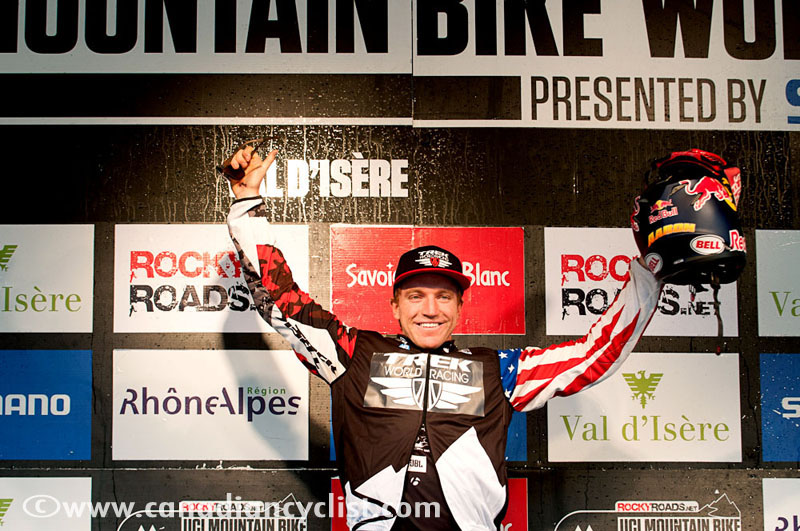 Aaron Gwin - photo Marius Maasewerd

Despite having his consecutive World Cup win streak stopped at four, Gwin wasn't too upset. "I have no excuses, I had a pretty good run. For how I felt I am happy. To win the overall again, it is so amazing, especially after this weekend. I came in feeling good, and kinda had a bonehead moment in Qualifying. Hurt myself a little bit. It [his hand] was better than I thought it was going to be in the Finals; it didn't hurt too bad. I just got a little tired at the bottom. So I had to back it down at the bottom to make sure I stayed on and I kinda backed it down too much, but it worked out. Everyone loses some and wins some. I have lost many more in my career. I am just stoked to be up here."

Gwin now has 1260 points with one race remaining, an insurmountable 260 point lead over Minnaar. The fight for second overall is far from over, with Atherton only 19 points out of second. Smith, who crashed in qualifying and finished 11th in the Final, moved ahead of world champion Danny Hart (Giant Factory) with 680 points (to Hart's 650) after the British rider did not score any points in Val d'Isere.
---
Related Photo Galleries
---