August 2/12 9:18 am - Post-Time Trial Comments from Denise Ramsden & Ryder Hesjedal

Posted by Editoress on 08/2/12

CC catches up with Denise Ramsden & Ryder Hesjedal after the Time Trial

Note: We have a separate interview with Clara Hughes here
Denise Ramsden - 19th Women's ITT

I didn't have big expectations for the time trial. I was here for the road race, to work in the road race, so today I just went out to see what I could do. I felt like I put down the best effort I had today. I was feeling the road race in my legs still, but I'm sure everyone was.

The crowd was really cool. They must have had start lists, because there were so many people shouting your name, and there were names written on the road, and Canadian flags, and people shouting 'Go Canada' ... that part was awesome.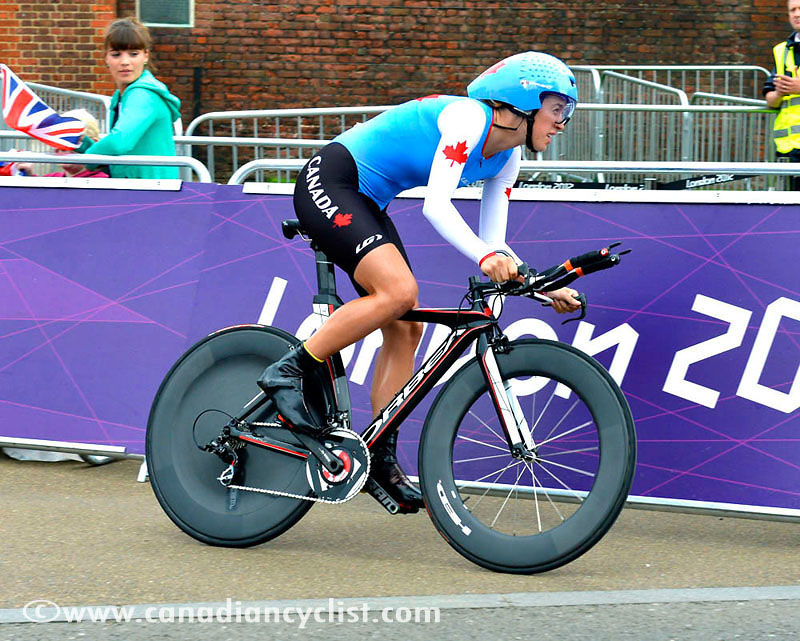 Everyone says it is a flat course, but there were still some pretty good efforts in it, so I concentrated on carrying my speed over the climbs. It's a fun course, but the roads were really rough, so you were just trying to pick a smooth line through everything when you were getting bounced around on your bike ... that part was tough.

I think I was just gaining experience here, and when we see the results it will be the older, more experienced athletes that are on the podium. Time trialing is something you get better at as you get older; look at Clara, look at Kristin Armstrong and Judith Arndt, so hopefully I can take this experience, and over the next four years become more of a contender in it.

I'm going to spend a few days in London now, soaking up the atmosphere, I've never been to London before. Hopefully I'll get to watch some other sports - I have to figure out the whole ticket situation!


Ryder Hesjedal - 28th, Men's ITT

There's not much to it ... you're out there suffering, and do your best. You can see that the specialists are carrying so much more speed; that's where it really comes through. A time trial in a stage race is totally different, if we did this at the end of three weeks, I think we would have seen some differences.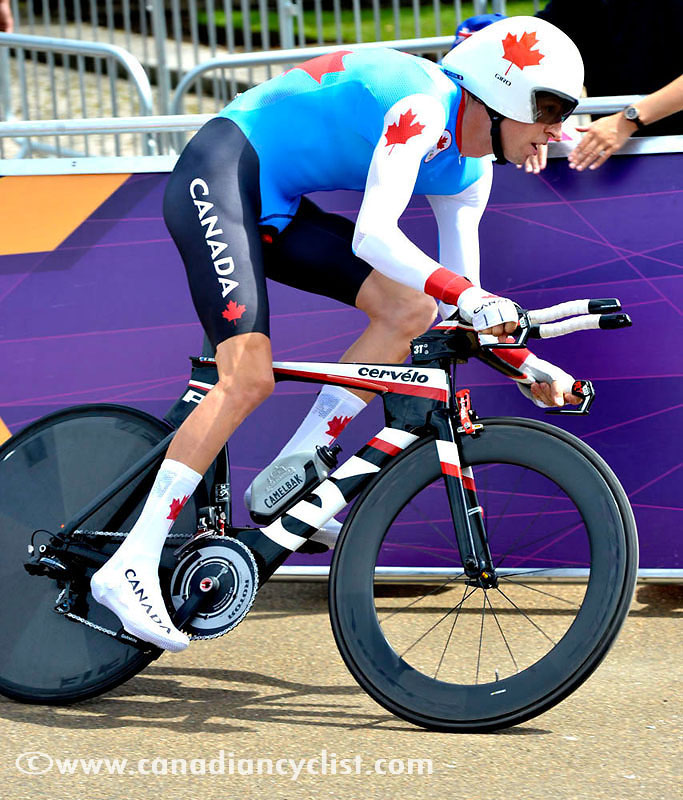 And you can see the level of the guys who just came out of the Tour, I mean, cycling's a sport where you need to race to have that condition, and I didn't get to complete the Tour. For me, I'm definitely rider that needs competition; I've had my best performances in the three week races.

When I was recovering [after stage 6 Tour crash], I felt I didn't lose a lot of conditioning, and I was optimistic that I'd be good. I trained well and felt good the whole time; for me it was more the road race, if it played out the right way there was always a chance.

For the time trial I had to be realistic, I never said 'yeah, I think I can bring home a medal'. When you look at the people here ... You have to try, and have a good ride, see how it goes.

Will he race Worlds?

I'd like to. Next are the Grand Prixes in Quebec and then I'd like to do Worlds.

Pleased with the year?

Definitely; I mean, I won the Giro d'Italia. That will be big forever. I'm happy that I wasn't more injured in the Tour, and that i was able to recover, and get training again, and basically use the Olympics as a kickoff point to the rest of my season. I feel fortunate. I came here with good feelings, and I gave it a try.

Which Olympic race happiest with?

I'm not really happy with either of them. But you always want more. This is a special event; you never see anything like this in any other cycling race, with the crowds and everything, so I'm just happy to go through the experience and give it my best.


---
Related Photo Galleries

Olympic Games July 28/12 - August 12/12, London, UK


Around London
Men Road Race
Women Road Race
Track - Training Day 1
Track - Training Day 2
Women Time Trial
Men ITT
Track - Women Team Sprint
Track - Men Team Sprint
Track - Men Team Pursuit - Qualifying
Men Team Pursuit FINAL
Women Team Pursuit Qualifying
Women Keirin
Women Team Pursuit: Round One and FInal
Men Sprint - 200 Qualifying
Men Omnium - Flying 200
Men Omnium - Points Race
Men Omnium - Elimination
Men Sprint 1/16th Final
Men Sprint 1/8th Final
Women Sprint - Qualifying
Women Sprint - 1/16, 1/8
Women Sprint - 1/16, 1/8
Men Sprint Quarter Final
Men Omnium - Individual Pursuit
Men Omnium - Scratch Race
Men Omnium - Kilo
Women Omnium - Flying Lap
Women Omnium - Points Race
Women Omnium - Elimination
Men Sprint - Semi and Final
Women Sprint 1/4 Final
Women Omnium, Individual Pursuit
Women Omnium, Scratch Race
Women Omnium, 500 TT
Women Sprint Final
Men Keirin, Round One and Repechage
Men Keirin, Round Two and Final
Men BMX - Qualifying
Women BMX - Qualifying
Men BMX - Quarter Finals
Women BMX - Semifinal and Final
Men BMX - Semifinal and Final
Women MTB - part one
Women MTB - part two
Men MTB - part one
Men MTB - part two
Men MTB - part three
---