August 5/12 19:55 pm - 2012 Olympic Games: Track Day 4 report and photos

Posted by Editoress on 08/5/12

Day Four of the Olympic track competition was noteworthy primarily because it was only the second time at these Games that Great Britain did not take the gold medal on offer. In the Men's Omnium they had to settle for Ed Clancy's bronze, as Lasse Hansen (Denmark) came from behind in the final event to claim gold, with Bryan Coquard of France taking silver. Canada's Zach Bell fnally had a strong performance by winning the fifth event - the Scratch Race - but it was too late, and he finished up eighth.

Men's Omnium

World champion Glenn O'Shea (Australia) began the day by taking the lead after the Individual Pursuit in the morning, finishing third behind Hansen and Roger Kluge (Germany), however, he had a very poor Scratch Race, and fell behind Day One leader Bryan Coquard (France), Hansen and Elia Viviani (Italy), who were tied at 25 points with one event remaining - the Kilo time trial. In the Kilo, Clancy was easily the fastest, coming within 0.27 seconds of the Olympic record of Chris Hoy - from the days when the Kilo was still an Olympic event that specialists trained for. Hansen was second to Clancy to secure gold, with Coquard fourth in the event behind O'Shea.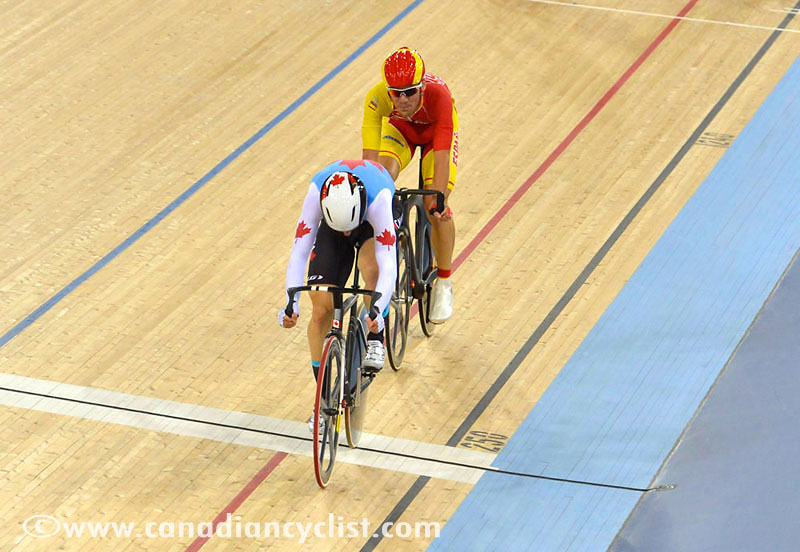 Bell wins Scratch race
Zach Bell entered the day in ninth place, but with 30 points - triple that of Coquard, so with little chance to make up ground. His Individual Pursuit was good enough for eighth, and then a late race attack in the Scratch earned him the victory, when he and breakaway companion Eloy Teruel (Spain) were able to hold off chasers. This moved him up to seventh, but tenth in the Kilo dropped him back one spot in the final standings.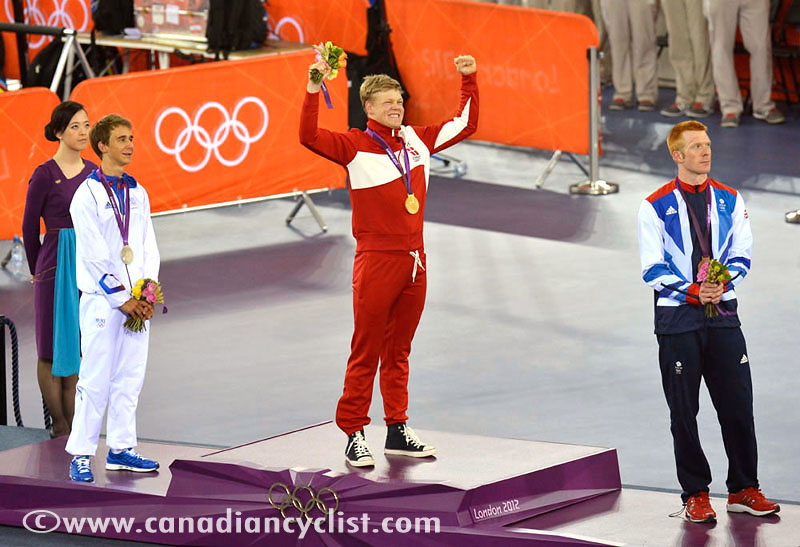 Coquard, Hansen, Clancy
Zach Bell:

"It is what it is. I kind of lost the legs in the last little while. Training was all going really good but I was expecting bigger things ... I think everyone knew that, but it's the Olympics. If everything's not on perfect point you lose a little bit."

"For the most part, most of the events were on par or slightly subpar. I lost a lot in that Points race. [With] the other guys going the way they were, there was no coming back from that. The guys on the podium definitely deserved it and there's been a lot of guys that have been on the podium in the last couple years that weren't on the podium here. That's how the Olympics goes. it was a good fight from everybody to the end, and I was happy to be part of it, but not coming away with what I hoped for."

"I tried to use the difficulty in the first events to fire me up, especially for the Scratch race. The two time trials it is what it is. Your legs are only so good. On the [Pursuit] time trial I went out on the schedule we had set, riding the way I thought I was capable of but I faded."

"Yes, it has been a hard two days, more mentally than anything. I have only missed the podium twice in this event in my life; once a world championships and once now here. So to have two bad days now is hard."

On winning the Scratch Race:

"I have kinda been able to grow into one of the better Scratch racers in the world. My coach Richard [Wooles] was really around and said take ownership of it; even when you dont have the best legs, you can win this one. I know how to race it and given where I was in the rankings I would be given a bit more leash. That's all I need from some of these guys, I must say I was the best of them. If they give me anything I can perform like that."

Did winning it make you think what might have been?

"You can't think like that, it is one race at a time. If I had a better Points race I wouldn't of had the leash, so it wouldn't have been as easy - not that it was easy, but it wouldn't have been as available for me to do so."

"Yeah, I celebrated after winning the Scratch race. I won a race at the Olympics, not the whole thing but a lot more than most of the guys here can say."

"I've had a lot of people follow me, a lot of people behind me encouraging me to pick myself up after four sort of subpar races to be able to do that. Especially with some of the kids in the Yukon watching, I wanted to give them something to cheer about and this is one they might be up to watch."

"The future brings a little bit of uncertainty at the moment. There's still some season left with SpiderTech so that could be in the cards at some level yet, but I don't know. I've got a baby on the way, my wife is in the crowd, she's seven months pregnant. She made the trip over and we're expecting in October, so I'm probably going to have to paint a room or something."

What about 2016?

"There's one and a half people in the crowd who's going to have to answer that question before I do. It's not totally off the radar but it's still a ways away from discussion."

"There's definitely some years to be had. Especially with the way things are going with Spidertech, the way they're growing I want to build a payback to some of those guys for supporting me through this endeavour. It didn't turn out the way I would've liked."

"Steve [Bauer] has been behind me the whole way and I want to continue to be part of that, that's really the only commitment I have in the back of my mind right now."


Women's Sprint

The Women's Sprint began today, opening with the Flying 200M seeding time trial and going as far as deciding who would go to tomorrow's quarter finals, and the ride off for 9th through 12th places. Victoria Pendleton (Great Britain) qualified first, followed by her usual rival Anna Meares (Australia), with Guo Shuang (China) in third. Canada's Monique Sullivan finished 12th.

The top contenders all made it through the first day, with no real surprises. Sullivan lost her first race but qualified for the 1/8th finals through a strong Repechage ride, only to face Meares in the next round and lose. She did not manage to move on through the next repechage, and raced for ninth place, finishing her Olympic experience with an 11th overall in the Sprint, to go with sixth in the Keirin.

Monique Sullivan:

"I'm just really happy about my effort. I wasn't very happy with my 200 time trial this morning; I think the Keirin took the edge off me a little bit. I just tried to fight through as fast as I could and anything can happen in a sprint round. There are a few technique things I can work on to make that a little tighter and hopefully come out on the better side."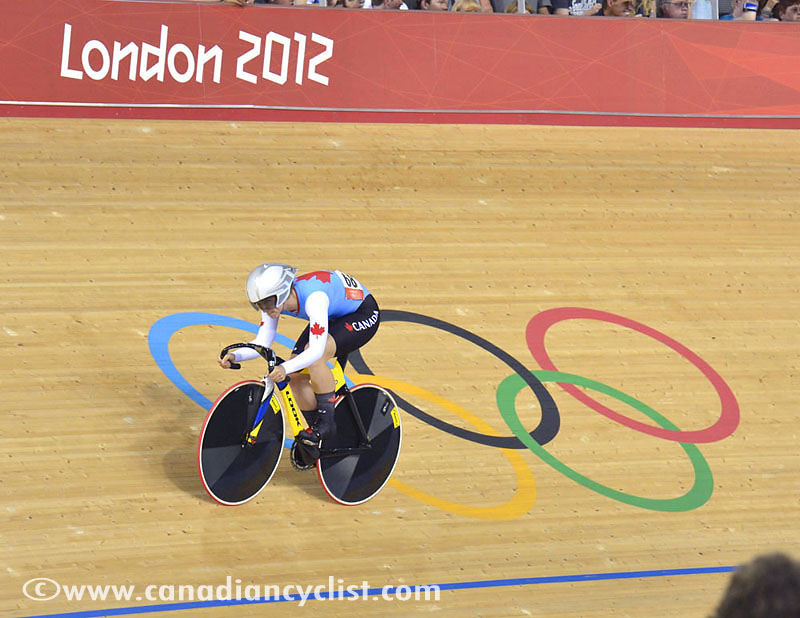 Monique Sullivan
About the 1/8 Final against Anna Meares:

"My only chance against Anna was to surprise her, so I went out there and tried to fight her but she was in control of me. When I jumped I knew she had me. She was nice, I think, by only beating me by that much."

What have you learned racing against Meares?

"She is absolutely a leader for our sport and a leader for Women's sport. I've learned a lot from her watching just the way she races. She never backs down, she fights all the way to the end. She has put in the time to get the technique that she has on the track. She knows exactly what to do."

"The support of the team has been absolutely phenomenal and we have come so far in the past four years. It was a heartbreak for Zach, but he has come so far and the Omnium is a really tough event to get right. My heart goes out to him, but don't discredit how far he's come and how far the program's come."

"Hopefully we'll get another medal to prove it with Tara. Never doubt the power of just a small group of people who've been working with us the last four years. it's pretty amazing."


Men's Sprint

The Men's sprint continued it's slow build up to tomorrow's final, with the Quarterfinals round. Jason Kenny (Great Britain), Gregory Bauge (France) and Shane Perkins (Australia) all advanced to tomorrow's semifinals with no difficulty. Bauge looked particularly powerful. The fourth rider, Trinidad's Njisane Phillip, knocked out Denis Dmitriev (Russia).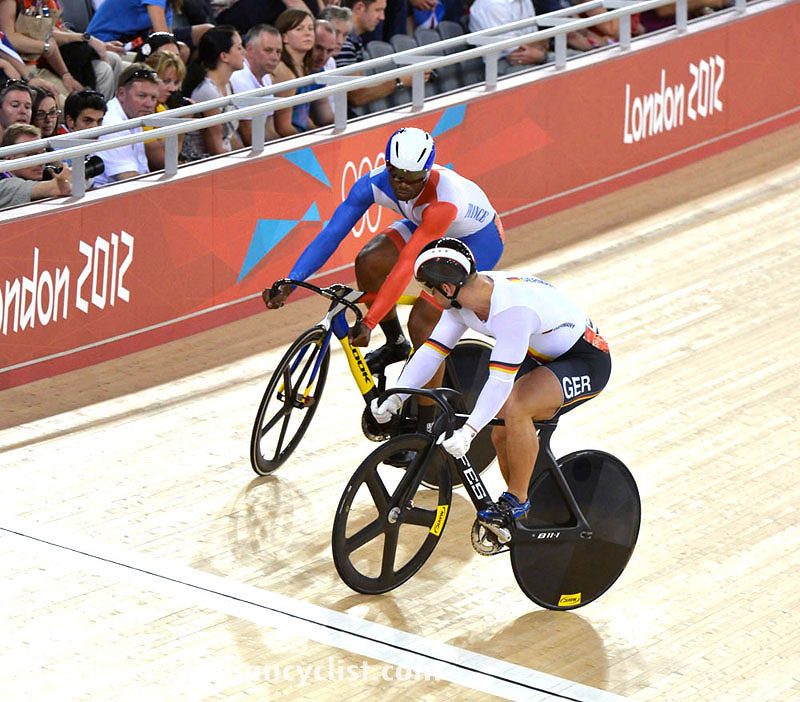 Gregory Bauge (France) Robert Forstemann (Germany) mix it up in quarter finals
Phillip is proving to be a giant killer, beating Robert Frstemann (Germany) in an earlier round, and showing tremendous speed. He is also a crowd favourite, waving extravagantly to the crowds before and after races, and thrilling with his blazing speed and come from behind wins.
---
Related Photo Galleries

Olympic Games July 28/12 - August 12/12, London, UK


Around London
Men Road Race
Women Road Race
Track - Training Day 1
Track - Training Day 2
Women Time Trial
Men ITT
Track - Women Team Sprint
Track - Men Team Sprint
Track - Men Team Pursuit - Qualifying
Men Team Pursuit FINAL
Women Team Pursuit Qualifying
Women Keirin
Women Team Pursuit: Round One and FInal
Men Sprint - 200 Qualifying
Men Omnium - Flying 200
Men Omnium - Points Race
Men Omnium - Elimination
Men Sprint 1/16th Final
Men Sprint 1/8th Final
Women Sprint - Qualifying
Women Sprint - 1/16, 1/8
Women Sprint - 1/16, 1/8
Men Sprint Quarter Final
Men Omnium - Individual Pursuit
Men Omnium - Scratch Race
Men Omnium - Kilo
Women Omnium - Flying Lap
Women Omnium - Points Race
Women Omnium - Elimination
Men Sprint - Semi and Final
Women Sprint 1/4 Final
Women Omnium, Individual Pursuit
Women Omnium, Scratch Race
Women Omnium, 500 TT
Women Sprint Final
Men Keirin, Round One and Repechage
Men Keirin, Round Two and Final
Men BMX - Qualifying
Women BMX - Qualifying
Men BMX - Quarter Finals
Women BMX - Semifinal and Final
Men BMX - Semifinal and Final
Women MTB - part one
Women MTB - part two
Men MTB - part one
Men MTB - part two
Men MTB - part three
---