August 15/12 12:30 pm - Emily Batty's Journey to the 2012 London Olympic Games: A Fiancee and Coach's Perspective

Posted by Editoress on 08/15/12

By now everyone who has followed Emily Batty's career knows she broke her collarbone just days before competing at her first Olympics, London 2012. Her Coach and Fiancee has written about their year leading up to the Games and how they both dealt with the reality they faced in the days leading up to the mountain bike race.
Adam Morka
In life, my parents (have) always taught me "commitment". Commitment to the task, commitment to the goal and most importantly commitment to the people you are surrounded by. London 2012 was a realization and an inspiration to what commitment really is for me as a coach and more importantly a partner in the journey of life.

Historically, performing in sport is about commitment, sacrifice and of course, having all your stars align on the day (that) it matters. The Olympics is the biggest sporting stage any athlete can compete on and oddly enough at the Olympics, we find the most unnatural environment to achieve performance and results. Going back to October 2011, we made a plan, a plan to not only get Emily to the Olympics but to also bring home a medal. Just getting to the Olympics was a challenge itself, so starting off on the right foot was important.

November 21st was about sacrifice. We jumped on a plane and headed for Tucson, Arizona for what was the start of a very early training season. The goal of each training program I write is always to keep it as fun as possible and focused on performance, a little break here, a party with friends there, a change in the training theme, or a well timed few days off. Keeping the program fun is just as important as the training and recovery pattern. After going through the program numerous times and having many sit down talks with Emily, we quickly realized with South Africa so early, Christmas home with the family wasn't an option. It was our sacrifice to each other and the goal.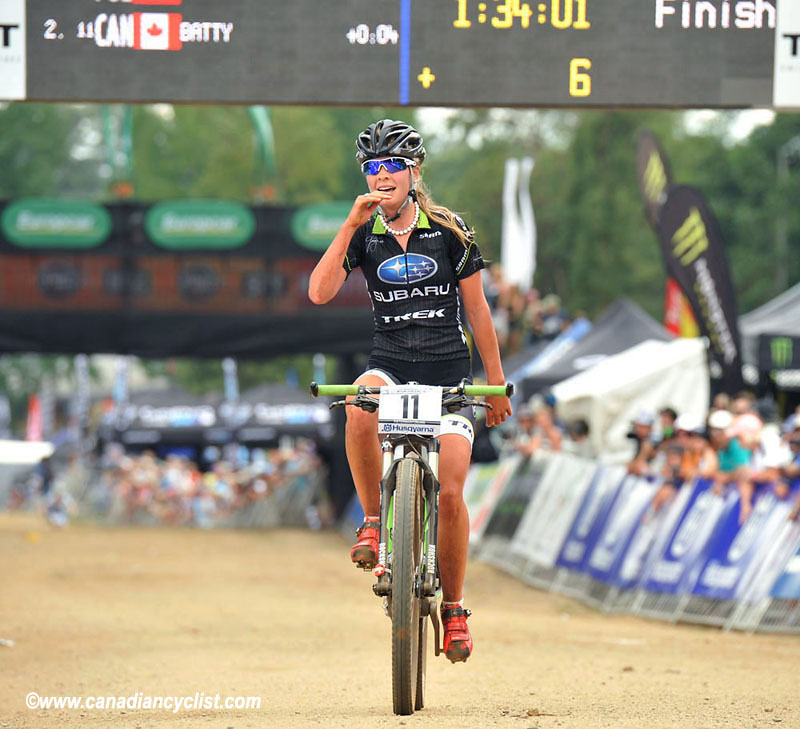 Emily finishing second in South Africa
Five months straight we trained hard, assessed daily, fine tuned weekly, planned monthly and focused with the end in mind. Finding success can be an enjoyable path if you can make the most of the journey in achieving success. We were confident in the written annual training plan and set a goal for Emily to win South Africa World Cup. In order to Win in South Africa we made a list of training objectives relative to the race itself, it was noted to "become much faster then any other women in the rock gardens, comparable to speed of the men". A well timed peak coming into (Pietermaritzburg) RSA World Cup and Emily finding the form of her career, set the stage for her season and she was welcomed with a hard earned 2nd place, 4 seconds off the win. Its always been important to set the stage early in the season, all eyes are on the first race, the Olympic year is extremely fast and Canada is number 1 in Women's Mountain Biking, this race was the most important race next to the Olympics. She came so close to winning, technically we made huge gains in the off season, a touch faster in the rock garden and she would have won. It was just the beginning for Emily. She followed up each qualifying World Cup with fantastic results, getting close to the podium each time and producing top 5 worthy lap times.
Canada's 2012 Olympic MTB Team: Catharine Pendrel, Emily Batty, Geoff Kabush and Max Plaxton
The goal is always to be the best, control the controllable, focus on continuos improvement and apply consistency to your training patterns. The biggest challenge of our season was the travel fatigue, media and oddly enough, Emily's popularity. Not enough attention given to recovery and satisfying others demand for Emily's amazing results, nomination to the Canadian Olympic Team and of course that beautiful personality no one can resist led to a mid season drop in performance and accumulated fatigue. After the Windham (New York) World Cup, the training quality had dropped so low, there was no point in training. Performing as an elite level athlete is a balancing act between training and recovery, you need to treat your recovery days as if they are training days, they are just as important. A good coach has to figure out how to get the most out of each individual and also each situation, I was confident (that) some time off was in order. It would be unheard of 5 1/2 weeks before the Olympics to schedule a transition phase for most athletes let alone 1 week and 3 days with ZERO training. It was clear the benefits of resting outweighed the benefits of training and at that point it was the right decision.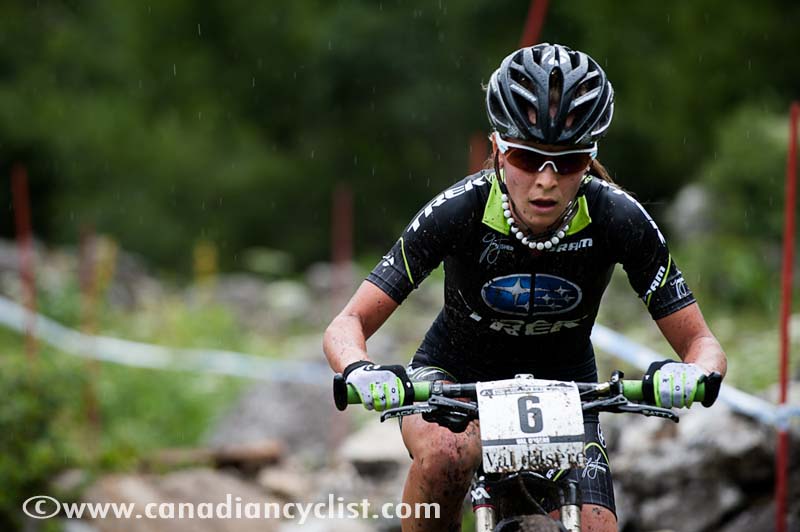 Emily Batty (Subaru Trek) racing Val d'Isere photo: Marius Maasewerd
Our transition week was immediately followed up with our pre Olympic training camp in Livigno Italy. We have done altitude training camps before, they work well and for Emily in particular there are many benefits. Her natural speed as an athlete is a gift, its thought that altitude camps can dramatically reduce an athletes speed which was risky considering the course in London demanded a rider with a big engine, strength, power and pure speed. The ultimate goal of any training camp is to improve, we brought the on and off the bike strength back into the program, we improved Emily's notorious enemy, "endurance" and we incorporated speed in the later weeks leading into the games. She carried serious training load through (the) Val D'Isere World Cup. Week 3 of our training camp and a 18 hour training week with 4 days of intensity to be exact. She raced casually to 4th place and made her second World Cup podium of the year look effortless, her 'on the bike' strength was back, her engine and ability to hold the throttle down was also back and the speed was coming for the Olympics. Her performance in France looked casual and the screws still needed to be loosened for a well timed second peak of her season, the London Olympic Games.

Replicating peak performances is a challenging thing, it takes years to figure out what works best for each individual, the body's balance of "fatigue" and "form" fluctuate, you must know your athlete(s) well. The cycles and patterns of the training are important, the coaches goals and thoughts must be aligned with the athletes and both must believe and be confident in the program.

From November 21st 2011 to August 11th 2012, time had flown by and the week of the Olympic Mountain Bike races had arrived in full force. London was special, as soon as we landed on August 5th I could feel the energy in the air, it was amazing, I had so much confidence in what we had done throughout the season and in the weeks leading up to the Games, I knew a medal was truly achievable. That week was going to be a life shaper for both Emily and I, just making it there was half the battle and we had done everything possible to get a medal, everything was so perfect and flawless for 5 weeks straight, she seemed destined to win so when things go wrong, it hurts, it hurt bad.

On August 9th I received a message that Emily had crashed in training on course and injured her right shoulder. My heart sunk into my stomach, I scrambled for more information and no sooner then 5 minutes (later) I received a phone call from Emily. "Adam" she said. I said "yes, I heard what happened, are you ok?" She paused............I could sense her heart break over the phone, she was scared to tell me she was crying her eyes out. She says..... "I think I broke my collarbone". My heart sunk deeper, she broke down and I broke down as soon I was off the phone with her. I called my parents, I had no one else to talk to, I broke down again. Not because I was disappointed with her, not because I knew a medal was lost, not because she may or not be racing in the Olympics, but because I knew how hard she worked, how ready she was and how her dreams fell apart in the matter of seconds. Those last 5 weeks were full of sacrifice and commitment to one another, our bond to each other was the strongest it had ever been, I had never seen anybody work so hard for anything, it was heart breaking to see it taken away like that.


I had to quickly pull myself together and be her rock through this. Goals change, things can happen, these were the cards we were dealt and now it was about innovating and getting the most out of the situation. She was adamant she raced and represented Canada, it's been her dream since she was young. It was one of the most emotional weeks I have ever had, I had to hide it well and be strong, Emily needed all the positive energy she could get.

She was surrounded by amazing people. I quickly wrote down a plan to get through the week, I set the weeks goals, moods and objectives. I was in contact with Dr. Kevin Jardine. He and Tara came up with a treatment plan for Emily and with his experience and Tara Lazarskis daily support in applying treatment, they were able to provide rock solid treatment leading into the event. It was intense and she went through as much treatment in 3 days as most go through in 3 months, it was the right step in bringing broken confidence back.

Boosting an athlete's confidence isn't about reinforcing what they are capable of. That's only one quarter of it, the other three quarters of the puzzle is reinforcing what they have done, how they have improved, where they have improved, how amazing they are and the level they have achieved. It convinces the athlete they are capable of first without saying they could be first, saying "they could be" just equates to pressure. Getting them to believe in themselves and the program is the biggest advantage an athlete can have.

Being surrounded by amazing Cycling Canada staff, Subaru-Trek Staff, family and her determination to race was enough good energy and reinforcement to bring her confidence back enough to race. The doctors gave her the green light, she would now be competing with an injury in her first of many Olympic Games. Emily raced the London 2012 Olympics on August 11th and achieved a placing of 24th out of 30 women with a broken collarbone.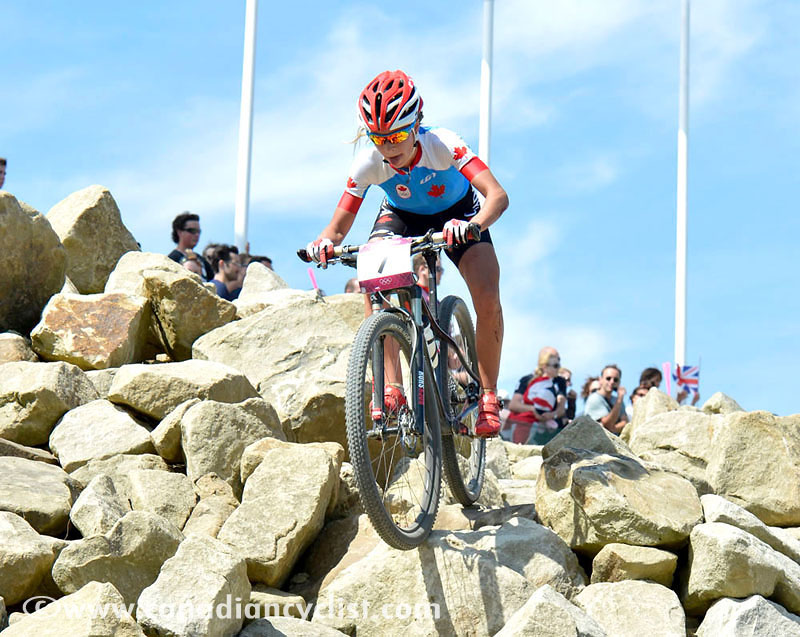 Emily Batty racing in London
Its the most unfortunate thing I have ever had to witness. Three of the top six women from Val D'Isere World Cup were on the podium in London, 2 of those women in London were taken out by untimely misfortunes. It was heart breaking to watch her struggle to race in such pain but she did it. Lap after lap when) she came around, I couldn't believe it. It was my most proud moment to have a part in that, she was a champion in my eyes, she inspired me to be better then I ever have been in the future. Her commitment to herself, her sport, team, Canada, fans, friends and family was amazing.

The cards she was dealt were a huge disadvantage, we have to be able to perform on our worst days and her commitment was unsurpassed by any athlete on that course. Sacrifice is hard, the journey whether to glory or heartbreak is life shaping, its what you make of the moment, Emily proved that to us all and not only made Canada proud, she made the World proud. Everyone's support has been amazing and we are already looking forward to Rio in 2016.
---
Related Photo Galleries
---