November 16/12 21:27 pm - Cross Nationals Preview

Posted by Editoress on 11/16/12

The 2012 Canadian Cyclo-cross championships will take place tomorrow at the South Surrey Athletic Park in Surrey, B.C. Today, riders had a chance to try out the course in the official training session. It was damp and cool today (8 Celcius), but tomorrow is expected to be windy with fairly heavy rain. On Sunday, riders will have a UCI C2 race to follow up.
Canadian Cyclist will, as always, be providing live coverage throughout the weekend. Masters Racing starts at 9:15 am local (12:15 pm Eastern), with the Elite Women and Junior Men on at 1:45 pm local (4:45 pm Eastern) for 40 minutes, followed by the Elite and U23 Men (60 and 50 minutes, respectively) at 3:00 pm local (6:00 pm Eastern).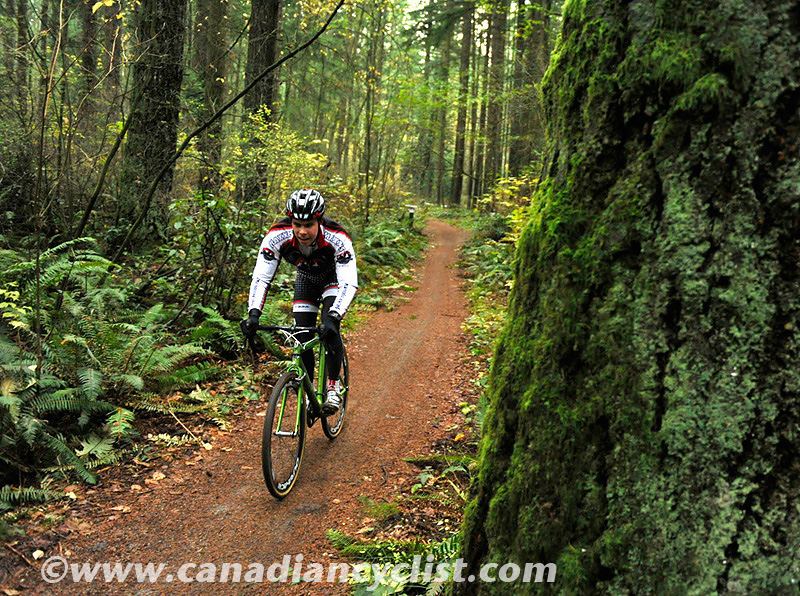 Some of the rain-forset sections are fast
The 3.25 kilometre championship course designed by Jeff Hanninen features a variety of terrain, some of it unconventional. It includes paths through coastal rain-forest, some off-camber slippery grass sections, a set of barricades, a stair run-up and a section that winds through the dirt jumps found in a mountain bike park that is located on the property. To top it all off, the riders will only reach the finish line after sprinting more than 100 metres along a 'steep' false flat. Riders may find the climbing catches up with them - it isn't steep, but there are three climbs per lap. The Sunday race will be essentially the same, minus some of the zag-zagging turns installed for the Nationals circuit, and knocking off roughly 500 metres.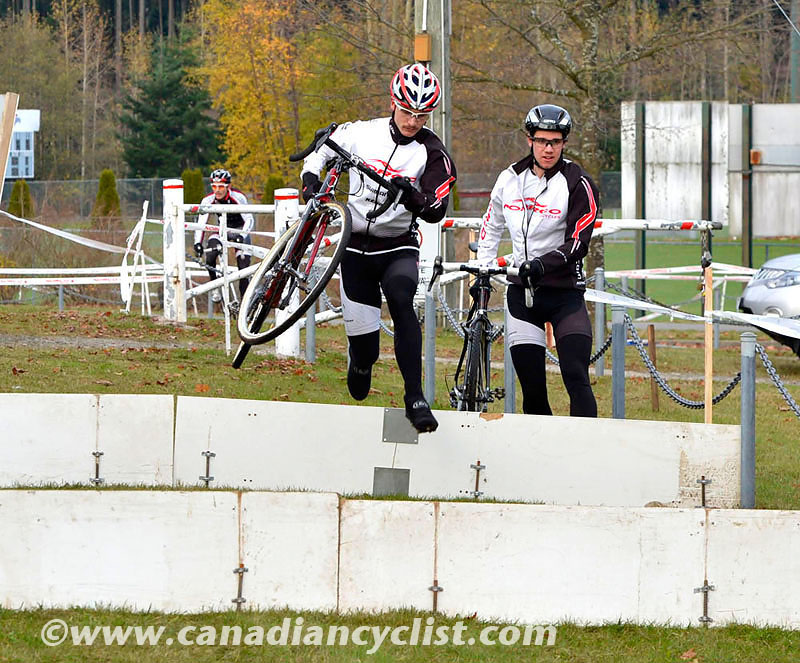 Barricades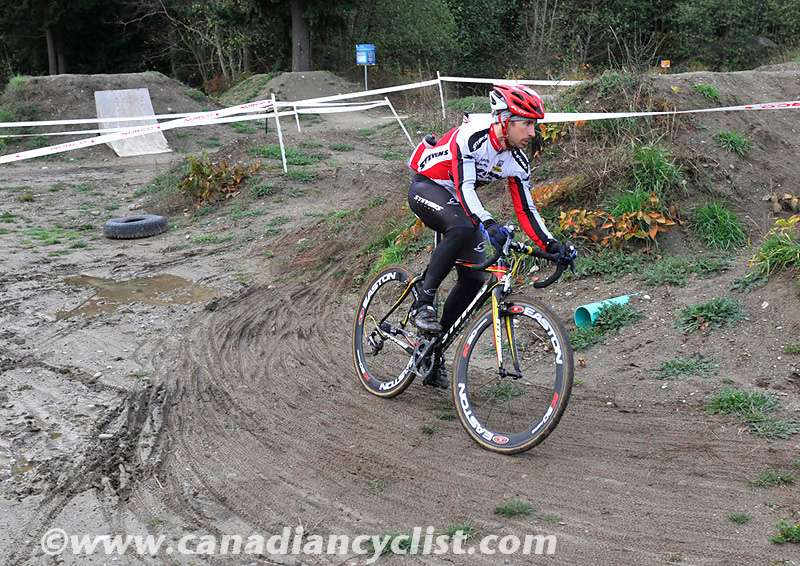 The "Bike Park" could provide some real mud should the forecast heavy rain arrive
Most of the course should hold up well in the wet, with the only really muddy section expected to be through the bike park. (see video at the bottom of page). However, riders were slipping out on off-camber sections in the damp - full fledged rain and hundreds of riders on the course will make it treacherous in the corners.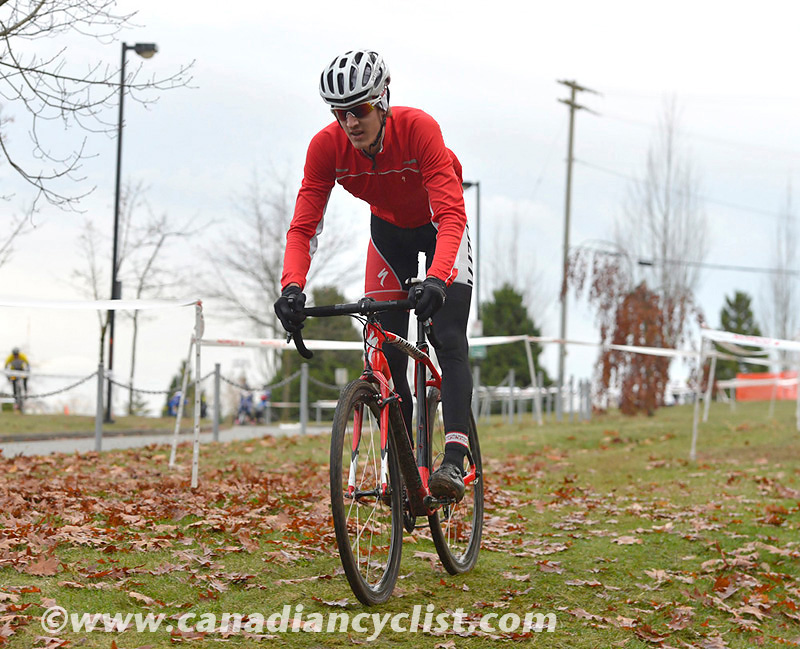 Evan McNeely is the defending U23 Men's Champ
There are a total of 231 riders (including Masters categories) registered for the Nationals, with 26 Elite women and 36 Elite men (plus 14 U23 men and 18 Junior men). On the men's side, two-time defending champion Chris Sheppard (Rocky Mountain) will go up against another two-time champion, Geoff Kabush (Scott-3Rox), plus former (2007) champion Mike Garrigan (Stage-Race/Blacksmith Cycle). For the women, defending champion Emily Batty (Subaru-Trek) faces Catharine Pendrel (Luna), Wendy Simms (Kona) and Natasha Elliott (The Cyclery).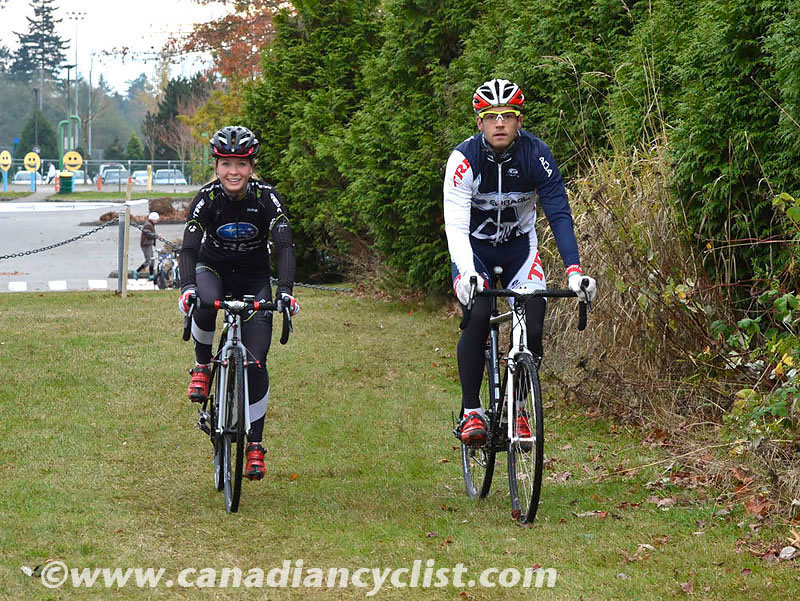 Emily Batty is the defending women's champion
Both Mike Garrigan and Geoff Kabush expect it to be a very fast race and, if it does rain ('local' Kabush says that Surrey is far enough from Vancouver that it may missed the brunt of the rain), there will be carnage. Both plan on using mud tires. Kabush says that avoiding mistakes will be as important as being fast.
---
Related Photo Galleries
---