January 16/13 17:17 pm - Lex Albrecht Joins NOW and Novartis for MS - Interview

Posted by Editor on 01/16/13

Canadian road rider Lex Albrecht announced this week that she will be moving from the Optum p/b Kelly Benefit Strategies team to the NOW and Novartis for MS squad for the 2013 season. The full announcement is below, but we also spoke with Lex from her Montreal base.

CC: So what led to the team change?

LA: I thought I was going to continue on Optum, but the team decided to go for UCI status, which means that they are limited to the number of foreign riders they can have. I found out really late [that she was dropped], so it was a bit of a surprise.

But I was offered an opportunity to ride with NOW, which worked out really well. I had seen how positive the girls [on NOW] were at races last season, and I contacted Kurt [Stockton, Director]. He was looking for a climber, which is my best thing, and after talking we decided it would be a really good fit.

CC: How about the schedule - do you have an idea of what races you will be doing?

LA: NOW is focussed on the U.S. NRC series, so we will be doing all of those as a team. It will start in late February with Merco, and from there I'm not sure which races I'll be doing, but it will be races like San Dimas, Redlands, Gila, Joe Martin... After Merco we'll be having a training camp in Santa Barbara, so I'll find out more then. It's actually similar to what I've been doing for the last couple of years.

Before that I'll be doing a training camp in South Carolina with the national team and then back to Montreal for a [indoor] training block before I head to California.

CC: And your role in the team? Will you be a GC rider or more going for stages?

LA: NOW is developing a concept like Sky, with Kurt and the coaches following our fitness levels, and using that to determine our roles in each race, depending on how we are going. Alison Powers is our TT specialist and sprinter, so I think she will be more of our GC rider. I think I will have more of a role working for team mates to secure wins.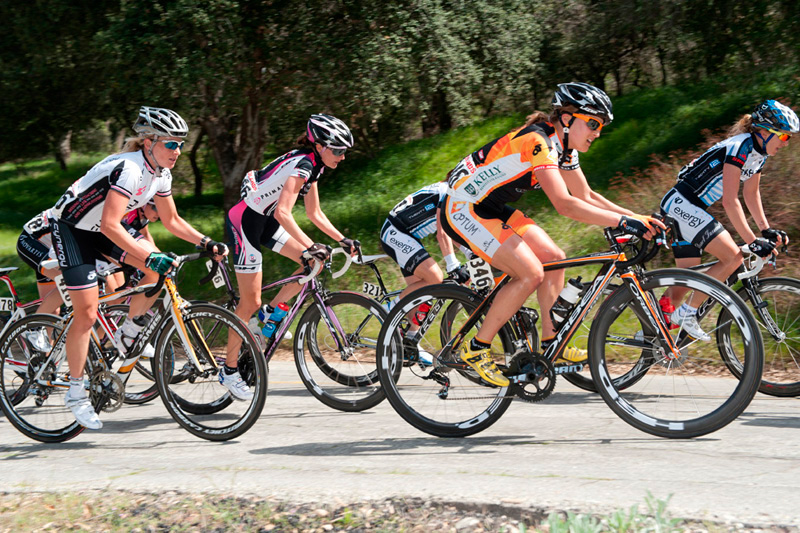 Albrecht at the 2012 Redlands RR
Team Announcement:

The NOW and Novartis for MS Women's team has announced its 2013 roster, led by 2013 standout Alison Powers and 2011 U.S. National Champion Robin Farina. The team, which had 28 victories and more than 70 podium finishes in 2012, has added a mix of talent for a ten rider roster.

The team will continue under the direction of Kurt Stockton, 1990 US Professional Road Champion. "Our 2012 team results and performance exceeded my expectations," said Stockton. "One of my main goals for the team was to build a program where motivated athletes can flourish and reach new levels of performance. This was integral to our success in 2012 and will continue to be a main focus of our 2013 program."

Joining Powers, who had 13 victories in 2012, and Team Captain Farina are three returning riders. Olivia Dillon, the 2012 Irish National Time Trail Champion; original team member Devon Gorry, winner of the 2012 Lake Bluff Criterium; and triple Pan Am Championships medalist Beth Newell.

New for 2013 are climbing talents Katie Donovan, a former Tour of the Gila 'Gila Monster' stage winner, and Lex Albrecht, 2012 Cascade Classic QOM and Young Rider winner. Also joining the team are multi-time Junior National Road and Criterium Champion Alexis Ryan, who will ride her first season as a U23, and Maura Kinsella, a multi-time, top-three finisher in the U23 National Time Trial, Road Race and Criterium. Rounding out the roster is Lauren Rauck Komanski, a former D1 runner at Columbia who took several regional wins in 2012 and is coached by Farina.

What makes the NOW and Novartis for MS team unique is that the riders not only race their bikes at the highest level but also are paired on tandem bikes with people living with Multiple Sclerosis at select high-profile charitable Bike MS events around the country. The goal is to show the world that MS does not define those living with the disease.

"Novartis Pharmaceuticals Corporation shares our passion in the battle against this disease and we are lucky to have them as our title sponsor again in 2013," said Keoghan.
---
Related Photo Galleries
---