January 21/13 21:35 pm - Transandes Challenge 2013

Posted by Editoress on 01/21/13

Joao Marinho from Portugal took the first stage of the Transandes Challenge Mountainbike Race, a six stage race in Chilean Patagonia.

The first stage of Transandes Challenge started early in the morning when competitors had to ride three kilometres from the race camp at Huilo Huilo Reserve to Puerto Fuy, a small town where they boarded a ferry boat. After 1.5 hours of sailing across Pirihueico lake, they reached Puerto Pirihueico, the start point of the race.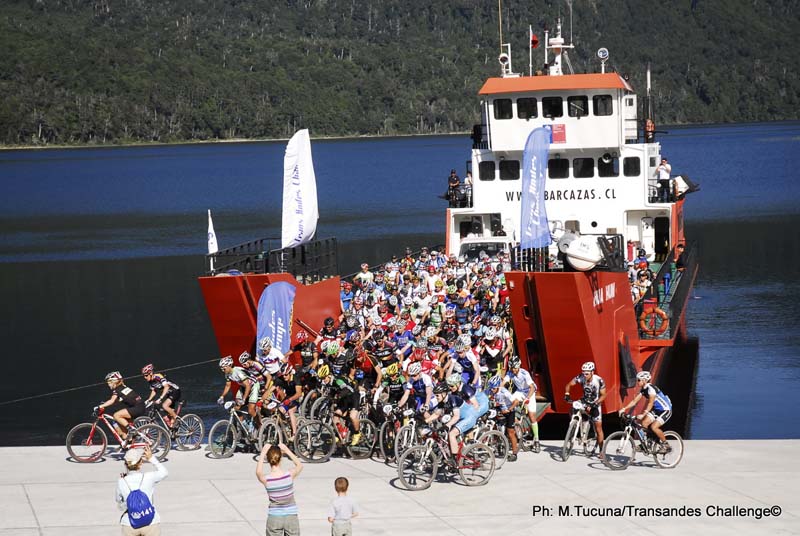 From the 9:45 am start, riders completed 68 kilometres and 2380 metres of total climbing through roads and paths of Huilo Huilo Reserve.

The overall category winner for this stage is Joao Marinho from Portugal with a time of 3 hours 36 minutes and 34 seconds. The men's team of Matthew Hadley and Benoit Simard from Canadá took second place and the Portuguese rider Tiago Silva took third. The Mixed Open category was won by the American team of Mary McConneloug and Michael Broderick, followed by Chilean Claus Plaut and Elisa García. Rebecca Rush took the lead in Open Women's category.

Riders must complete six demanding stages totaling 430 kilometres, riding through very beautiful landscapes of the Andes Mountains in Patagonia, Chile. The race will finish next Saturday at the city of Pucón, a major tourist destination in southern Chile. Tomorrow, will be the second stage consisting of 72 kilometres, from Huilo Huilo Reserve to the Coñaripe Thermal Complex.
---
Related Photo Galleries
---