February 27/13 9:50 am - FCV Youth Championship - Report & Results

Posted by Editoress on 02/27/13

When a race organizer sets out to come up with a program of races for athletes, the goal is to challenge and reward the top performances on any given day. The Youth Championship on the afternoon of Saturday, February 23rd, will stand out as one of the best single day races held at the FCV.

The five event Omnium competition turned out to be highly competitive and very entertaining. Racers came from across Ontario to participate in the event.

The 2013 FCV Youth Championships p/b Cliff Bar will be a tough event to beat as 53 young cyclists took to the high banks of the Forest City Velodrome. There were visitors from the United States who watched the racing and all were amazed at the level of competition and the number of athletes competing.

During the afternoon, the youth racers were split into seven age categories. Kids as young as 8 were ripping up the boards in an effort to reach the podium and to improve their own personal best times. The events included the Flying Lap, Flying 500m, Standing Lap, Standing 500m and the dreaded Kilo.

A total of 22 track records fell at the Forest City Velodrome during the five hours of racing.

The Forest City Velodrome would like to thank all of the Clubs that made this event a spectacular day of racing for the kids .... Ottawa Bicycle Club, Team CHCH, Newmarket Eagles, Mattamy Homes and Team Attack.

There was a special competition for a set of Carbon Track wheels, which were on offer to the winner of the Handicap series at the end of all the day's events. The winner of the Wheels was Bayley Simpson from Peterbourgh Ontario.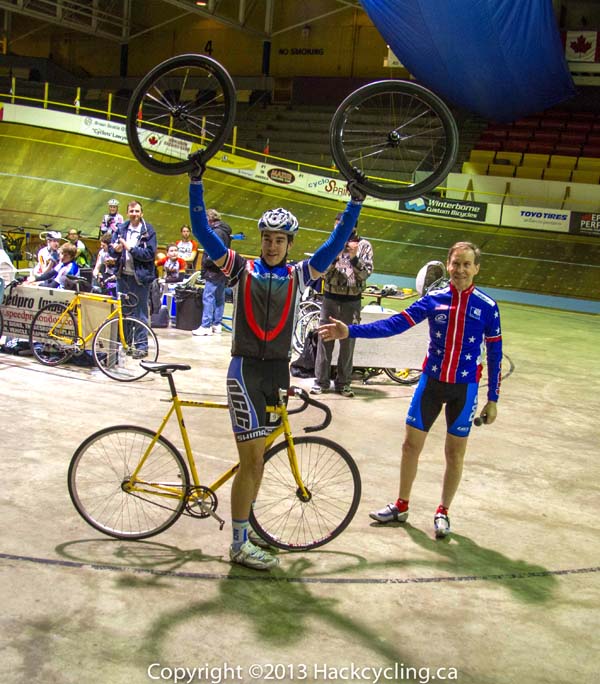 Plans are already in the works to make the 2014 event even larger.

For more information on the FCV and programs at the Velodrome: www.ForestCityVelodrome.ca

Courtesy Rob Good, FCV

Race Results

Under 11
Gold - Nathon Andreola
Silver - Kyle Wammes
Bronze - Liam Langford

Under 13
Gold - Ian Doel
Silver - Schlok Ahuja
Bronze - Linda Nagelhout

Boys Under 15
Gold - Lucas Taylor
Silver - Chris Ernst
Bronze - Nick Wammes

Girls Under 15
Gold - Ruby West
Silver - Naomi Desousa
Bronze - Nia Byway
Boys Under 17
Gold - Connor Byway
Silver - Julian Cazzola
Bronze - Derek Gee

Girls Under 17
Gold - Claudia Newdick
Silver - Farleigh Creswicke
Bronze - Hillary Lowery

Boys Under 19
Gold - Jeremie Lacasse
Silver - Will Simmonds
Bronze - Eric McDonald
---
Related Photo Galleries
---