June 11/13 0:00 am - Milton Velodrome Holds Official Groundbreaking Ceremony

Posted by Editoress on 06/11/13

The "official" groundbreaking for the Milton Pan Am Velodrome took place last Friday, although actual construction began in February. The event was well attended by government officials of all levels, cycling royalty, current athletes and cycling fans in attendance. Initially, the ceremony was to take place in early April, but a late spring ice storm caused the postponement and rescheduling to early June.

Ian Troop, the President and CEO of the Toronto 2015 Pan Am/Parapan Am Games, started off the speeches followed by Lisa Raitt, the Minister of Labour and Member of Parliament for Halton, and Bal Gosal, the federal Minister of State (Sport). Other speakers included: Curt Harnett, major contributor Peter Gilgan, Howard Chang, Laura Albanese, (MPP York South-Weston), Milton Mayor Gord Krantz, Greg Mathieu (CEO of Cycling Canada).

"Every inch of space has been carefully thought out," said Troop. "We even added features not needed for the (Toronto 2015 Pan Am) Games to ensure operational sustainability of the velodrome for future generations to come."

"Don't think of this as just a velodrome. Think of it as a full-fledged community centre, a recreational centre that just happens to have a world-class track for high performance cyclists at its very heart."

"Miltonians of all ages and abilities will have a place that they can come together to hone their athletic skills, get fit, be social and have fun."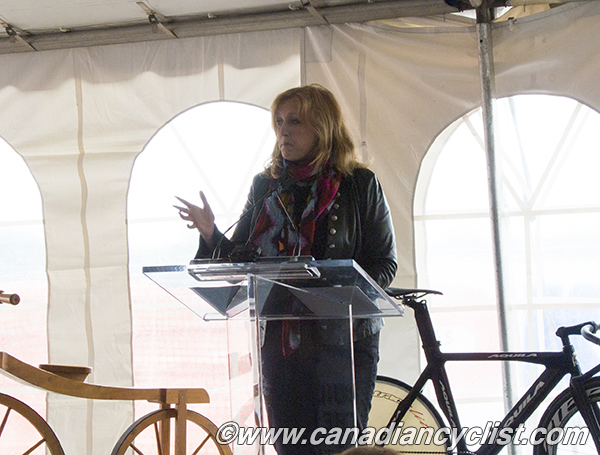 Lisa Raitt, the Minister of Labour and Member of Parliament for Halton
"It is a great day for sport in Canada," said Raitt. "This will have a long lasting benefit on the community."

Bal Gosal, the Minister of State (Sport) spoke of the support from the federal government who have pledged up to $38.4 million toward the velodrome construction. He also thanked all levels of government, from local to provincial their support for the Games.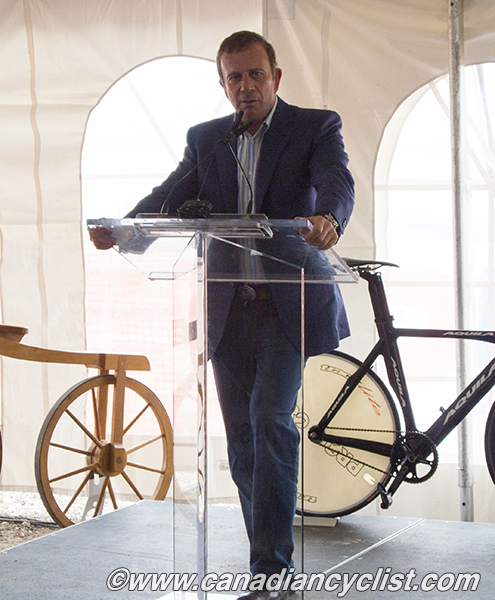 Peter Gilgan
Peter Gilgan of Mattamy Homes spoke about pledging $9 million to the endeavour to get the project off the ground. He also spoke of a trip to Europe and visiting four velodromes, and how the inspiration to get involved in the Milton velodrome came from seeing how a cycling centre like Manchester can create excellence. How a centre can draw young athletes from all walks to realize their dreams.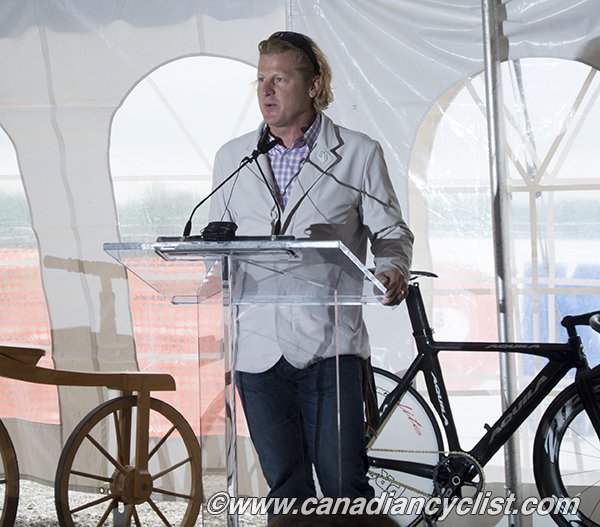 Curt Harnett

Former Olympian Curt Harnett spoke enthusiastically about what a velodrome and centre for cycling will mean to future athletes and Olympians.

Curt paid tribute to Rob Good of the Forest City Velodrome in London who, in 2005 along with Albert Schelstraete/Coulier, transformed a deserted hockey rink into a velodrome and centre for track racing in Ontario.

Harnett also thanked Steve Bauer for inspiring a generation of young cyclists in Canada.

"This centre is not only going to proved benefits to high performance level athletes but for future champions for years to come."

"It really is going to be a stimulus to success," he said. "We only have to look to Calgary's Olympic oval, built for the 1988 Olympic Games. As a cyclist I was jealous of that facility. I saw around the world what a velodrome could bring to a community from a high performance level. Calgary showed what an impact that a high performance facility could have on a community."

"This will be the beginning of true greatness for the city of Milton, the region, and will become a cycling mecca for Canada."

To the nay sayers who say it cannot be done in Canada, Harnett said "We need to prove those people wrong and we're here today ready to take it on."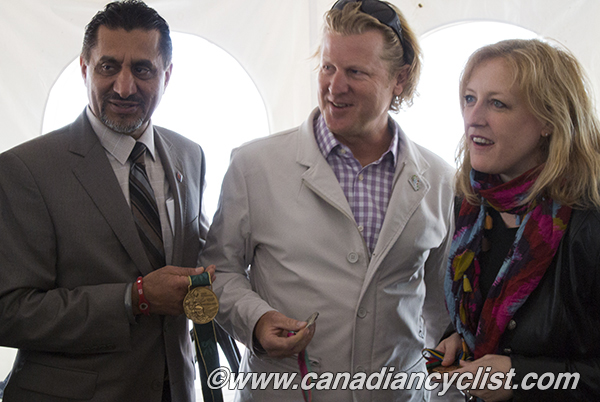 Bal Gosal, the federal Minister of State (Sport)., Curt Harnett, Lisa Raitt, the Minister of Labour and Member of Parliament for Halton
The project will cost an estimated $63 million, which includes $56 million to construct the velodrome. Sport Canada has committed $38.4 million and the town of Milton's commitment is capped at $17.6 million. There is currently a fundraising campaign underway (http://www.canadiancyclist.com/dailynews.php?id=26374) to raise the final $4.9 million. After the Pan Am/Parapan Am Games, the building will be owned and operated by the Town of Milton and will be known as the Mattamy National Cycling Centre. Cycling Canada will move its technical staff to the Centre, which is scheduled to be completed by September 2014.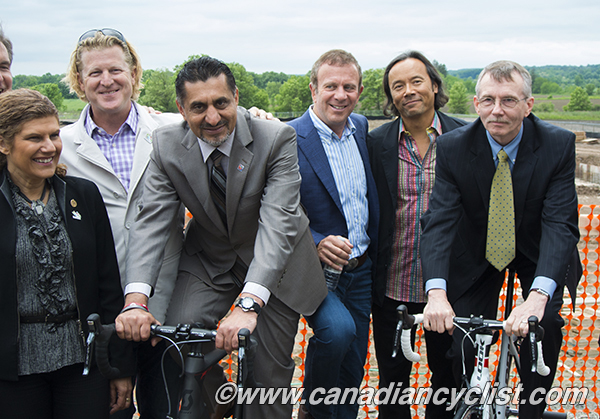 Laura Albanese, Curt Harnett, Bal Gosal, Peter Gilgan, Howard Chang, Greg Mathieu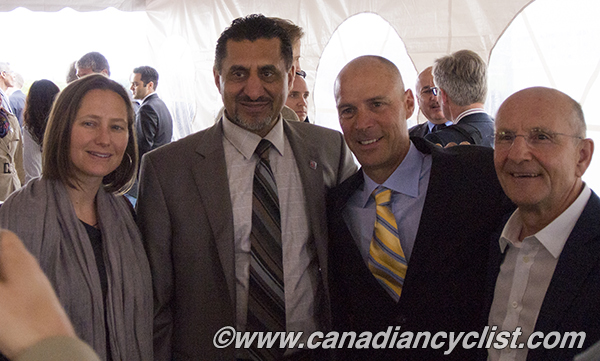 Josee Larocque, Bal Gosal, Steve Bauer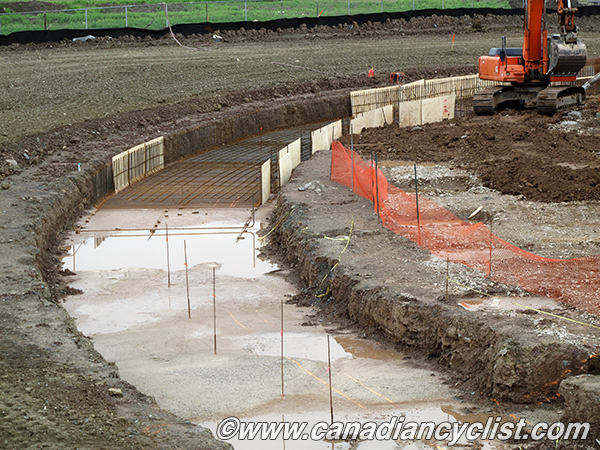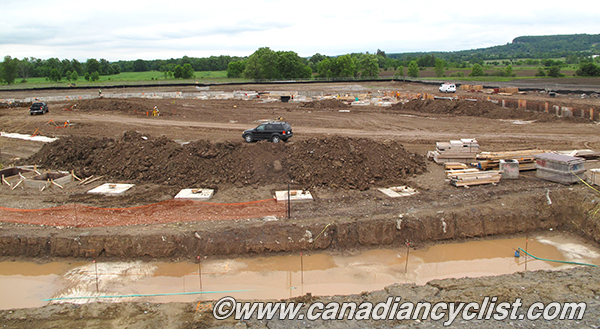 ---
Related Photo Galleries
---