July 14/13 19:50 pm - Canada Cup XC #3 report

Posted by Editoress on 07/14/13

High temperatures and a rough course proved a severe test for riders and their machines at the inaugural Sudbury Canada Cup mountain bike race - round #3 in the Canada Cup cross-country series. Sandra Walter (Liv/Giant) and Derek Zandstra (Scott-3Rox Racing) were best able to deal with the conditions, finishing first in their respective Elite categories. Pre-race favourites Emily Batty (Trek Factory Racing) and Geoff Kabush (Scott 3Rox) both suffered flat tires, preventing them from contesting for the win.

Senior Elite Women
With two Canada Cup wins to her credit this season, Walter was certainly a force to be reckoned with, but the heavy favourite was Batty. With multiple top-ten results in World Cup events this year, plus with national champion Catharine Pendrel not starting due to injury, victory seemed a near certainty for the 25-year old from Brooklin, Ontario.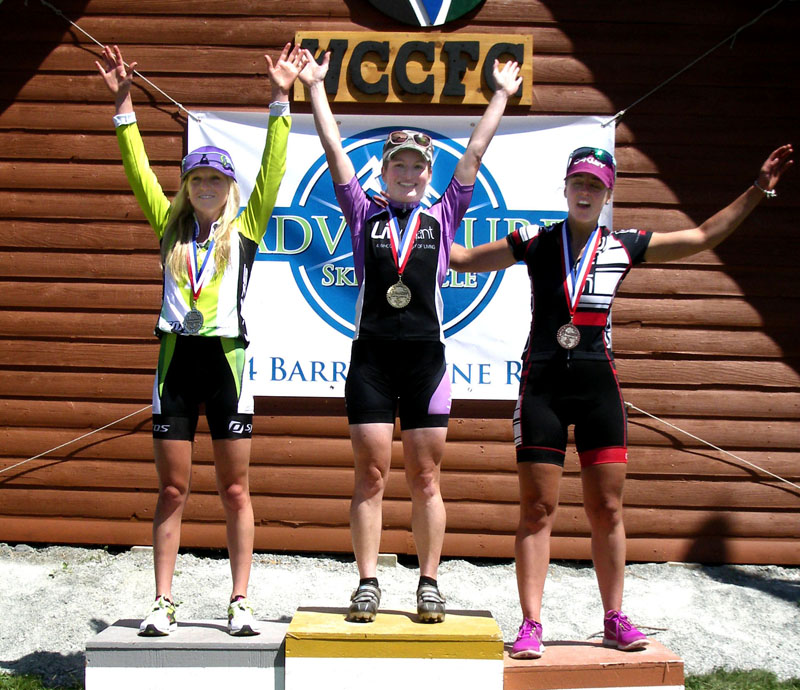 But anything can happen in sport, which is why the awards are presented after the races are run. Batty led the opening half-lap but it was Walter at the head of the field by the end of lap one. Following closely was Andréanne Pichette (Opus/OGC), with the Scott-3Rox pair of Mikaela Kofman and Amanda Sin in pursuit.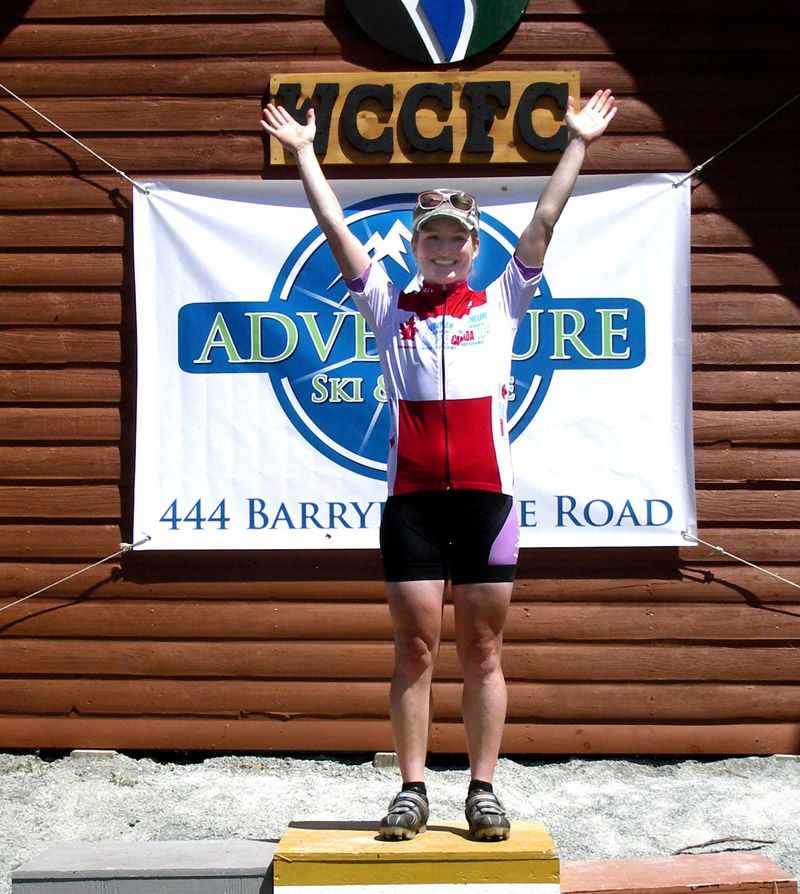 Eventually Batty rolled into the tech zone with a flat rear tire, more than three minutes down on the leader. Trek Canada's Taylor Near, with assistance from Scott-3Rox mechanic Scott Kelly, quickly installed a new wheel, but the time loss was too great for her to recover.

By lap two Walter had increased her gap over Pichette, who was now riding with Kofman, with Sin holding on to fourth. The situation didn't change until the final lap, when Kofman managed to dislodge Pichette to secure second, but the spoils went to Walter, who is looking forward to the national championships next weekend.

"Emily had a flat on the first lap and that's where I gained my lead," said the winner. "I know she has the power to come back and make up that gap so I kept on the gas. I saw some chasers so I knew I had to go super hard, but I know I'm in good form and this is kind of proof, so I'm really excited about Nationals."

Senior Elite Men
Team tactics appeared to be in play when Cameron Jette rolled through with the early lead, while his Scott-3Rox teammates Zandstra and Kabush were among a group of chasers a handful of seconds back, letting others do the work in trying to reel in Jette.

When Kabush rolled into the tech zone on the second lap with a flat front tire, it was a case of déjà vu all over again as, just like in the women's race, the expected outcome would fail to materialize.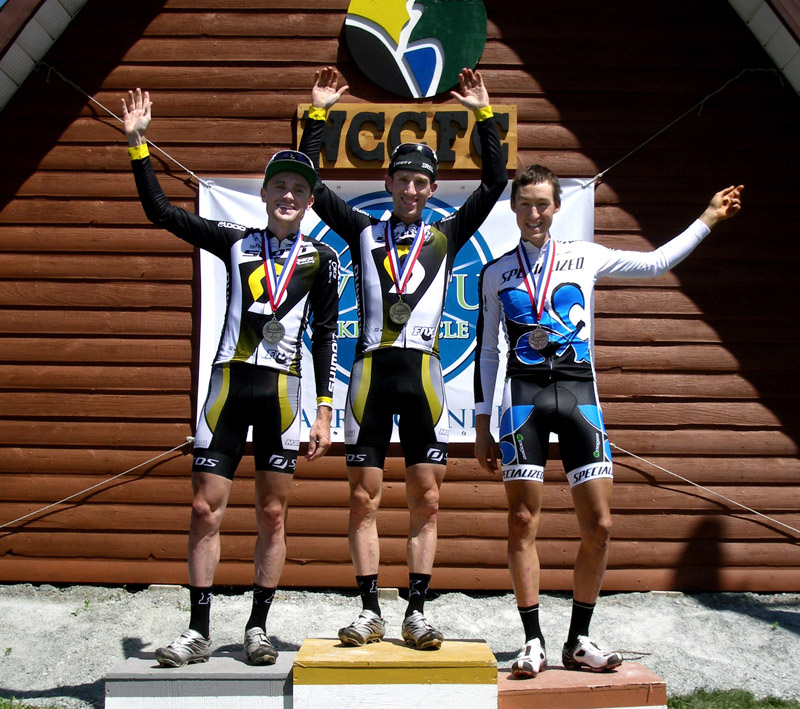 Zandstra played the perfect teammate, biding his time in a group with Antoine Caron (Équipe du Québec/Specialized), Jérémy Martin (Rocky Mountain Bicycles), Mitchell Bailey (Trek Canada) and Raphaël Gagné (Équipe du Québec/Rocky Mountain Bicycles).

On the third lap, when the chasers began to grow weary, Zandstra attacked the group and set about catching up to Jette, which he did by the next lap. From there on the duo rode together until the final half-lap, when a small gap opened the door to Zandstra's win.


"Derek was stronger and he just got a bit of a gap and I couldn't close it," explained Jette, without regret. "Got one-two for the team. It's a great day."

A burst of speed on the final lap allowed Caron to secure third. "I simply attacked on the one climb on the course. Got a gap of about five or ten seconds max and kept going to the finish. That was it."

Martin finished in fourth while Kabush, who had dropped to 17th after his flat, fought his way back to fifth, catching and passing Bailey within the stadium area.

Junior Expert Women
Marine Lewis (Équipe du Québec) and Rachel Pageau (Équipe du Québec/Devinci) came through the first lap together, but on the second lap Lewis opened a gap which she maintained through to the end. Upon finishing she immediately rode to her team's tent for much-needed water. "That was very hot and very tough."

Junior Expert Men
Match races are few and far between these days, but fans were treated to one today between Peter Disera (CSAJCC p/b Norco LG) and Raphaël AuClair (Équipe du Québec/Pivot). The two were wheel to wheel for the duration, with Disera winning the sprint at the end.

"I'm not used to being the person leading the entire race but still have people on my tail," commented Disera. "I was a little concerned with him being able to save energy drafting because this course is fairly flat. But when I attacked him on the climb on the last lap and he didn't really respond I knew he was hurting, so I wasn't too concerned when it came down to the final sprint."


Race Notes
- The race to watch at the upcoming national championships at Hardwood Ski & Bike near Barrie may well be the U23 men's race. As Derek Zandstra noted, the young guys aren't afraid to work, and they like to go fast. Based on today's result, Antoine Caron stands a good chance of denying Léandre Bouchard his third consecutive U23 title. "Obviously I would love to win Nationals, never having won Nationals as a U23," stated Caron. "But I'm not the only one who wants to win. We're a whole bunch of U23s who are really close to each other, so it's going to be a hard but fun battle."

- The high for the day was 30C, though it felt much warmer on the course, with the humidity. Hardly any breeze to speak of and lots of dust took their toll, as did plenty of mechanical issues.

- The Senior Elite Male race featured two crashes on the opening double track, putting a few riders out within the first couple of minutes.
Canada cup leaders are: Sandra Walter (Elite Women) and Antoine Caron (Men)
Photo gallery by Emil van Dijk
Race report by Emil van Dijk
---
Related Photo Galleries
---