July 20/13 22:10 pm - XC Mountain Nationals - Elite, U23, Junior & Cadet Reports

Posted by Editoress on 07/20/13

Day One of the 2013 Canadian Mountain Bike National Championship Cross Country races saw eight titles awarded at Hardwood Ski & Bike Centre, north of Barrie, Ontario, with the host province dominating the results by taking six wins. Remarkably, all eight winners were first time champions in their specific categories. Leading the way were the Elite winners - Emily Batty (Trek Factory Racing) and Derek Zandstra (Scott-3Rox).

After energy-sapping temperatures in the mid-30s and high humidity all week, thunderstorms blew through overnight Friday, knocking the temperature down to a more reasonable mid-20s and dampening down the dust which was choking riders during training. Organizers were out in the early hours removing downed branches and cleaning up the course before racing began. The six kilometre course won praise from riders for offering a a mixture of technical single track and open passing sections, with short, punchy climbs to separate out the potential winners.

Note: We have interviews with a number of riders, which will be posted shortly.

CC writer Emil van Dijk provided the Under 23 reports and many of the quotes in other category reports.

Elite Women
Given the absence of defending champion Catharine Pendrel (Luna), recovering from a broken clavicle, Batty was the prohibitive favourite on what is, essentially, her home course. A sizable contingent of family and friends came out to cheer on the 2012 Olympian, who did not disappoint. Batty's family even erected a huge (10 metre by 6 metre) Canadian flag, with the words 'Go Emily Go' painted on, at the top of one of the climbs.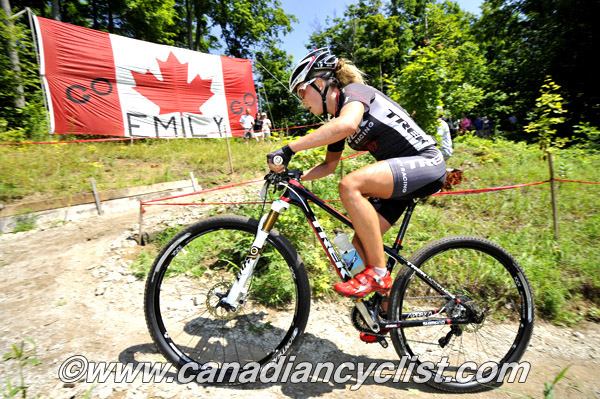 By the halfway point of the first lap, Batty already had a 20 second gap, and it continued to grow through the race. Sandra Walter (liv/giant) took up the chase in second and held on through the race, despite a late charge by Amanda Sin (Scott-3Rox) on lap four of the five lap race, which brought her to within 15 seconds of Walter. However, that was as close as Sin could get, and she faded slightly in the last lap but held in for third.

First year Elite rider Andréanne Pichette (Opus/OGC) was a strong fourth, followed by Eliminator national champion Jean Ann Berkenpas (XPRESO-Borsao) in fifth. Unfortunately, Mikaela Kofman (Scott-3Rox) crashed on lap three while in fifth and dislocated her shoulder as well as suffering a mechanical.

"Going down the Coffee Run I was going a bit too fast," explained Kofman. "It was pretty loose and a bit wet there today. I just lost control and went over the handlebars and dislocated my shoulder. I popped it back in when I was out there. Felt good out there otherwise. Had a mechanical at the same time. Went to the tech zone and got my bike fixed and tried to ride but I was kind of crooked on my bike. I couldn't ride; I had no control. There's always going to be tough days."

For Batty, it was special to win in front of family and friends, but she also admitted it was disappointing not to race against Pendrel.

"I've been wanting this for a while," Batty admitted, "so I'm super happy and honoured to win. Everything went great, even though I woke up with a really sore throat this morning, which threw a little bit of a stick in the spokes. It was a great race. The girls kept the pressure on, so I could never let my guard down. But I found a really good rhythm right from the start and this being my local stomping grounds, and having all of my family out here, it was a really great day."

"Catharine [Pendrel] and I were really looking forward to racing one another, and I think it would have been an awesome battle. I think we were all heartbroken when we heard the news, and I can definitely relate [Batty broke her clavicle just before the Olympics last year]. But there's always next year, so we'll get to battle it out."

For Sandra Walter, second was satisfactory. "I knew it would take something incredible to win today. I felt really strong and gave it my all. I didn't win but I still feel really satisfied; really pleased. It was a great battle. Amanda [Sin] was chasing me the whole time. She made me push past my limit. I took two tumbles. Normally I'm a calm, technical rider but today I was above my limit, but that's what I want to do. Sometimes you take some risks, but I didn't injure myself or hurt my bike. I managed to get back up again and defend second place."

Amanda Sin: "Nationals is always an important race and it's been on my mind most of the season, especially since it's close to home. So it's been a goal for my season, so I'm glad I was able to get a podium here. I felt really good today. I did feel stronger as the race went on. I was able to ride the singletrack really well and I got more confidence as the race went on and I was going faster. I've been doing this for a few years now and there's a lot of younger people coming up, so I guess you could say I'm a veteran now! I was surprised by how much faster it felt than when I was pre-riding. Some of the jumps I felt that I was hitting them faster than in training. That was really fun. I felt the course was awesome. It may be my favourite course that I've raced all year, that's for sure. The organizers here did a great job with course design and the whole event, so kudos to them. It was awesome.

Andréanne Pichette: "I'm really proud. I could keep up with those amazing riders. It feels great to be able to be up there and eventually ride with them for longer or be up front. I didn't expect to do fourth today. For my first year [in Elite] I can be happy with that and hopefully do better next year."

Note: Batty is the first Ontario rider to win the Elite women's cross-country title since Chrissy de Vall [Redden when she won], won in 1999 and 2000.


Elite Men
The Elite men's six lap race was expected to be a showdown between Canada's top-two World Cup riders - two time defending national champion Max Plaxton (Sho Air - Cannondale) and six time national champion Geoff Kabush (Scott-3Rox). The duo have both scored top-ten finishes in the World Cup this season.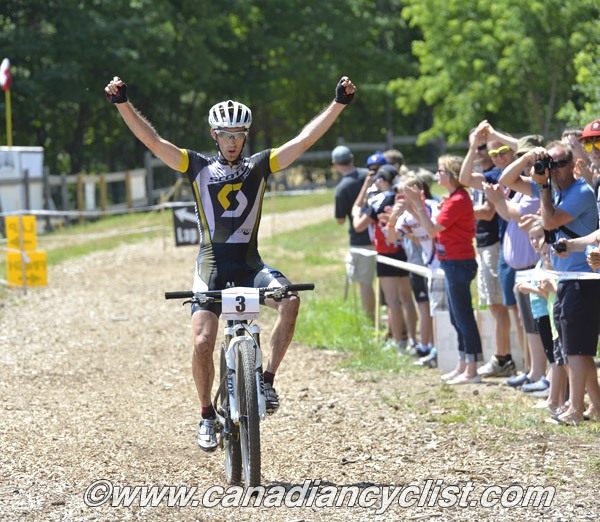 Derek Zandstra takes his first national title
Scott-3Rox had the numbers, and used them to great effect. Cameron Jette went out hard on the first lap, with Plaxton leading the chase while Zandstra and Kabush sat on. Once Jette was caught and dropped, Kabush went off the front, and Plaxton had to chase him down while Zandstra got a free ride. The race was down to these three riders by early in the second lap.

"Yeah, the wind came into play and there was a fair bit of drafting. They were just smart," agreed Plaxton. "I mean, if I had three or four team mates, we would have done exactly the same thing. I'm happy. I've won twice in a row, but I was third today. I'm extremely happy; overall it's been a great year. Hat's off to Derek, it was a great win for him. When Geoff went off I was hoping for Raph [Gagne - Equipe du Quebec] to be an ally, but I don't think he was riding as strong today. So it was up to me against Derek and Geoff. It was a big effort to pull Geoff back, but I was feeling good. With a lap and a half to go I wiped out in an off-camber corner and laid it down, and unfortunately that was it. Derek got a good gap and Geoff put on the brakes. Those guys were working tactics; braking checking here, blocking ... but it's a bike race, you expect it."

Zandstra went clear late in lap four, and steadily opened a gap on Plaxton and his shadow, Kabush. The Ontario rider, who had never won a national title to this point, was 15 seconds ahead by the end of the fourth lap and 30 seconds up as he started his final lap. Kabush then jumped Plaxton in the final lap to make it a 1-2 finish for Scott-3Rox.

"We had three strong guys in the field, so we used our strength and numbers to get that win," explained Zandstra. "We wanted to get one of us at the top, and it worked out. It just turned out that it was my turn, I guess. When we caught back up [to Kabush], we played a little cat and mouse, and mistakes happen, and that's when we capitalized. It feels pretty awesome; I've always gotten second or third, so I'm pretty fired up to get the win. I've always wanted this title, ever since I was a Cadet, but it's always just been out of my grasp. I'm really happy to get the jersey."

Cameron Jette: "It was more to get positioning and to get Max to work a little bit and it worked out. All wins are team victories. We're just good friends and we all get along. Especially today, for sure. I'm happy. It was tough out there and tactics played a role. I wanted to get top-five and I did that."

Geoff Kabush: "Derek really deserves it. This title will be great for him. To get that jersey was our main goal."

Race Notes (Elite Men)

- As far as we can tell, Derek Zandstra is the first Ontario rider to win the Elite men's cross-country title since Andy Tout in the early 90s (help us out, if you can confirm, either way...)

- Zandstra gave his father a gift he won't soon forget, as today was the senior Zandstra's birthday [who was there watching his son win].

- Had there been a Working Man award, strong consideration would have to be given to Matthew Martindill. Despite starting from the final spot on the grid, the 32-year old full-time carpenter and father of two managed to finish in 12th place.

- Although the 80% rule was apparently in effect, there were a number of riders who were lapped by the leading trio of Zandstra, Kabush and Plaxton.

- Cycling Canada's mountain bike development coach, Ian Hughes, was very pleased with the level of competition: "Hard racing makes good athletes."


Under 23 Women
Frédérique Trudel (Équipe du Québec/Specialized) came from behind to win the U23 national championship in her first year in the category. Trudel started conservatively but overtook Andréane Lanthier-Nadeau (Rocky Mountain Bicycles) on the penultimate lap to win her third consecutive national title, adding to her Junior wins from 2011 and 2012. Lanthier-Nadeau hung on for second while Maghalie Rochette (Power Watts-Nord), in her first year of serious mountain biking, secured the bronze.

Haley Smith (Norco Factory) led the field of 19 riders off the line, but it was Lanthier-Nadeau who came through to lead the first lap. "I'm usually the kind of rider who goes fast on the first lap," explained Lanthier-Nadeau. "I tried to hold back. That was actually the strategy but I was opening gaps on the technical section so I just went with it."

Smith, Trudel, Cayley Brooks (Trek Canada) and Laura Bietola (RealDeal/Gears p/b Fieldgate) were all within range on the opening lap, but the pace set by Lanthier-Nadeau was enough to burn off everyone except Trudel.

The eventual winner admitted it took some time for her legs to warm up, but once she took the lead her confidence grew. "I caught the leader on the third lap and from then on I felt good. We rode with each other for a while and I knew that I could attack her on the big climb. I went for it and it worked."

The win was very emotional for Trudel, who was in tears at the finish. "It is my first in U23 category and it's always fun to win a national championship. I'm happy each time."

Although Rochette wasn't in the lead train early on, she gradually rode her way into a medal position. "Last week in Sudbury [Canada Cup] I started too fast and I bonked after three laps so I decided to go slowly at the beginning and build up to the finish."

The 20-year old Rochette, from St. Jerome, QC, is a former triathlete who has renewed her childhood love of mountain biking. "I rode a mountain bike from age eight to 11. I stopped it to do triathlon but I always enjoyed riding the trails. I started cyclo-cross last year. I really love mountain bike so I'll try to do both. It's my first year of racing mountain bikes. At the beginning of the year I wasn't even expecting doing something good at Nationals, so now that I'm going to Worlds it's over my expectations so I'm very happy."


Under 23 Men
The third time proved to be the charm for Mitchell Bailey (Trek Canada) who, after finishing second two years in a row, put in a phenomenal ride to take the top step of the podium. Second went to Evan McNeely (Norco Factory), while Antoine Caron (Équipe du Québec/Specialized) finished third.

Bailey led the field off the line, but right with him was Léandre Bouchard (Équipe du Québec/Devinci), the two-time U23 defending champion. By the end of the opening lap Bailey had prised open a small gap, but Bouchard, McNeely, Jérémy Martin (Rocky Mountain Bicycles) and Caron were all still in the mix.

As the laps ticked by Bailey's lead continued to grow, though only by five or ten seconds per lap. McNeely continued to hang tough, as did Caron, who overtook Martin on lap two to move into third. An unfortunate crash on the third lap proved disastrous for Bouchard, who rolled his tire and lost his chance for a third consecutive win.

But the day belonged to Bailey. With friends and family cheering him on, the 21-year old from nearby Barrie rode uncontested to his first U23 national championship, at an average speed faster than all but the top-three elite men. Despite starting two minutes behind the Elite field, Bailey was able to catch and drop all but the first three Elite men.

"Coming second the past few years fueled the fire to try and get it," said Bailey of his win. "My initial strategy was to hang around second or third wheel, and hopefully come into the last few laps a little more recovered, but once I saw a bit of a gap open up and some lapped [trailing Elite riders] traffic up ahead I didn't want to be anywhere behind. I've lost races due to lapped traffic so I wanted to be the one with the upper hand this time and it worked out."

Despite finishing second, McNeely was philosophical about his result: "You come to a national championship to try and get the jersey, but with my past years in this category, with injuries and some bad races, I'm very satisfied. I was expecting more of a battle among the top six or seven U23s, but it ended up being more of who could get through the elite men's field faster. I lucked out, got a good start and was top-three and we were able to make it through a lot of the traffic that the other guys didn't. It turned into more of a one-on- one death march instead of a punchy, attacking group race."

McNeely had nothing but praise for the course, which was unlike the Hardwood courses used for Canada Cup races in previous years. "They did a great job with the course. It didn't feel like Hardwood. There was more climbing than some of the hardest World Cup races on the circuit. It was a hard race, testing, and a good national championship course that decided a true winner."

Caron was caught behind an early crash and had to play catch-up. Though disappointed at not winning, he was gracious in defeat: "I felt alright. Obviously I wanted to win but Mitch was really, really freaking strong. I'm super happy for him."


Junior Men and Women
Peter Disera (Team Ontario/Norco LG) and Rachel Pageau (Equipe du Quebec/Devinci) took the Junior titles at the 2013 Canadian Mountain Bike Nationals, both with strong rides from the front. Both took the lead on the first lap of their respective races and rode away for solo victories.

Pageau finished just under a minute ahead of an unexpectedly strong Haley Golding (Team Ontario), with Gabrielle April (Rocky Mountain/Procycle) in third.

Disera collected his fourth concurrent national jersey; he also currently holds the Junior Cyclo-cross, Road Time Trial and Road Criterium Challenge titles. The Ontario rider was not challenged, finishing over two minutes ahead of Felix Burke (CVM 2 Vals), with Felix Belhumeur (Equipe du Quebec/Lessard) in third.

Rachel Pageau: "It feels really nice. I'm really happy. It was my main goal for the season and I did it, so I'm really happy. Last weekend [Sudbury Canada Cup] was less technical and this course was really technical with lots of rocks and drops and jumps, and was really a nice course."

Peter Disera: "I'm very pleased with the results and how my body is running, and how my coach Kevin Simms and I have prepared for what we're doing right now. It was good coming into this knowing that I'm strong. I had the TT under my belt and my legs were there, and my handling skills on a mountain bike are quite good. I was pleased with the course and pleased with the technical features. I was super happy coming into it. It was hard to get away on that first lap. Once I got that 20 seconds I never looked back. It kept growing up to a minute, 1:20."

"When you start any race everything is in question. You don't know how it's going to go. You don't know if you'll get taken out at the start. You don't know if your fork's gonna explode. There are so many variables. You just do what you can. I tried really hard to ride smooth. When I noticed I was getting tired I just reminded myself to bend and absorb everything."

"I learned how to ride here [Hardwood]. I've ridden Boneshaker [rock descent] 18 million times at least. To come and just race it wasn't too big of a deal, and that's what kept me calm even though it was Nationals. I've been working for a jersey from the mountain bike side for quite a while now. The other jerseys I showed up and did my best and ended up coming out on top. This one was the focus of the year, so I'm super pleased with that."


Cadet Men and Women
While not a UCI world championship category, titles and jerseys were awarded in the Under 17 age groups. Junior men's winner Peter Disera (Team Ontario/Norco LG) was joined in the winner's circle by his younger brother Quinton (Team Ontario/Norco LG), who was equally dominant in his race, while Soren Meeuwisse (Team Ontario/Trek Store) gave Ontario the first of six national titles by taking the Cadet women's race.

Soren Meeuwisse: "It feels pretty good. Last year I just wanted to be on the podium but I fought really hard for this one. I've been practicing this course tons and had a lot of help from Trek so I'm really happy to finally have my personal best."

Quinton Disera: "It feels amazing, being a first-year Cadet and doing all that stuff; it feels amazing to check that off. Just being able to have a chance, all the training I've done has paid off. I was worried I was going to bonk but I was able to keep it constant and keep the gas on the entire time."

"I wanted to be first into the downhill on Coffee Run, just because I'm good on that one; since this is my home course I know all the good lines. I wanted to get in first there and get a gap, and it worked. There was one guy that stuck with me until Blue Chip, and down Blue Chip I dropped him, but I wasn't looking back that much."


Kevins Simms, coach of the Disera brothers and Soren Meeuwisse:

How does it feel to be the coach of national champions?

It feels pretty good. Looks like everything came together today. Peter had a fantastic lead, so did Quinton and Soren, [both] finished the race with a big gap, so I think our job is complete.

How much of it is you and how much is the athlete?

You better ask the athlete that. There's a lot of planning that goes in from my end, but when it comes down to the day-of, the athletes have to perform and if they get it done they get it done.

Results
---
Related Photo Galleries

MTB XC Nationals July 17/13 - July 21/13, Hardwood Bike and Ski, Oro ON


Eliminator
Elite Women XC
U23 Women
Elite Men
U23 Men
Junior Men
Junior Women
U17 Men
U17 Men
U17 Women
---