July 25/13 21:17 pm - Vallnord Puts New Faces at the Top of Podium for Eliminator #4

Posted by Editoress on 07/25/13

The Eliminator at the Mountain Bike World Cup had a new face at the top of the podium in both the women's and men's events for Round 4 at Vallnord, Andorra. Kathrin Stirnemann (Sabine Spitz Haibike) won the women's race, while Fabrice Mels (Salcano Alanya) took the men's. Alexandra Engen (Ghost Factory) and Daniel Federspiel (Otztal-Scott) retained their leads in the overall standings.

Stirnemann, who qualified first for the women, was unbeaten through the heats on her way to the final. She was joined in the final four by world champion Engen, round 2 winner Jenny Rissveds (Swedish National) and second place qualifier Jolanda Neff (Giant Pro). Rissveds and Neff took the early lead in the Final and, going into the singletrack section 500 metres from the finish, looked to have the top two spots locked up. However, both Stirnemann and Engen passed the frontrunners, with the World Cup leader running out of track as she tried to chase down Stirnemann.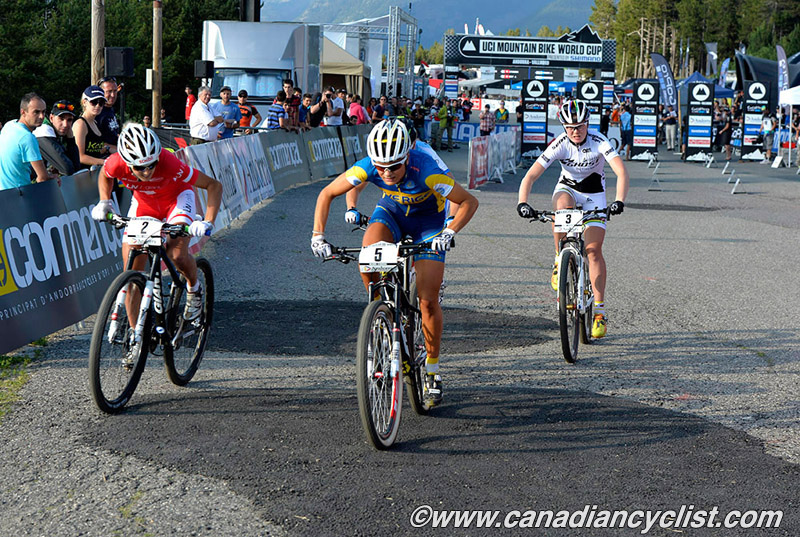 Start of the Women's Big Final
Links to more photos at bottom of page
"I think this is the best race I've had this season," said a very pleased Stirnemann. "I am so happy to win, even though I had to wait for this moment a long time. It is just the best day in my career. In the trees I was the only one who took the upper line and caught Alex [Engen], then on the asphalt I had the best power and made it to the finish as the best. On this course it is not possible to do any tactics. You just have to go full the whole race. It was such a nice fight. The four strongest girls made the final and it was an amazing day."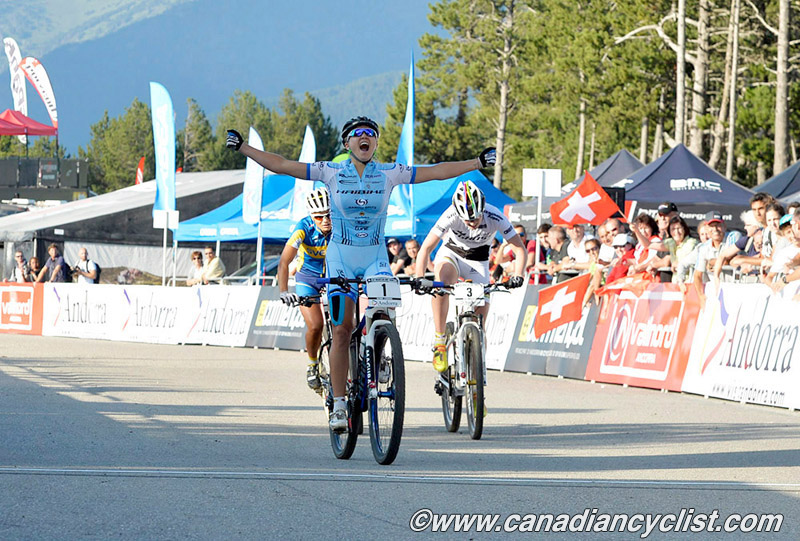 Kathrin Stirnemann wins
Links to more photos at bottom of page
Engen now leads Stirnemann in the overall standings by a slim margin of 10 points, with 190 to her rival's 180 with one race remaining. Rissveds is a distant third at 110 points.


In the men's competition, none of the winners from the first three rounds made it to the final, pointing to the growing depth of competition in this event. Mels, the Belgian champion was clearly in a class of his own; qualifying first and riding away from his competition in every heat. He was joined in the final by Catriel Andres Soto (Wild Wolf Trek), TitouanPerrin Ganier (Focus/Rotor/Coaching-System.fr) and Simon Gegenheimer (German National). Conspicuously missing were usual favourites Federspiel, Slovenian Miha Halzer and round two winner Kenta Gallagher (Superior Brentjens).
Fabrice Mels leading an early heat
Links to more photos at bottom of page
Mels took the lead by the first corner and looked to have race won, but had a scare in the singletrack when he unclipped and almost crashed, before recovering. He had enough of a lead still to cruise in ahead of Soto, with Perrin Ganier a distant third.

"I went too fast and missed a pedal so I lost a bit of grip with the tire and I was trying to avoid the trees and stuff," explained Mels. "I am happy I made it alive. It was close. Normally sprint races are not so technical as this one. In the forest I decided to do my own thing, and I train a lot in the technical stuff so that is my thing. So I am happy I could do well on this track. Personally [this win] means a lot. I never thought I could win a World Cup. I am right above my head right now. I still have not got it. It is too much at once."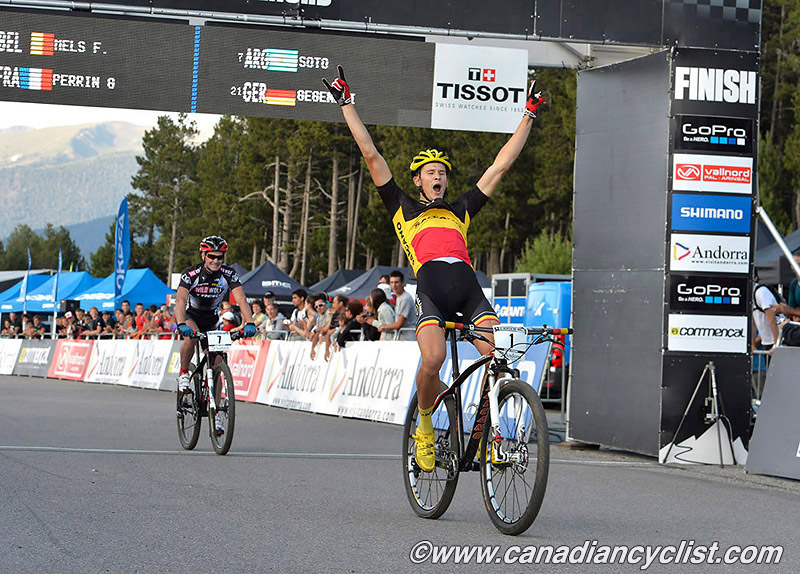 Fabrice Mels wins
Links to more photos at bottom of page
Despite finishing only fifth, Federspiel actually gained on his main rivals, who scored only a few points in Vallnord. After four events of five, Federspiel has 158 points, followed by Gegenheimer at 99 and Halzer at 95. The Austrian only needs to score two points in the final rode at Hafjell, Norway to clinch the title.
Results
---
Related Photo Galleries

World Cup Valnord July 25/13 - July 28/13, Andorra


Preview
Men Eliminator
Women Eliminator
U23 Men XC
Elite Women XC
U23 Women XC
Junior Women XC
Junior Men XC
Elite Men XC PT1
Elite Men XC PT2
Junior Men DH Final
Women DH Final
Elite Men DH Final
---