July 28/13 15:14 pm - World Cup Vallnord: DH Final report and photos

Posted by Editoress on 07/28/13

Round three of the Downhill Mountain Bike World Cup saw both new and familiar faces on the podium in Vallnord, Andorra. Rachel Atherton (GT Factory Racing) made it three-for-three in the women's competition, but her brother Gee (GT Factory Racing), was decisively beaten by first time winner Remi Thirion (Commencal/Riding Addiction). Both Athertons retain commanding leads in the overall standings. in the Junior men's competition, Mike Jones (FMD Racing/Intense Cycles) was the victor, with Dean Lucas (Australia) remaining the overall series leader.

Vallnord was a very different track from what the riders have faced so far this season. The extremely steep, narrow and rough course put a premium on technical skill, instead of the pedalling fitness that earlier tracks emphasized.
Women
Nicole Myriam (Commencal/Riding Addiction) set the first sub-5 minute time, with ten riders remaining to start. Her time started to look unbeatable, as rider after rider couldn't crack the five minute barrier. Emmeline Ragot (Lapierre Gravity Republic) came closest with three riders remaining, but she was still over a second slower than Myriam.

However, the final two obliterated the leading time. First came Atherton, after qualifying second fastest. She was four and half seconds faster at the first split, over nine seconds up at the second, and a staggering 11.45 seconds ahead at the finish line - it would have put her 73rd among the Elite men.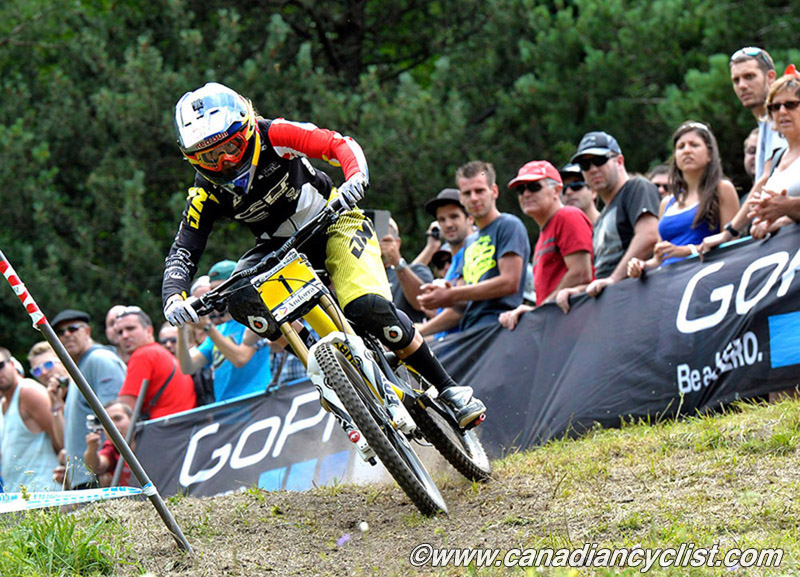 Rachel Atherton
Links to more photos at the bottom of the page
But countrywoman Manon Carpenter (Madison Saracen) still had to finish, and she has been getting closer to the top step every race. She was three second in arrears at the first time check, but had pulled back three-quarters of a second by the second split. At the line, Carpenter was only 1.617 seconds behind Atherton, the only other rider beside Atherton to go below 4:50.

"For sure this has been one of the hardest World Cups I have ever done," stated Atherton. "Everyone's going so fast and the track's brutal, so physical. It's nearly five minutes long, it's an absolute killer. Manon, Myriam and Ragot they are all going 100 percent, and I knew it was going to be close after Manon qualified first, so I just opened everything up and just held on. I worked really hard, [studying] head cams, and walking the track and it's just racing these days. Everyone wants to win and doing everything they can."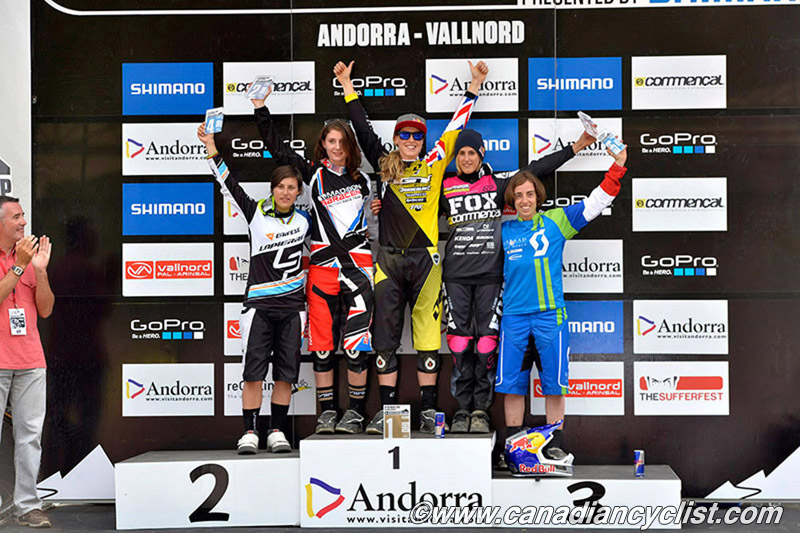 Links to more photos at the bottom of the page
Rachel Atherton now leads the women's overall standings with 740 points, 205 ahead of Ragot, with Carpenter in third, a further 25 points back. Jill Kintner (Team Norco international) was the top American, in eighth place. Tahnee Seagrave (FMD Racing/Intense Cycles) is the top Junior, in ninth overall.
Men
Faustin Figaret (Topcycle by Trek) was the first to come close to the 4:20 mark, just two-tenths of a second over, after half the field had completed their runs. His time held up for nine riders before the 2012 World Cup champion, Aaron Gwin (Specialized Racing DH) posted 4:18.042 . However, this time held up for seven more riders before Steve Smith (Devinci Global Racing), the number two rider in the World Cup standings, knocked more than two seconds off the best time.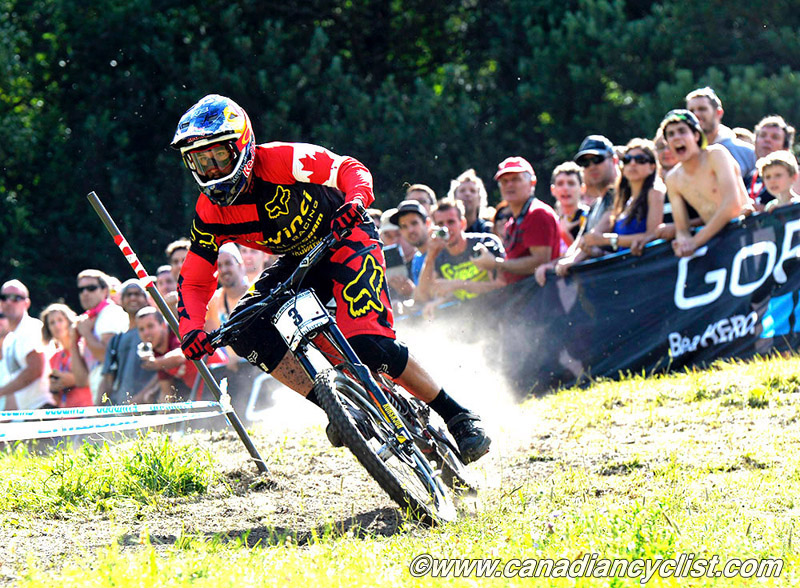 Steve Smith
Links to more photos at the bottom of the page
"Today's run was better that the Qualy, for sure," said Smith. "It's one of those tracks, it's so steep and hard to have a perfect run and I wanted to do that today, so I may have rode under my abilities. I made sure I had a good smooth run. It was a lot of braking, my arms were pumped up. It's a difficult track to ride fast."

There were still 20 riders to go after Smith, but rider after rider came up short, and it was starting to look like this could be a very difficult time to beat. Finally, Thirion, the fifth fastest qualifier, and riding for the locally-based team, put together a faster run, knocking 2.2 seconds off of Smith's time.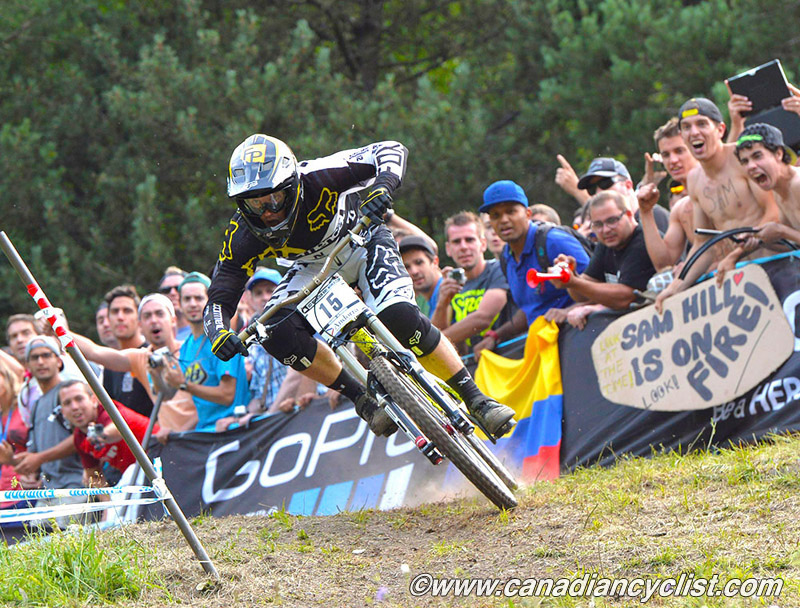 Remi Thirion
Links to more photos at the bottom of the page
There were four riders left, including former world champions and World Cup champions in the final three starting spots, so Thirion couldn't get too comfortable in the Hot Seat. Gee Atherton, unbeaten thus far in World Cup competition this season, came down third from last, and was fastest at both splits by over two seconds, but then made an error in the last section of woods, to finish 1.35 seconds back, in second place. Greg Minnaar (Santa Cruz Syndicate), the world champion was next, but could only manage the sixth fastest time. Finally, it was the turn of Sam Hill (Chain Reaction Cycles.com/Nukeproof), who has excelled in the past on steep tracks like this. A slow first split put him out of contention for the win, but he recovered in the final half of the course to bump Smith out of third.

"My first podium, and it is first place, it's just amazing!" said a very happy Remi Thirion, as French fans cheered the first French World Cup winner since Fabien Barel. "My objective was top ten, so this is incredible. It's very cool for my sponsors and I am really happy."

Gee Atherton continues to lead the men's standings with 680 points, followed by Smith at 477 points. Minnaar moves from fourth in the overall standings to third, a further 86 points in arrears, while Thirion jumps from 14th to fourth with his win.
In the Junior men's race Great Britain's Michael Jones (FMD Racing / Intense Cycles) won 0.468 over France's Loris Vergier (Lapierre Gravity Republic)
Canada's Mark Wallace (Devinci Global Racing), who qualified third, finished 50th after crashing at the top of the course, injuring his wrist.
Results
Elite Women
Elite Men
Junior Men
---
Related Photo Galleries

World Cup Valnord July 25/13 - July 28/13, Andorra


Preview
Men Eliminator
Women Eliminator
U23 Men XC
Elite Women XC
U23 Women XC
Junior Women XC
Junior Men XC
Elite Men XC PT1
Elite Men XC PT2
Junior Men DH Final
Women DH Final
Elite Men DH Final
---