January 6/14 16:11 pm - Canadian Cyclist Best Bike Shops - Black Tooth Grin

Posted by Editoress on 01/6/14

In December we announced the bike shops that you, our readers chose as the Canadian Cyclist Best Bike Shops of 2013 [see Daily News - The Winners]. We wanted to visit a few of our winners to give you an opportunity to see what made them favourites, and over the Christmas break we stopped by Black Tooth Grin, in Barrie, Ontario.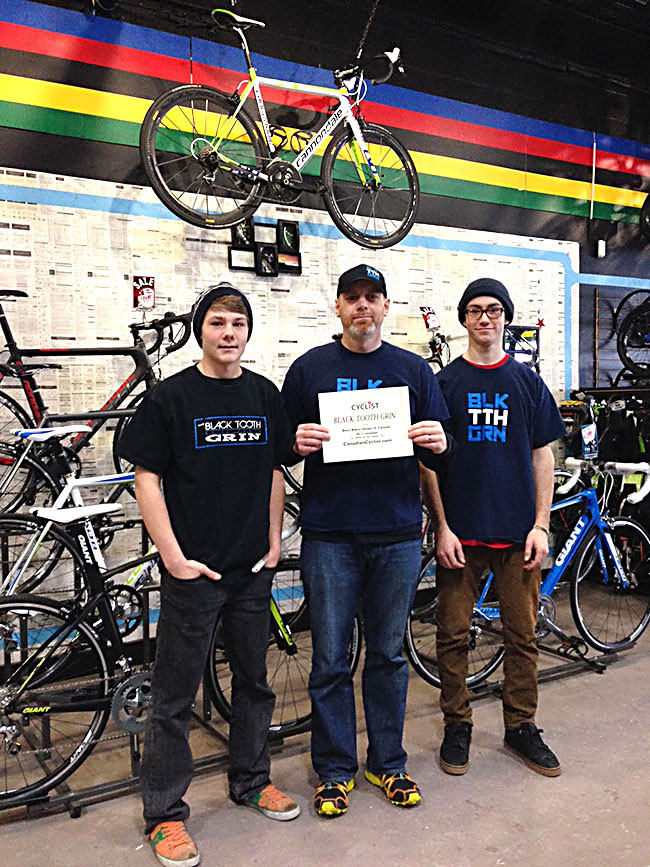 Black Tooth Grin: L to R - Daniel Conroy (pt staff), Chris Root (owner), Joel Fortin (ft staff)
The first question that owner Chris Root often gets is over the name which, according to Root, "comes from the greasy, chainring imprint left behind on your leg after it contacts the chainring - rookie mark or JIT mark. Mine was always a quarter chainring that looked like a smile, or Grin."

Black Tooth Grin (BTG) celebrated its fifth anniversary last June, however, Root's interest in the sport goes back to 1990, when he was introduced to mountain biking at Kolapore (west of Barrie, see www.kolaporetrails.org, starting a life long love of the sport. In 1993 he started working in bike shops with a summer job at the Barrie Cyclepath, while attending Georgian College and, after finishing college, stayed working in the bike industry. Root took a brief hiatus from the bike industry between 2003 and 2007, before returning and laying the groundwork for the opening of Black Tooth Grin in 2008.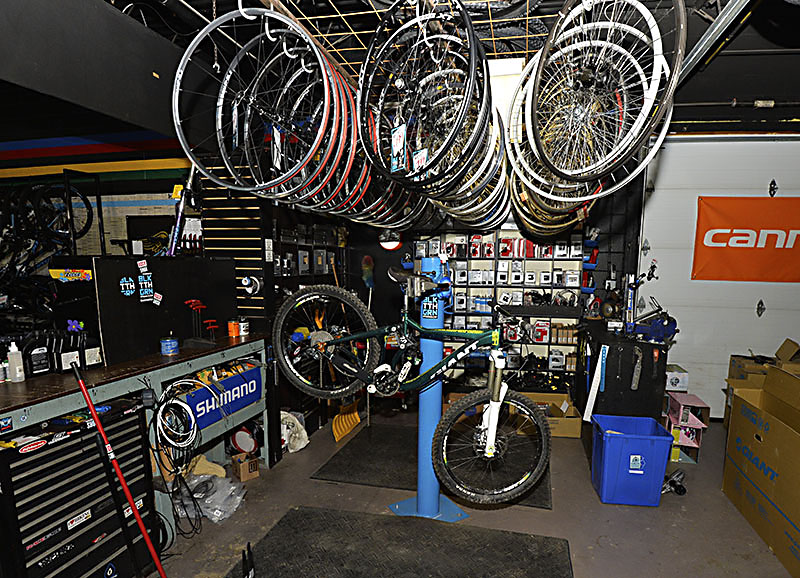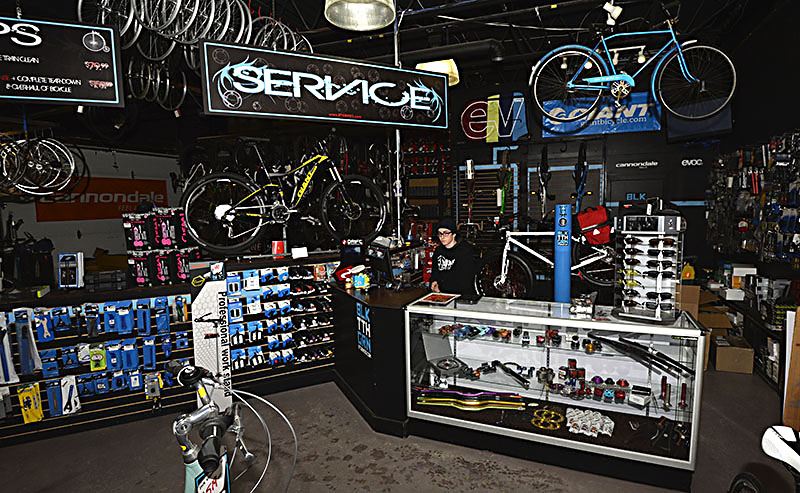 The store layout is clean and open
While the main focus is mountain bikes, given Root's background and the proximity of Hardwood, Kolapore, Blue Mountain and other mountain biking trail systems, BTG carries a full range of styles; from kids bikes and BMX to Road. He also has a greater depth in Downhill bikes and equipment than most Ontario shops.

The 2800 square foot shop is an open concept, with the work area visible behind the counters. Unlike a lot of other bike shops, BTG does not move into skiis for the winter season. The major bike brands are Giant, Cannondale, Pivot and Charge. Besides Chris, BTG has a full time mechanic and 3 to 6 part time staff for peak seasons.

In our balloting, great service was the number one comment that was posted by voters for Black Tooth Grin. Some of the comments:

• great service, very knowledgeable and a hard core ride team

• Customer service is second to none! Remembered my name from the first visit, and always try to sell me the best bang for my buck!

• Service is great! Bikes are Great! The owner is a pretty cool dude and has some great knowledgable staff on hand!

• The quality of service is great. The owner will answer any questions you have. They also do great work there.

• Great Owner, Service and Community Member

• The staff knows their shit

• Great service and product knowledge. Oh, and cool name!

• The service is outstanding, they remember your name and treat you like family!!!

Congratulations to Black Tooth Grin, one of our Canadian Cyclist Best Bike Shops of 2013!

Visit them at www.btgbikes.com.
---
Related Photo Galleries
---