March 25/14 12:31 pm - Cross-Canada Ride to Ride Away Stigma Surrounding Mental Health

Posted by Editoress on 03/25/14

Everyone in Canada is affected either directly or indirectly by mental illness. You've heard the statistics - according to the Canadian Mental Health Association, one in five Canadians will live with a mental illness at some point in their life and too often that individual is suffering in silence.

I learned this first hand very early on in life. My name is Danielle Berman and at age 13 I lost my father, Dr. Leslie Berman, to suicide in 1999. He was a loving father and a prominent, successful physician in Hamilton, but he was struggling for years with mental illness. Worst of all, no one really talked about it so his passing came as a complete shock to so many of us ... even though we were the closest to him. But this summer, I'm trying to change that pattern.

Ride Away Stigma is a cross-Canada bike ride to help diminish the stigma associated with mental health and illness. Beginning on July 15, 2014, I will be cycling from Vancouver, BC, to Hamilton, ON. I plan to arrive here in Hamilton on September 7, 2014. Throughout this bike ride I hope to encourage Canadians to have an open dialogue about mental illness so that together, we can ride away the stigma that has surrounded it for far too long.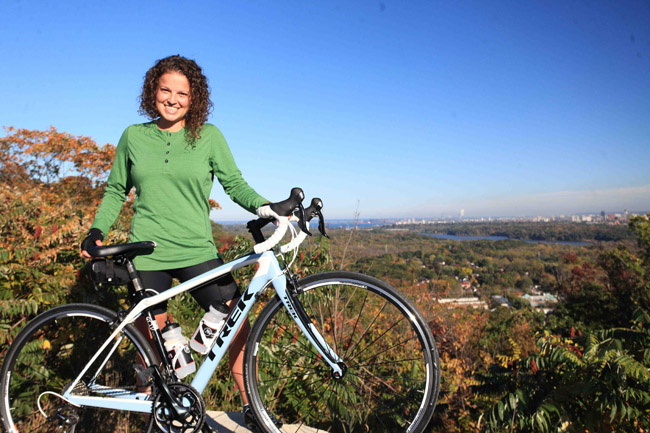 During my ride, I will be accepting donations and sponsorships to support three leading mental health providers an associations including: St. Joseph's Healthcare Foundation in Hamilton, the Suicide Prevention Community Council of Hamilton and the national body of the Canadian Association for Suicide Prevention.

I am building on the momentum of initiatives like Bell Let's Talk Day and Clara's Big Ride for Mental Health. Together we all can make a difference in the lives of so many Canadians living with mental illness. "Most Canadians have been touched by suicide or mental illness and preventing suicides is a responsibility we all share. Everyone can make a difference; everyone has the potential to save a life. Ride Away Stigma is a wonderful example of how one person can change things. We hope all Canadians will show their support and come along for the ride. When we all pedal together the journey is so much easier," Tim Wall, Executive Director, CASP.
---
Related Photo Galleries
---