March 28/14 12:46 pm - Specialized Introduces First 650b Bikes

Posted by Editoress on 03/28/14

Specialized is about to join the 650b / 27.5" wheel mountain bike market with the introduction of two models, which will be in Canadian stores by next week. The models will be part of the Stumpjumper line; the Stumpjumper FSR Expert Carbon EVO 650b (suggested retail of $7199) and the Stumpjumper FSR Comp EVO 650b (suggested retail $3799).

Specialized has been one of the last remaining 650b holdouts among major manufacturers, having heavily committed to the 29" wheel size, as well as sticking to a smaller offering of the original 26" wheel size. The company says that they will use '650b' rather than 27.5", since the size isn't halfway between 26" and 29" (note: it is slightly less than halfway between). In a statement, the company has explained their decision to add 650b to the line up:


We believe in big wheels. When they are built properly for the rider and the experience; riders should ride the biggest wheel they can. 29ers are fast, stable, and fun to ride but not all 29ers are created equal. We have developed our Specialized style to minimize the negatives of a larger wheel by focusing on light weight, capability, and fun factor. From recreational hardtails to World-Cup-winning XC race machines to All-Mountain bikes and equipment for men and women - the Specialized 29er advantage is proven.

However, we know not every rider wants to ride a 29er; we will continue to serve the rider with a smaller wheel size. We are happy to introduce our first 650b bike, of course with experience and wheel size specific geometry, the Stumpjumper FSR EVO 650b.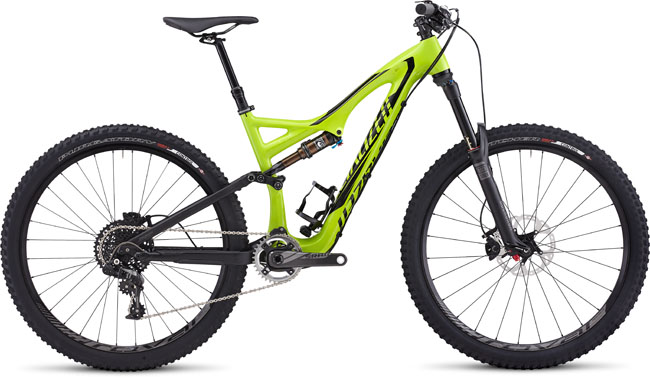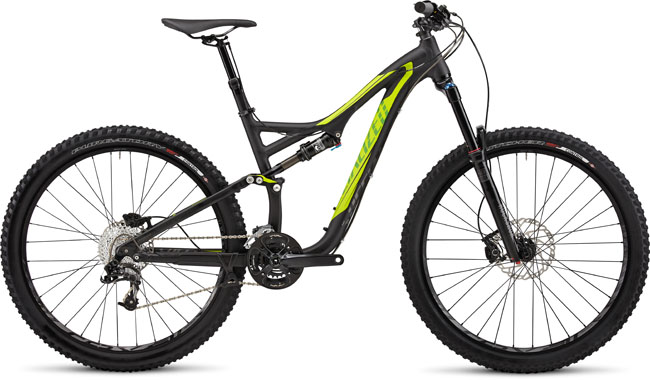 WHY 650b NOW?
650b has the advantage over 26" in traction, stability, & roll-over. Additionally, our priority is serving the riders, who have clearly asked for this type of bike. We are not slowing down one pedal stroke on 29-inch innovation, as we believe in 29ers. Nevertheless, there are two clear scenarios when a smaller wheel, that is potentially lighter & quicker accelerating, may make sense for some riders.

1. Playful: When the rider wants to change directions slightly quicker. The smaller wheels on the 650b bike may feel a little more nimble. Don't forget our modern 29er geometry still retains shorter rear ends than most companies' 650b offerings.

2. Size: When bike sizing or intimidation from taller wheels is an issue. We can make a 650b with more standover clearance on certain models. There are also some riders, particularly newer riders, who might be intimidated by the look of the 29-inch wheel.

Because of these reasons, we say, "BIGGER IS BETTER. EXCEPT WHEN IT'S NOT."

Specialized also says that it will not be completely dropping 26", but that they expect to transition to more 650b bikes rather than 26". In addition, 650b tires and wheels are being introduced. For more information, visit www.specialized.com.
---
Related Photo Galleries
---