April 12/14 16:45 pm - Pietermaritzburg World Cup DH report and photos

Posted by Editoress on 04/12/14

2014 Downhill World Cup Opens with U.S. & British Wins

The first round of the 2014 Mountain Bike World Cup opened in Pietermaritzburg, South Africa, with the Downhill, and the United States were the strongest nation of the day, winning both the Elite and Junior men's titles, by Aaron Gwin (Specialized Racing DH) and Lucas Shaw (SRAM/TLD Racing), respectively. Manon Carpenter (Madison Saracen Factory Team) took her first elite World Cup win in the women's competition. Only one of Canada's two riders finished - Micayla Gatto (Pivot Factory DH) was 12th in Elite women. Casey Brown (Bergamont Hayes) did not finish.

Riders had to contend with hot, dusty conditions, which rendered the track fast, but also slippery, making crashes a definite concern. The key section of the course proved to be the middle portion, where riders had to pedal hard to avoid losing time. More than one rider came out of the first technical sections with a leading split, only to lose it further down.

Emilie Siegenthaler (Gstaad-Scott) was the first woman to break the five minute mark, but her time was broken three riders later by Myriam Nicole (Commencal/Riding Addiction), who went under 4:45. Nicole's time would eventually be good enough for fourth.

American Jill Kintner, a former 4-Cross world champion and Olympic bronze medalist in BMX, who has transitioned to Downhill, finally knocked half a second of the leading time with three riders remaining. Emmeline Ragot (Lapierre Gravity Republic) had a strong start with the fastest first split but was hit with a slowly deflating rear tire in the final jumps to finish fifth.

At this point there were two riders remaining, with world champion Rachel Atherton (GT Factory), who won her world title on this track last fall coming down over five seconds faster than Kintner to move into the Hot Seat. Atherton's ride was all the more remarkable since had spent most of the preceding week sick with a fever, hooked up to an IV drip.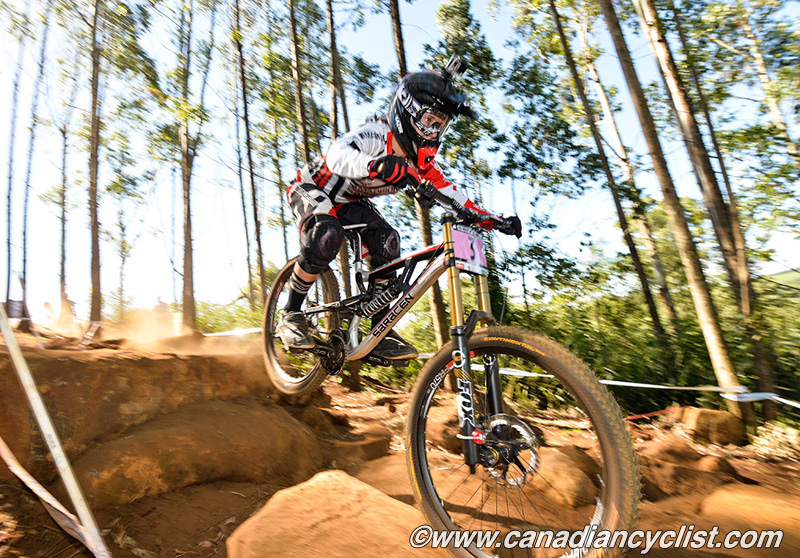 Manon Carpenter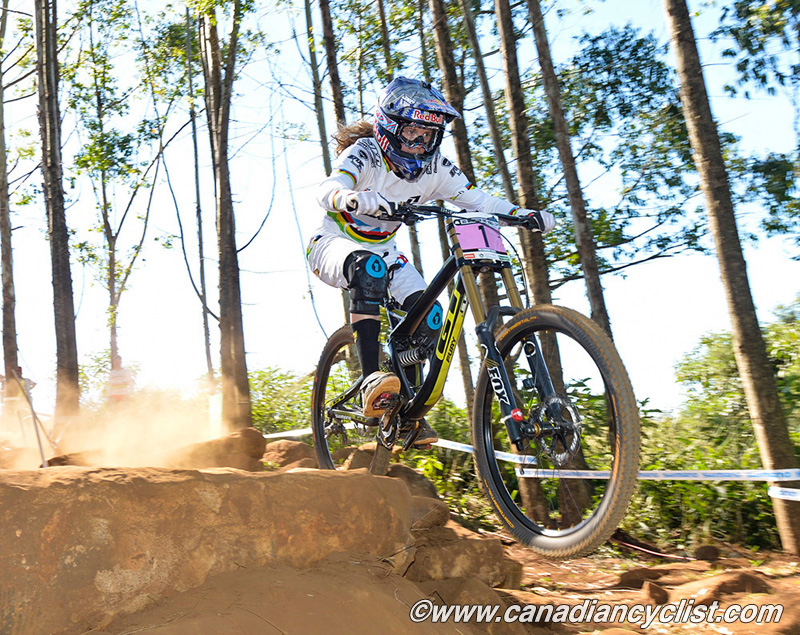 Rachel Atherton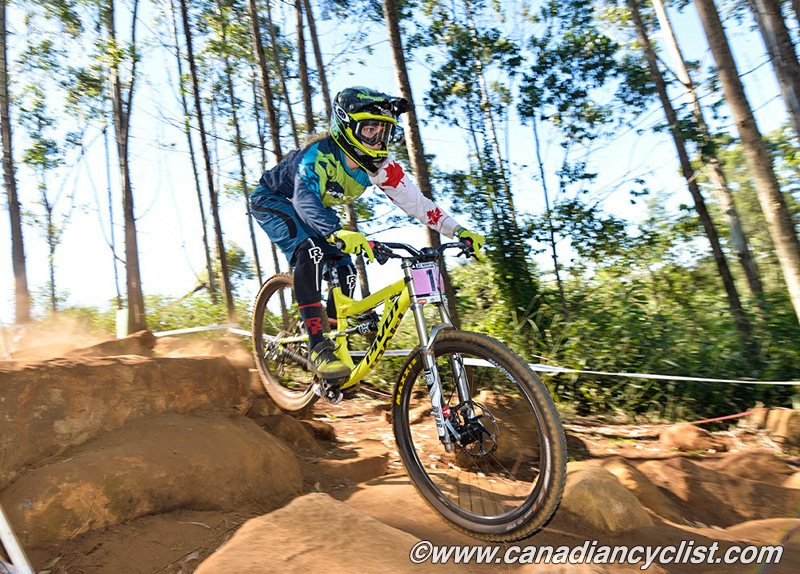 Micayla Gatto was top Canadian
However, it was finally the day for Carpenter to outshine her British compatriot. Third fastest at the first split, Carpenter was three seconds ahead at the second intermediate time check, and nearly four seconds at the finish.

"I couldn't have asked for a better start to the season because I was really stressed coming into this race, so I am just really glad that I managed to pull it off today," said Carpenter. "I was feeling good after practice yesterday and then it got really loose at the top and bits were getting blown out, so I was nervous and I had a few [bad] moments. So I said that I didn't want to do that in my race run, but I'm just glad I got a smooth run in."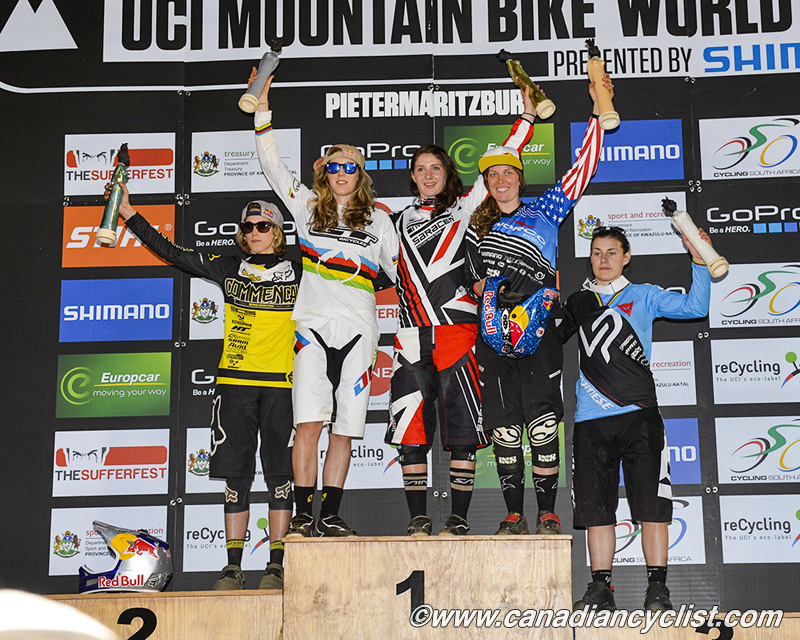 The Elite men's race saw the return of Aaron Gwin to the top of the podium. The American rider dominated the World Cup in the years leading up to last season, but struggled through 2013, going without a single win. It was in Pietermaritzburg that he won his first ever World Cup, so a return here seemed to work, as he qualified first, and then laid down a remarkable run to become the only rider to record a sub-4 minute ride.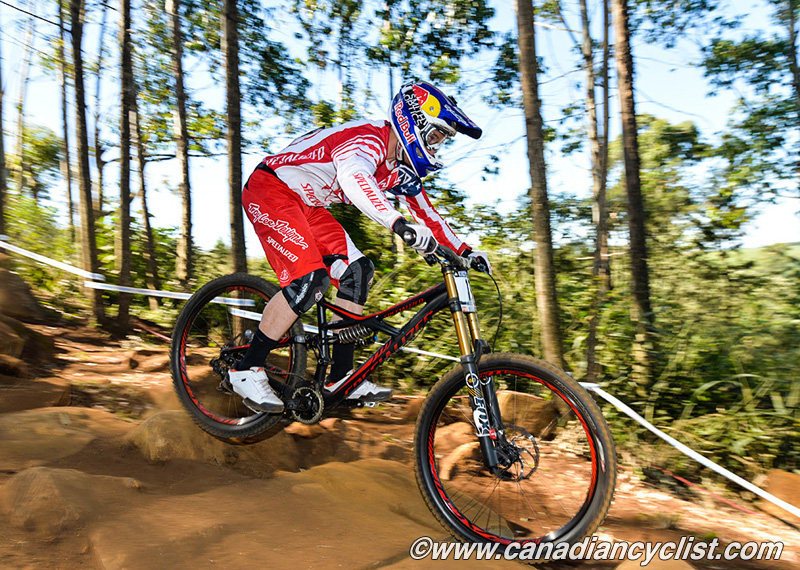 Aaron Gwin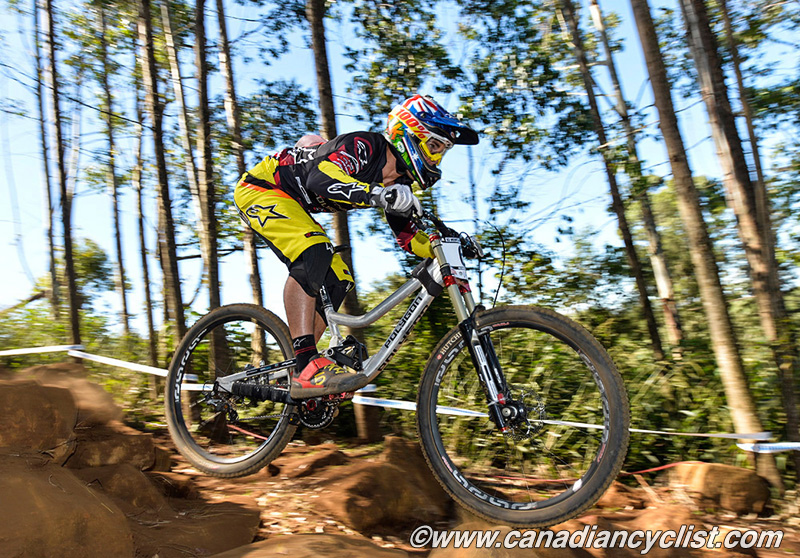 Mick Hannah
South African Andrew Neethling (Giant Factory) laid down the first fast time at 4:10, but it was pre-race favourite Mick Hannah, two riders later, that really set the time to beat, recording 4:01.381 and beating Gwin's qualifying time by two seconds. Rider after rider came through, some faster than Hannah in the upper section, only to lose time lower down.

Greg Minnaar (Santa Cruz Syndicate), the native son of Pietermaritzburg who won the world title here last year came very close, less than eight-tenths of a second back. Josh Bryceland, Minnaar's team mate who had qualified second lost his chain at the top of the course, leaving only Gwin between Hannah and the title. However, the American was fastest all the way down the course, recording the best splits and the fastest time through the speedtrap, at 69.914 kilometre per hour, to finish with 3:59.344, a time that left other riders shaking their heads.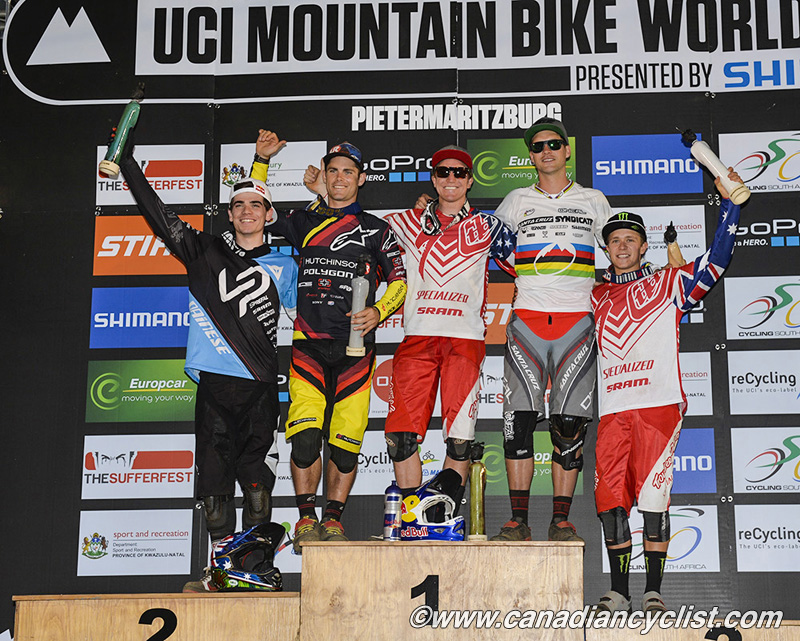 "Being back on the top step means so much," said Gwin. "We have put so much work into putting me back up there. Thank you everyone back home. After qualifying I knew I had some more time at the top and just needed to be smooth at the bottom ... just not think, just ride. I'm just so happy to execute."

"I never really like to know [what the other riders run times are] I just don't want to know, but five seconds before I dropped in, I heard Mick was in the lead and I knew it would be good either way. We are really close friends. Yeah, I am stoked to win."

"I did start to feel confident after Greg came down, because I had put time into him at the bottom," admitted Hannah. "But I knew that I had made a few little mess ups at the top, so I wasn't sure if it was enough. Then Aaron came through three seconds up ... Aaron's a really strong rider, so I knew there was no way I was going to pull that much time back."

The Junior Men's category saw Shaw finish two seconds ahead of second place qualifier Loris Vergier (Lapierre Gravity Republic), with Amaury Pierron (French National) taking third.
Tomorrow follow us on Twitter for lap updates for the Elite XC races
---
Related Photo Galleries

Pietermaritzburg MTB WCup 1 April 10/14 - April 13/14, Pietermaritzburg, South Africa


Preview
DH Qualifying
Women DH
Elite Men DH
Elite Women XC
Elite Men XC
U23 Women XC
U23 Men XC
Elite Men XC PT2
---