April 27/14 4:09 am - World Cup Cairns: XC report

Posted by Editoress on 04/27/14

Lechner and Absalon Victorious Down Under in Cairns

The second round of the UCI Mountain Bike World Cup concluded on Sunday with the Olympic cross-country, and the course proved to be as tough as everyone expected. Eva Lechner (Colnago Sudtirol) took only the third World Cup victory of her career in the women's race, after Round One winner Jolanda Neff (Liv Pro XC) faded, while Julien Absalon (BMC) made an impressive comeback from a flat tire early in the race to win his second consecutive World Cup of the season. Canadian champion Emily Batty (Trek Factory Racing) equalled her best ever World Cup performance by finishing second in the women's race, while Mikaela Kofman (Scott-3Rox) was a strong 16th.

The wet weather that had turned the circuit into a slippery, muddy mess all week was replaced by sun and hot, humid conditions for the final day of competition. While sections deep in the forest remained wet and muddy, the course steadily dried out throughout the day.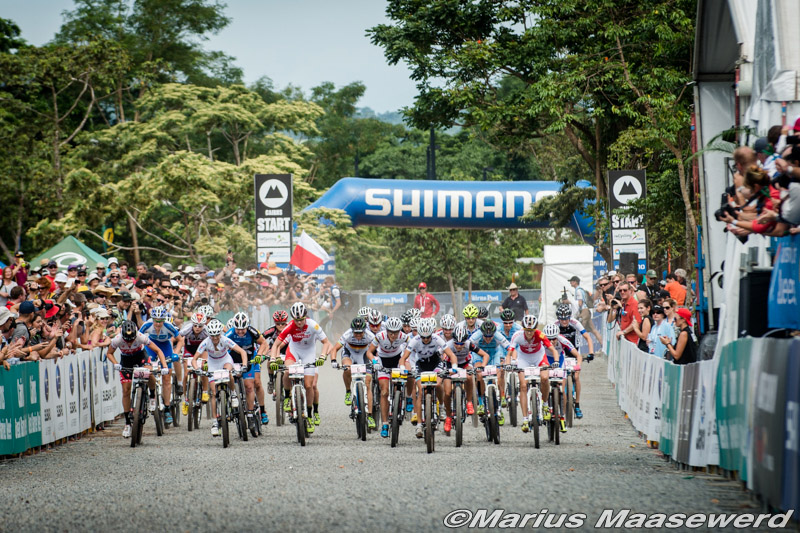 The start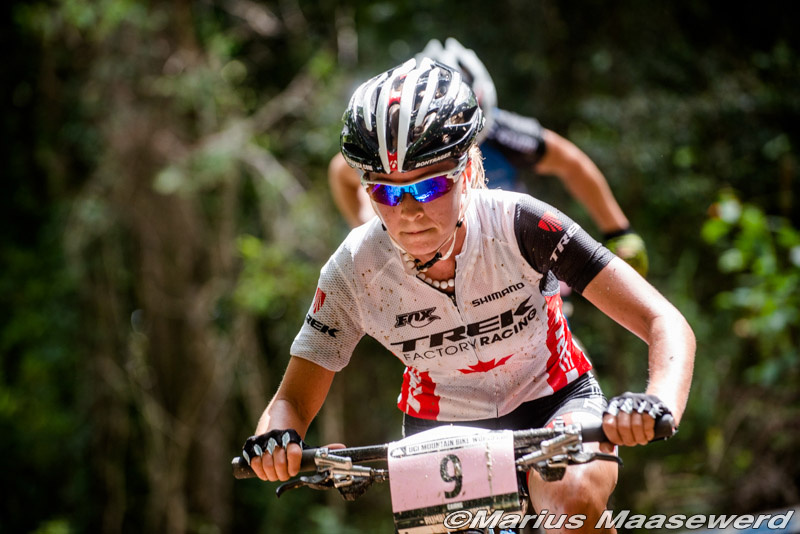 Emily Batty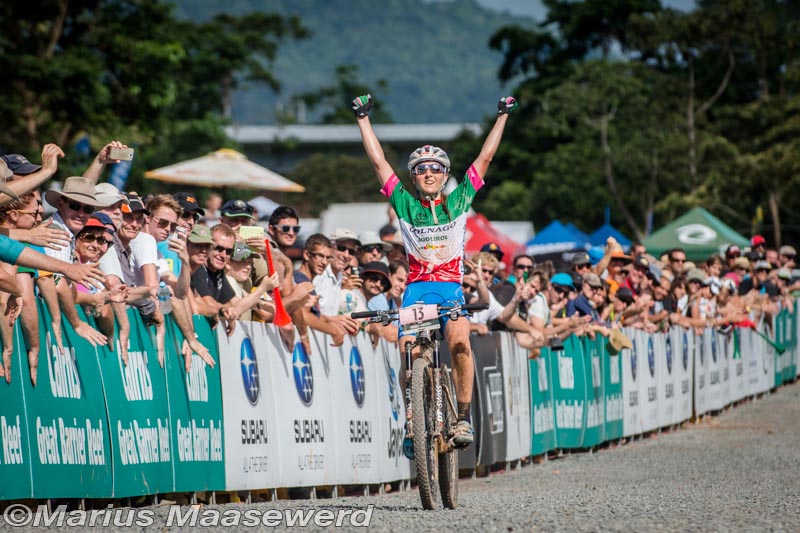 Eva Lechner wins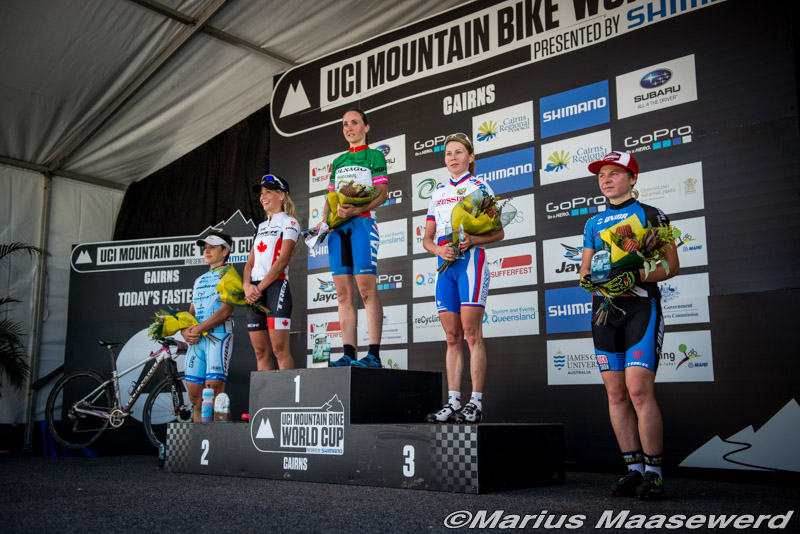 Podium
The women's five lap race started out as expected, with a battle between World Cup leader Jolanda Neff (Liv Pro XC) and Eva Lechner, who quickly opened a gap on the rest of the field. However, Neff began to struggle on the climbs in the second lap, allowing the Italian champion to open a 26 second gap by the start of the third lap. Lechner never looked back, as she soloed in for the third World Cup victory of her career.

Behind it was a different story, with Neff fading to finish ninth and barely hanging onto her leader's jersey. Sabine Spitz (Sabine Spitz Haibike) moved into second, followed by Emily Batty (Trek Factory Racing) and Russian national champion Irina Kalentieva. Batty flatted on lap three allowing Kalentieva to catch up, but the Russian then made a mistake on lap four, with Batty once again moving clear in third.

The position shuffling still wasn't done, with Spitz also flatting in lap four, and getting passed by both Batty and Kalentieva. Batty was gradually pulling clear of the other two to lock down second, but Spitz was in third on a climb, only to lose it in a crash on a descent in the last lap, giving Kalentieva third place.

"I really cannot believe it," commented Lechner, "because I was expecting a bigger group in the front. I was leading the whole race alone, which was a surprise to me. By the second lap I was looking back, and I couldn't believe the gap I had. Usually I don't like conditions like this, with the humidity and the heat, I like it more when it's raining and it's cold. So I'm very happy to be able to win a World Cup in these conditions."

"It was a pretty solid start for me," said Emily Batty. "Leading into the first climb I was top six or seven and feeling really strong. I burped my wheel in a corner, but it worked out fine, because I was able to get to the tech zone and get a fast wheel change without losing too many positions. Thankfully it was on the second lap, early enough in the race that I was able to regain the places I lost."

After two rounds, Neff continues to lead the World Cup overall with 350 points, however, Spitz has moved into second with 330 and Batty into third at 300 points.
Absalon was the prohibitive favourite for the men's race, especially given the absence of his usual rival, Nino Schurter (Scott-Odlo), who is taking a respite from mountain biking to race on the road. The chaotic start saw two crashes in the start loop of the six lap race, but the top riders all managed to avoid getting tangled up. Thomas Litscher (Multivan Merida) jumped into the lead in the confusion and rode to an 11 second gap at the end of the first lap, over Marco Fontana (Cannondale Factory) and Sergio Mantecon (Trek Factory Racing), with Absalon and Mathias Fluckiger (Stockli Racing) at 19 seconds.

Absalon was closing on Litscher by the mid point of lap two when he front flatted, and dropped to ninth before he was fitted with a new wheel in the technical zone. Fluckiger took up the chase of Litscher, while Absalon began racing back through the field. It was then the turn of Litscher to flat in the third lap, which put Fluckiger in the lead, with Maxime Marotte (BH-Suntour-KMC) chasing in second, but being rapidly overhauled by Absalon.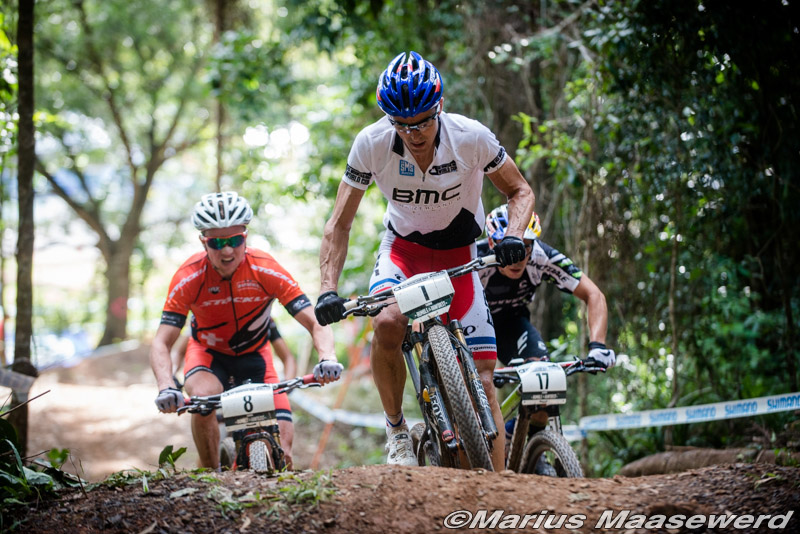 Julien Absalon (BMC Mountainbike Racing Team) leading Mathias Fluckiger (Stöckli Pro Team)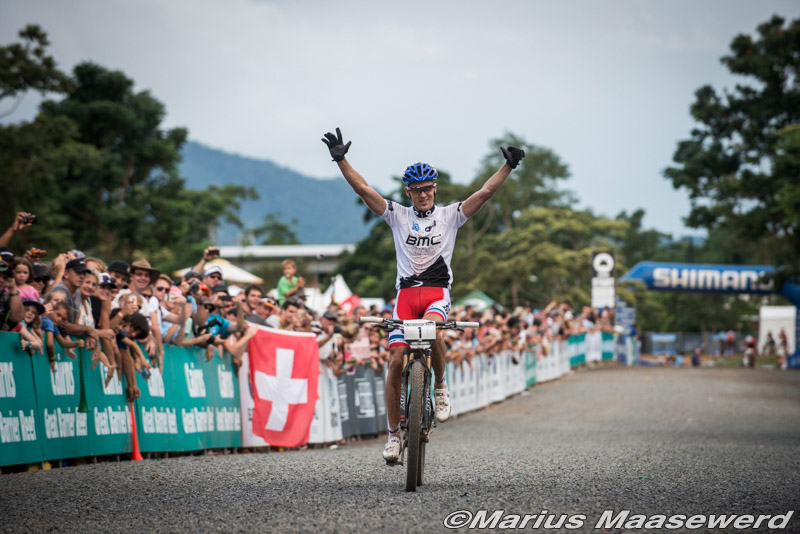 Julien Absalon (BMC Mountainbike Racing Team) wins World Cup #28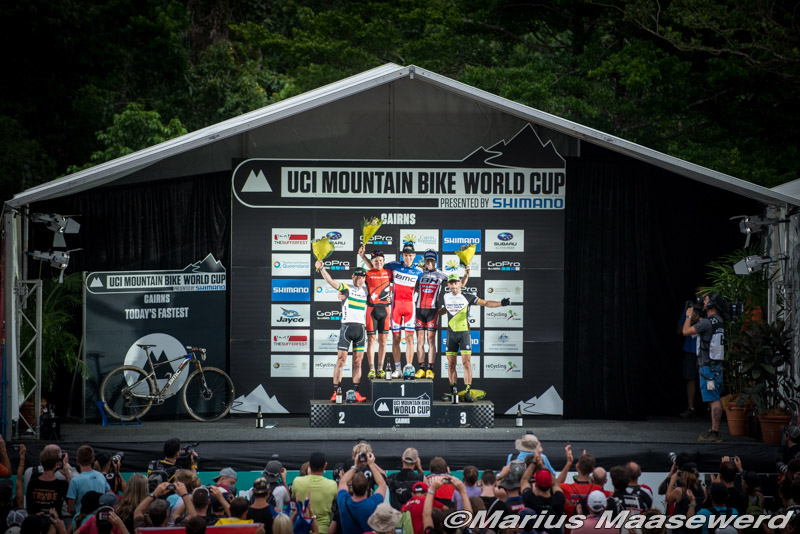 Podium: Daniel Mcconnell , Mathias Fluckiger, Julien Absalon, Maxime Marotte, Jose Hermida
Absalon and Marotte finally made contact with Fluckiger midway through the fifth lap, and Absalon attacked, taking Fluckiger with him as the riders began their final lap. It was merely a matter of time before Absalon attacked again, and he did so on the main climb, almost sprinting away from Fluckiger to then cruise to finish for the 28th World Cup of his career, the only man to win this many World Cup cross-country races, and tying him with American Julie Furtado and Gunn Rita Dahle Flesjaa (Multivan Merida) for the most wins ever.

"I had the flat in the second lap at the top of the climb," Absalon explained, "but it was important to be calm and get down to the tech zone without losing too much time. It was a good track for me, so I knew that I could do well here. But it was important to keep hydrated all race because it was incredibly hot. It is a very good start to the season for me, with two wins, so I just hope that I can continue to do well when we return to Europe for the next races."

Absalon leads the overall standings with a perfect 500 score of points, followed by Marotte with 320 and Jose Hermida at 310 points.

In the Under-23 races, Helen Grobert (Focus XC) took the women's victory ahead of Jenny Rissveds (Scott-Odlo), while Victor Koretzky (BH-Suntour-KMC) won the men's ahead of team mate Jordan Sarrou. Rissveds leads the women's standings with 160 points to Grobert's 140, while Sarrou leads the men with 160 points to Michiel van der Heijden (Giant Pro XC) at 130.
Results
---
Related Photo Galleries

World Cup Cairns April 25/14 - April 27/14, Cairns, Australia


Eliminator Final
Women DH
Elite and Jr Men DH
U23 Men XC
U23 Women XC
Elite Women XC
Elite Men XC
---