June 1/14 20:38 pm - Bastion Square GP report and results

Posted by Editoress on 06/1/14

Knowing who's going to win a cycling criterium at the half-way point is rare. Rarer still is knowing the three podium finishers as well. It was that kind of race today at the Russ Hay's/Accent Inns Bastion Square Grand Prix, the third and final race of the Robert Cameron Law Cycling Series p/b PISE.

Dylan Davies (Accent Inns/Russ Hay's Cycling Team), Federico Marchiori (H&R Block) and Michael van den Ham (Trek Red Truck) all lapped the field in lap 39 of the 75-lap BC Criterium Championship. With (as per criterium rules) the pack leaving the course with three laps to go, the trio battled to a sprint finish with Davies, Marchiori and van den Ham finishing first, second and third, respectively in 1:18:29.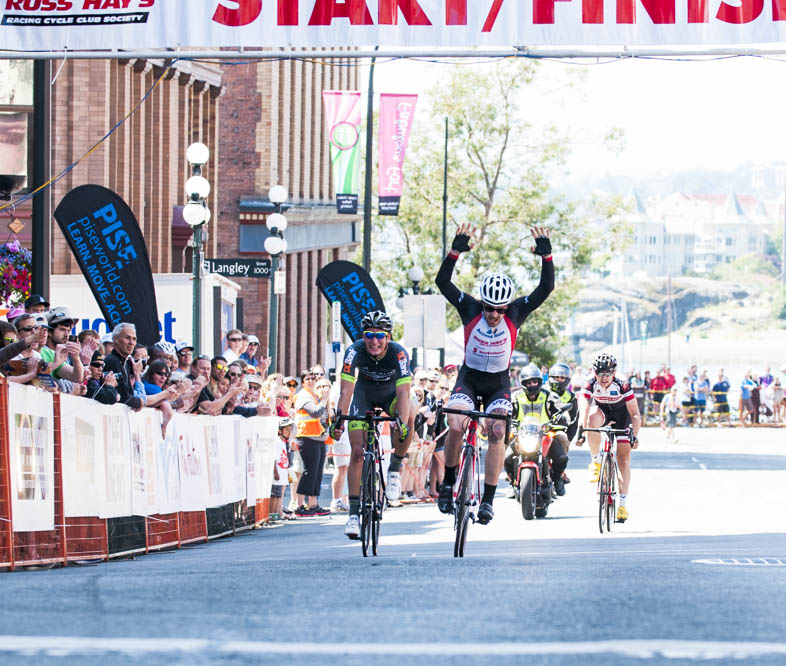 photo Morgan Turner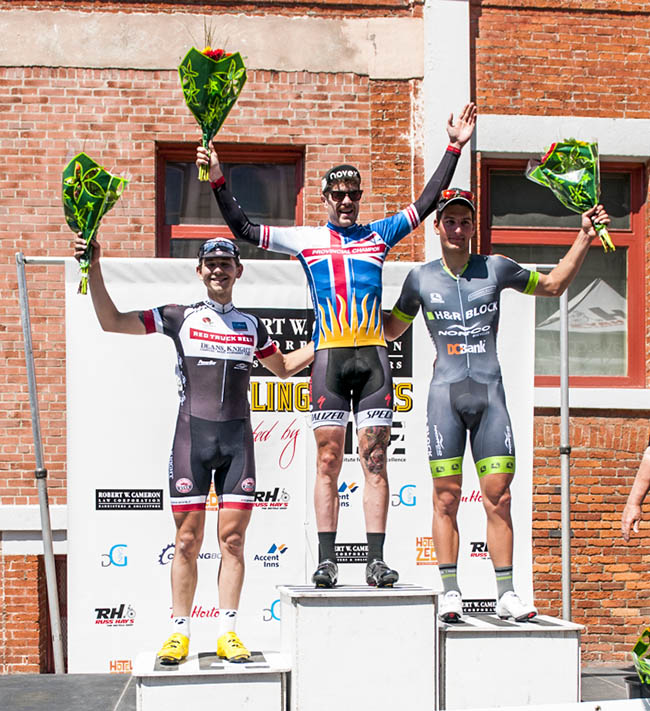 photo Morgan Turner
"I got to the front by staying in the back," Davies said, explaining how he used the pack to conserve energy for the finish line assault. "My strategy was to use the corners and rail the last one."

For the Vancouver former bike messenger, who expected his strongest race to be yesterday's Accent Inns Cycling Classic Road Race, being crowned the BC Criterium Champion was sweet. "I've never won a race before such a big crowd," he said.

Trek Red Truck's Dustin Andrews came fourth, winning the pack sprint before it left the course.

In the women's elite criterium, Vancouver's Denise Ramsden used her former short-track speed-skating experience to turn the tight corners into a sprint finish line win for her Optum Procycling Team. Ramsden's team mate Victoria's Annie Ewart and TIBCO/To the Top's Anika Todd came in second and third respectively – the entire field finishing in 52:43 of the 45-lap course. The win gave Ramsden the BC Criterium Championship title, along with the Omnium title for the Robert Cameron Law Cycling Series. Garrett McLeod won the men's Omnium.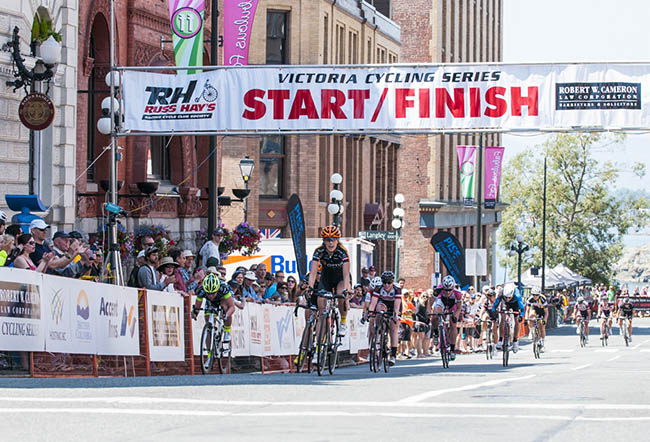 photo Morgan Turner
"Annie and I put on an aggressive race," Ramsden said describing the race that kept the pack in tact the entire time. "We were trying to attack at the front end, but that didn't quite work out."

The day's events also featured non-elite and youth races, the GAIN Celebrity Challenge and the crowd-favourite Tim Hortons Timbit Challenge where 150 children aged 3 to 10 took to the trikes and bikes for a lap of Bastion Square.
Press release
Brief results

Women
1 Denise Ramsden (Optum p/b Kelly Benefit Strategies) 0:52:43
2 Annie Ewart (Optum p/b Kelly Benefit Strategies)
3 Anika Todd (TIBCO/To the Top)

Men
1 Dylan Davies (Accent Inns/Russ Hay's Cycling Team) 1:18:29
2 Federico Marchiori (H&R Block)
3 Michael van den Ham (Trek Red Truck)
4 Dustin Andrews (Trek Red Truck)
---
Related Photo Galleries
---