June 6/14 15:35 pm - Chrono Gatineau report

Posted by Editoress on 06/6/14

Tayler Wiles (Specialized-lululemon) was the sole rider to break the 16-minute barrier en route to winning the fifth running of the Chrono Gatineau women's UCI time trial. The 24-year old American covered the technically demanding 11.5 kilometre course in 15:51, bettering silver medalist Leah Kirchmann (Team Canada) by 20 seconds. Jasmin Glaesser (Tibco/To The Top) finished third in 16:19.

It was overcast and chilly as the first of the 41 starters rolled off the start ramp, but the sun soon broke through and temperatures increased rapidly. Also off to a rapid start was Annie Foreman-Mackey (Stevens - The Cyclery). Fourth out of the gate, the Kingston native set an early best time of 16:29, remaining atop the leader board as 30 riders tried but failed to improve upon her time. Not until Glaesser, ninth from last to start, was Foreman-Mackey ousted from the virtual hot seat.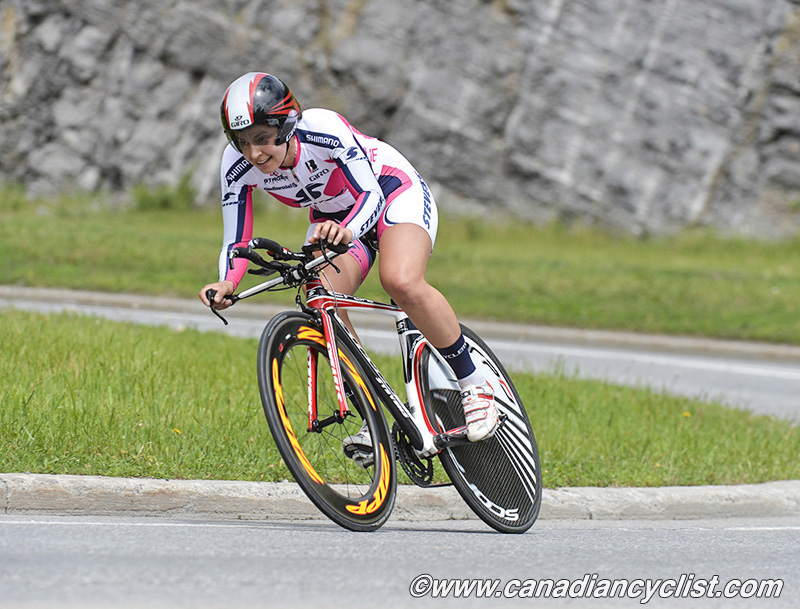 Annie Foreman-MacKey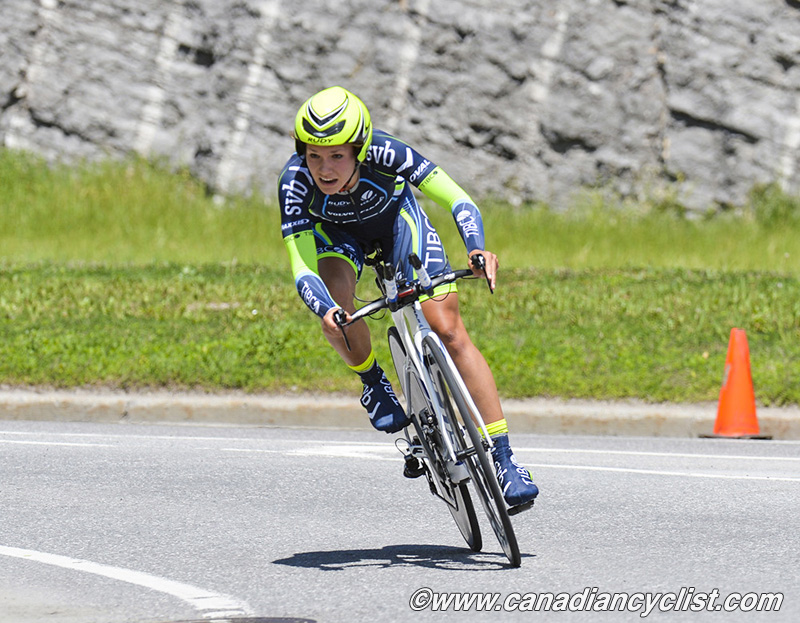 Jasmin Glaesser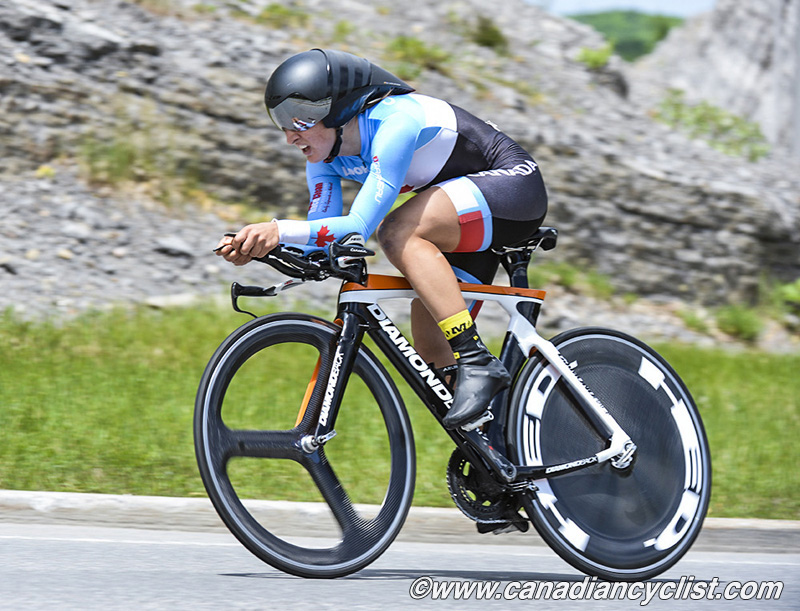 Leah Kirchmann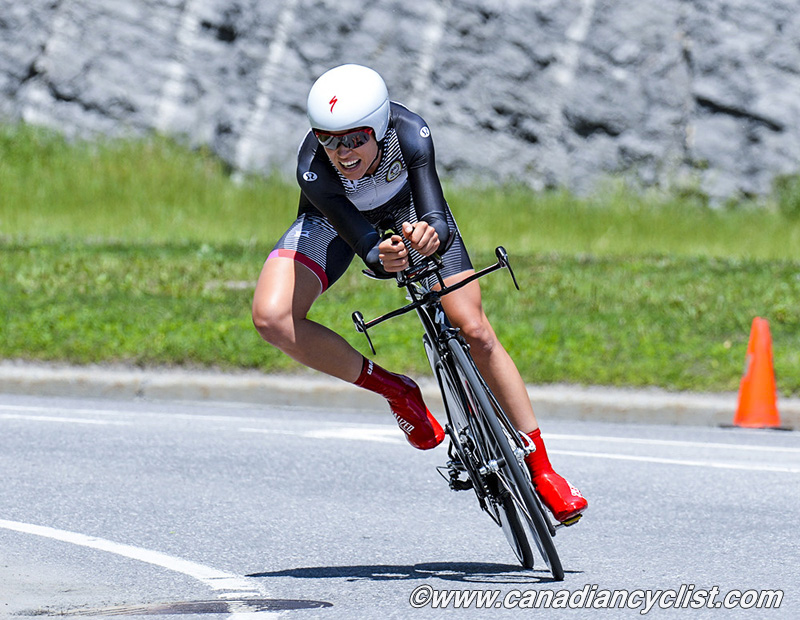 Tayler Wiles
Glaesser had no time at all to savour her leading position, as Wiles finished immediately behind her to set what proved to be the winning time. Kirchmann was the penultimate finisher, but her time of 16:11 was insufficient to knock off the leader. Jade Wilcockson (Optum-Kelly Benefits) finished fourth, and Foreman-Mackey ultimately claimed fifth.

At the recent US national championships, Wiles fell one and a half seconds short of the podium, which spurred her motivation. "I've been targeting time trials this year. I was a little disappointed with my ride at nationals so I wanted some revenge."

Knowing she was on form, the Salt Lake City native sensed she was heading toward a top placing. "I had a feeling I was on a good ride. My cadence was good and my power was good. I was just giving it everything."

With no less than three 180-degree turns, plus a number of swooping on-ramp and off-ramp corners, the tricky course appealed to Kirchmann. "I definitely prefer a shorter, more technical time trial, so I think the course suited me. I knew that it was okay to go a little harder off the start since it was shorter and you didn't have to conserve as much for the end."

Despite coming up 20 seconds short, the Winnipeg resident, who rides for Optum Kelly Benfit Strategies, but raced wearing Team Canada colours, was pleased with her result. "I'm really happy with how it went. I've been working a lot on my time trialling this year so it's nice when hard work pays off and I start to get results in these kinds of races. I wanted to get another good time trial in before nationals, so this was definitely a target race for me."

A strong headwind on the opening stretch made it difficult for riders to judge their initial effort. "I definitely was worried that I started out going too hard," explained Kirchmann. "It's hard to judge your effort going into a head wind like that right off the start.

Originally from Vancouver but currently based in Colorado, Glaesser is a former U23 national time trial champion. "I love how it's such a measured effort. It's really numbers-based. It's very predictable and always reflects the training and preparation you put in."

The 22-year old won a bronze medal in the Team Pursuit at the London Olympic Games and a silver at this year's Track Worlds, but is transitioning to the road. "My background is the track and coming to the road has been a much steeper learning curve than I would have expected, but it's great to be able to start having some good rides on the road."

"With this course there are so many turnarounds and slightly technical corners, it was going to be about going out hard and trying to hang on as long as possible, so that was my plan going into it," said Glaesser.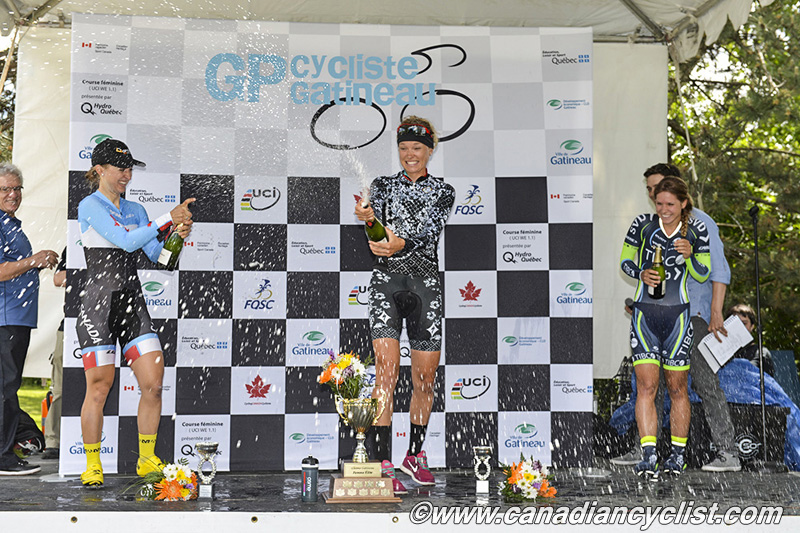 Race Notes

- Currently living in Fairfax, California, race winner Wiles hopes to be part of the Specialized-lululemon team time trial formation at the World Championships, as well as helping her team at the upcoming Giro Donne in Italy. She will contest tomorrow's road race as part of a composite National Capital Region squad.

- Plenty of minor adjustment were required in order to satisfy the UCI commissaries doing the bike checks prior to the start

- A total of seven nations were represented amongst the start field.

- A crew of PanAm Games officials were on hand to gain knowledge ahead of next summer's events.

Report by Emil van Dijk
---
Related Photo Galleries

Chrono & GP Gatineau June 6/14 - June 7/14, Gatineau, QC


Chrono (ITT)
Grand Prix cycliste de Gatineau
---